Insult or Feedback? Questionnaire
Insult or Feedback? Questionnaire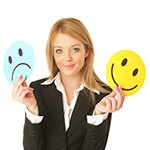 Both feedback and insults are forms of criticism, but in other respects, they are complete opposites.
What is the difference between valid criticism in the form of feedback, and invalid criticism in the form of insult?
Please read the following examples and distinguish insults from feedback:
Click "insult" if you think the statement is merely a put down
Click "feedback" if you think it is valuable information
Decide which of the following statements are valid feedback statements, or invalid insult statements.
Q1 - You were 20 minutes late
Q2 - You are totally unprofessional
Q3 - You are being very offensive
Q4 - You are pointing your finger at me
Q5 - Your doctor says, "You have put on 2kg, since your last check-up"
Q6 - Hey, you. Go on a diet
Q7 - You have left the cups out. Would you please; wash them up and put them back in the cupboard?
Q8 - You act as if you were brought up in a zoo
Q9 - You are parked in the disabled parking space
Q10 - You are selfish and inconsiderate
Q11 - You are too short to join the Grenadier Guards
Q12 - You are too short
Q13 - You are a trouble maker
Q14 - You have an attitude problem
Your Details
Your name and email address will be used once to email you your report. If you haven't already chosen, you will be given the option on the next page regarding what other emails (if any) you would like to receive.