What is Time Management Training?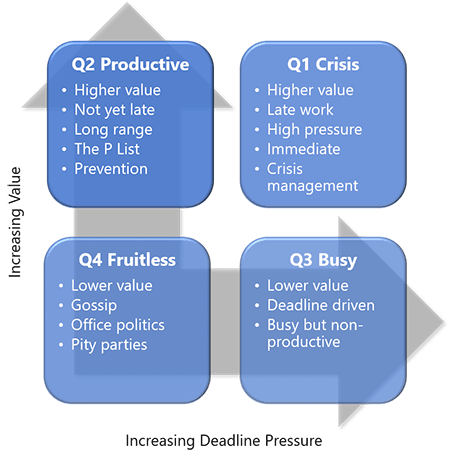 Time management is the skill of getting the most value from every day and making the maximum progress in the minimum time.
Why is time management important?
Time management skills are important because you have an UNLIMITED number of tasks you need to do, but only a LIMITED amount of time (and energy) in which to do them.
How can you improve time management skills?
There are seven key time management skills you must master: Prioritization, Planning, Goal setting, Delegation, Concentration, Handling interruptions, and Prevention of avoidable error.
How can you improve time management skills?
Time management means prioritisation. We will show you how to prioritise your tasks into the right order, by using our unique SMART phone APP.
Put the theory into your practice.
Now you have learned what to do and how to do it, we will ask you to tell us how you will apply these principles to your own experience.
Customer Reviews
Training course content was excellent and was beyond my expectation. I would recommend this to my other colleagues to enhance their personality and develop their skills. Trainer's presentation was excellent.
Raj Francis Pereira
Two Castles Housing Association
The course was very good. It has made me think a lot more about how my actions affect others in positive and negative ways. It shows I have areas I need to develop within myself and my team. Feels like the start of a new way of thinking. The Tra... [Read More] Chris Briggs
Alpro UK
Course Overview - Time Management Training
In the morning of this course we cover the logical elements of good time management, and in the afternoon, we cover the emotional elements. We start by making the distinction between two parts of the human mind, logic and emotion.
Sometimes the two parts of your brain are at war with each other: You know logically that you should do something, but emotionally you don't want to do it. Then what do you do?
Poor time managers do things only when they are "in the mood".
Good Time Managers do what they know they should do.
Time management is about managing yourself and doing the right thing, at the right time. Time management is about applying logic to life.
That means, you apply the principles of Purpose, Planning, Prioritization, Preparation, Problem solving and Delegation.
Your goal is to get Maximum value in the minimum time.
In the afternoon, we cover the emotional elements of time management, because how much work you do is influenced by how you feel. If you feel motivated, then you'll do more. Therefore, you need to know how to motivate yourself and others to follow the plans that you made this morning.
Learning Outcomes:
Learn cutting-edge time management techniques to make more progress, in less time
Eliminate "Busy but non-productive days"
Use 8 PART SMART to achieve more in less time
Prioritise tasks into their most logical order; maximise your efficiency
Discover the most common time management mistakes and how to fix them
How to delegate the right task, to the right person, at the right time
How to beat procrastination and get the best from yourself and others
Course Details - Time Management Training
Morning Session
What is time management training?
Time management training is designed to show you how you can make the maximum progress in the minimum time, money and effort. Time management is about increasing your efficiency by eliminating any bad habits and replacing them with good techniques.
Time Management Prioritisation Grid
You can judge any task against two major criteria:
The value of the task
The deadline pressure of the task
These two criteria help us to build the time management grid.
The Time Management Grid Generates Four Types of Activity
High value, late work - Q1 Crisis
High value, not yet late - Q2 Productive
Occupied, but not productive - Q3 Busy Zone
Low value, waste of time - Q4 Fruitless Zone
Many people spend their time working in Q3 busy-work – this is bad time management because they fail to do enough Q2 productive work and they sow the seeds for a fresh crop of Q1 crises.
We will learn how to avoid busy work and spend more time in productive work.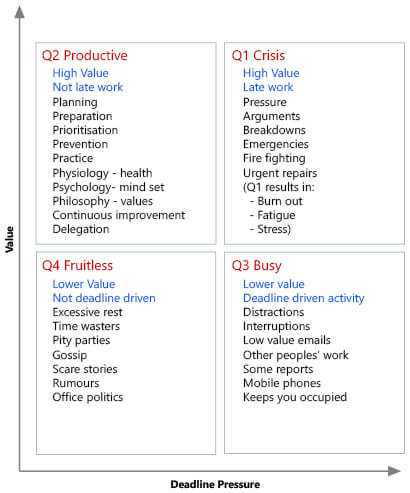 What are the key time Management skills?
It is a strange coincidence that the key time management skills all begin with the letter P:
Planning, preparation, prioritisation, prevention, practice, perfecting, protocols. etc. Other time management principles are Delegation, handling interruptions, positive motivation, energy and recuperation.
What are my bad time management habits?
We will identify the distractions that take you from the P-List activities.
We call this the time management SOS: Self, Others, Systems.
Self: Your own bad habits
Other people
Systems: Inefficient work systems
Eliminate poor time management habits and replace them with good time management skills.
Time Management Skills Questionnaire
We will give you a fun time management quiz that will tease out any bad habits that you or your colleagues, may have. Then we will ask you to figure out how you can change your habits or limit the damage.
Prioritisation and Decision Making
Prioritisation is the key skill of good time management.
Because you cannot do everything simultaneously, you must prioritise your tasks.
Prioritisation Method
A time management prioritisation tool, which will enable you to properly prioritise your tasks:
On paper
On computer and
Via an app on your mobile
Decision Making
Your effectiveness ultimately depends on your ability to make the right decision and solve your problems. There are five types of decisions you must master:
Prioritisation by value
Prioritisation by logical sequence
Yes or no decisions
Which one, What kind decisions
Problem – Cause – Solution analysis
What are good reasons to delegate tasks?
Definition: Delegation - The act of entrusting a task to another
Reasons to delegate:
Delegation frees you up for other work
Delegation as a form of training
Delegation ensures maximum productivity from the team
Delegation helps you to balance the load
Delegation can reduce your stress levels, if done correctly
SMART Targets as a Delegation Tool
How to delegate:
Use 8-Part SMART.
Eight questions that need to be answered in order to properly delegate a task.
Why some people are afraid to delegate
A discussion on the excuses people use to avoid delegating.
Delegate the right task, to the right person, for the right reasons
Handling Distractions and Interruptions
Distractions and interruptions are one of life's biggest time stealers.
Find out how to interrupt the interrupter, to gain the maximum value in the minimum time.
Apply the Pareto principle, 80–20 rule, to time management
The Pareto principle says that about 80 percent of the value of the whole is contained in about 20% of its parts.
That means that many things, don't add much value, and a smaller number of things add massive value. The trick to life is to eliminate the unproductive 80% and focus down on the smaller number of high value activities.
How to manage emails more effectively
Emails can both help and hinder your progress - we will look at how you can manage your messages
How to put time management theory into practice
Have you heard the phrase, "knowledge is power"?
Actually, knowledge empowers you ONLY IF you apply it.
You have learned some powerful time management techniques, so we will ask you, which ones are you definitely going to apply?
Afternoon Session
Personal Effectiveness Training
Definition: Personal effectiveness is a measure of your ability to achieve the maximum progress in the minimum time, money and effort. It is the result of a productive state of mind, combined with an effective set of actions.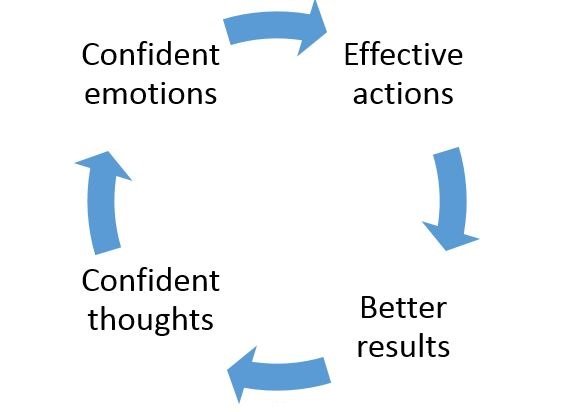 Productive State of Mind
Your effectiveness has an emotional component.
We will examine how your productivity is affected by your emotions and how your emotions are affected by your mind set.
How your physical health affects personal effectiveness
"A healthy mind in a healthy body"
Keeping your body healthy with exercise is essential to keeping your mind in a positive state.
How to improve your energy levels and health habits.
How to maintain a positive mental attitude
We will examine the role of worry, stress, fear, anger, upset, and how it negatively affects productivity.
We will examine how higher levels of confidence, optimism and happiness positively affects output.
Master the art of conversation control
Keep office conversations on productive, rather than non-productive, topics.
In your place of work, how much time is wasted in negative, go-nowhere conversations? We will help you to refocus office conversations onto productive topics.
The Continuous Improvement Cycle
All successful action is the application of a simple five-part cycle:
Purpose, plan, action, feedback, change.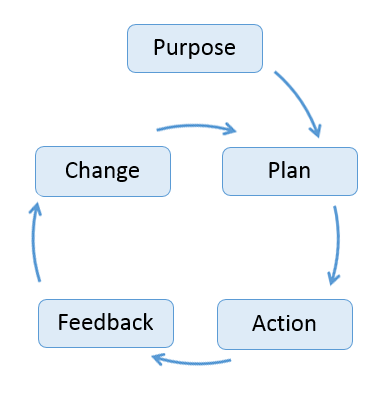 The Success Formula
Purpose: Set the goal
Plan: Formulate your best plan in writing
Action: Take decisive action
Feedback: Gather and evaluate the feedback, both positive and negative
Change: Make progress by continually adapting and evolving. Recognise that the success formula is a continuous process
Putting the success formula into practice
The success formula as a series of eight questions which you ask and answer every day.
Feedback: the breakfast of champions
Feedback comes in two varieties: Positive and negative.
Most people like positive feedback
Most people hate negative feedback
We will help you to make better use of both types of feedback.
We use feedback by learning from setbacks and to always come back stronger with an improved plan.
How to make the future better than the past.
The future is not set. It is based upon what we do today. The quality of our future tomorrow can be no better than the quality of our actions today.
Our actions are based upon both our logical methods, and emotional feelings. Today we have worked hard to improve both sets.
We will ask you how you intend to use the information on this course, to ensure that the future is better than the past.
Related Articles from our Time Management Blog
How to Stop Procrastinating
24 January 2020
The act of procrastinating means you are wasting valuable time, when you could be investing that time in doing something worthwhile or improving yourself. Use these simple strategies to overcome procrastination and take back control of your day.
Continue Reading >
FAQs
How do I join a Corporate Coach Group course?
To join a corporate coach course, the first thing to do is simply to decide to come.
Second step is to choose which date, and venue are best for you.
The final step is to click this link and reserve your place, or if you prefer, phone us, on 01452 856091.
Is this course offered in-house?
Yes. If you want us present this course in-house, then we are happy to come to your venue.
We will set-up in your training room and run the programme with version of the course that can be tailored to your specific needs and context. Click here for details.
What are the objectives of time management?
The objectives of time management training are to give you the skills, knowledge, information and tools you need to get the most value, (make the most progress) in the least time and effort.
What are the 10 most important time management skills?
The most important time management skills are:
Goal setting
Prioritisation
Decision making
Prevention
Planning
Problem solving
Preparation
Delegation
Handling interruptions
Emotional management
On this time management course, you will learn all you need to know about all these elements and how to apply them.
How do you develop good time management skills?
The first step to developing better time management skills is to find out what they are. The second step is to learn and apply the skills practice. To apply them you need impose good systems and good habits. We will show the systems and the good time management habits.
The third step is the self-discipline to eliminate old bad-habits and replace them with good techniques. We want to help you develop new habit-patterns and become an expert in time management and personal effectiveness.
What is the course training method? Is it interactive?
Yes, the training is highly interactive. We don't use a single method; we vary the style.
Sometimes you are working independently, (for example, when you are doing a self-analysis exercise), then later you will work with another delegate in pairs, (or groups of three).
Then later, we work together in groups.
There is always plenty of interaction.
There is never any "Death by PowerPoint". So, you won't feel bored, you will feel motivated. All the way through the course, you will feel completely engaged and involved.
We are often told by delegates that the course seemed to fly by, which is always a great sign!
You will find the course is well designed, easy to understand and apply in practice.
We have made sure that the training is relevant to real life, beneficial and crammed with useful knowledge. You can be assured that you will find this course, interesting, well structured, practical and fun.
What kinds of people attend this Time Management course?
People who attend this course come from organisations that are experiencing a lot of change.
The other delegates who come to this training, all need to know how to get the best performance from themselves and others.
Delegates are of all personality types, and you will discover that, although we are all different, we have a lot in common with others.
What are the open course timings?
The training timings are as follows.
0900 Start
1100 Tea break, fifteen minutes.
1300 Lunch, thirty minutes.
1500 Tea Break, fifteen minutes.
1630 Finish
If you arrive earlier than 0900, there is coffee / tea waiting for you.
In-House Training Course Pricing and Proposal
This course is also available from just £1,950 +VAT per day as a bespoke in-house group training course in the UK and worldwide.
It has been designed to provide a similar experience to our open courses, however we can tailor the content to fit your specific needs. In-House Group training costs from just £1,950 +VAT per day (international training price varies). Plus, hotel accommodation for trainer if necessary. (Premier Inn type: not the Hilton!)
This price includes:
Quality training delivered by an experienced trainer
Full days training
Full colour course handbook
Preparation work
Travel costs and time
Written action plan to take away
Access to our post course portal
Access to our on-line leadership and management decision matrix templates and tools
Plus three months FREE telephone coaching to answer any on-going questions
In-House Proposal Document
Download the in-house training proposal document
Contact Us Today
Please call us on +44 (0)20 3856 3037 to discuss your requirements for the in-house training course.
If you want to know more about any other Management Training Courses, or their suitability for you or a colleague, call us on +44 (0)20 3856 3037.