Live Online Conflict Management and Resolution Training Webinar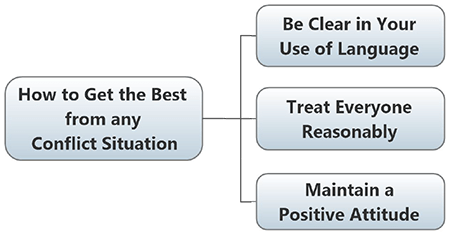 We all need to resolve conflicts quickly and professionally. There are four ways people approach conflict, but only one is effective. Some people get angry, some get upset, others avoid conflict, but successful people resolve conflict by means of a rational approach.
This course is about resolving conflict according to a rational approach: that is by NOT getting angry/aggressive, NOT getting upset or stressed and NOT avoiding or evading conflict.
We use reason to resolve conflict. But what does that mean in terms of specific words, phrases, voice tones, and behaviours? How do you use these rational ideas in practice?
The purpose of this live online course is to show you the correct approach and teach you the necessary skills, so you will become confident in rational conflict resolution and management.
The next live online training session starts in: ➔ Register Now
Customer Reviews
I was very impressed with how the technology worked. The ability to see Chris whilst he was presenting and the interactive drawings were really engaging, particularly compared to the share-screen PowerPoint presentations just with someone talking over them that I have experienced in the past.
Oliver Crampton (via Zoom)
DB Wood
Training course content was excellent, very pertinent and relevant. I have had difficulties at work recently and I could relate the content to those issues and rather than avoid, I now have techniques to resolve conflict. The trainer was clear, ... [Read More] Michael Clark
ASDA
Course Overview - Online Conflict Management Training
The course is delivered via either Zoom or Microsoft Teams. The session starts at 9am, with breaks at 11am, 1pm and 3pm. You will finish at 4.30pm.
The morning session focuses on managing conflicts based on "Conflicts of personality, ideas or opinions".
We start the course by asking you to specify your learning objectives for the day, finding out what you want to be able to do better.
We will show you how to resolve conflicts caused by clashes of personalities, opinions or standards. This involves improving communication skills, so that you are always clearly understood.
Our aim is to eliminate conflicts based upon misunderstandings, error and confusion. We learn how to express ourselves clearly, logically, rationally and positively.
In the afternoon we focus on handling conflict based upon unacceptable behaviour.
How can you best correct and modify other people's behaviour using only your words, voice and body language? We will develop a template that you can apply to any conflict situation, which will allow you to maximise your chances of obtaining commitment to a negotiated resolution, without fuss, fighting and anger, but with clarity, logic and positive emotions.
You will have the opportunity to practice what we discuss, so that by the time you finish this online interactive course, you will be an expert in Rational Conflict Management Skills (RCMS).
Learning Outcomes:
How to settle workplace conflict and quickly restore harmony
How to use reason and logic, rather than anger and emotion, when handling conflict
Be able to objectify the situation and quickly find solutions, without emotionalising
In conflict, know when to compromise and when to stand firm
Distinguish "reasons" from "excuses" and have a different policy for each
Use the correct level of assertiveness; the proper use of voice tones and body language.
How to use praise and appreciation to immediately reinforce any positive changes
Details and Pricing - Live Online Conflict Management Training Webinar
The Conflict Management open training course costs only £350 +VAT per delegate.
For this price we provide:
A full day of quality training via Zoom or Microsoft Teams
6 additional 2-3 via post-course online independent learning
Interactive, digital full-colour course handbook, with written action plan
Training certificate
Access to additional free training material after the course
3 months free telephone coaching: Whilst you are implementing what you have learned, if you need to, you can contact us for support and guidance
Register Now
Ready to join? You can register to attend this course online today.
If you want to know more about this course, or any other Management Training Courses, or their suitability for you or a colleague, call us on +44 (0)20 3856 3037 or make an enquiry online.
Register for an Online Training Session
We offer online training webinars via Zoom and Microsoft Teams, please choose one of the sessions below to start your registration process:
Live Online Dates are currently available with 35% off.
1 full day training (9am - 4.30pm) - only £227.50+VAT per delegate
(normal price: £350+VAT)

Online bookings, use code WEB35 at stage three.
Date
Platform
Cost
Availability

August

26 August 2020
Online via Teams

£350 +VAT

September

9 September 2020
Online via Zoom

£350 +VAT
Online Conflict Management Training FAQs
How do I join a Corporate Coach Group online training session?
Our online training sessions are run either through Zoom or Microsoft Teams.
Both are free-to-use products that work on any device (Android/iPhone/iPad/PC/Laptop).
You will be able to see your trainer, live, as they talk through the training material. The trainer will use a virtual whiteboard to provide engaging and useful material.
Raise your 'virtual hand' to ask a question at any time, live!
Is this course offered face-to-face?
Do you have more details about the content covered in the training?
The live online learning course is our excellent open course, delivered in an online format.
Read all of the course details here.
Is this course offered in-house?
Yes. We will come to you if you want us to present to your team in-house.
We will run the training with a version of the course that has been specifically tailored to meet the needs of your team. Click here for details.
What is the course training method? Is it interactive?
Yes. We have made sure that your course is highly interactive. Throughout the day, we vary the training style.
Sometimes you will be working introspectively, (for example, when you are scoring your own performance), then later you will work with another delegate in pairs, (or groups of three).
Then later, you will work in bigger groups.
There is always a lot of interaction.
There is never any "Death by PowerPoint". So, you won't feel bored, you will feel motivated. From beginning to end, you will be fully engaged and involved.
Many delegates tell us how the time seemed to fly by, (which is always a good sign).
Delegates tell us the content is well designed, simple to understand and use.
We have made sure that the training is relevant to real life, beneficial and crammed with useful knowledge. We are confident you will find the course interesting, well structured, practical, and fun.
What kinds of people attend this Conflict Management course?
The people that attend this course, are likely to come from organisations that are going through a lot of change.
The delegates who attend this course all want to improve their ability to get the best performance from themselves and others.
The delegates are all different types of personalities, but you will soon discover that although we are all different, we all share a desire to learn and apply new skills.
Related Articles from our Conflict Management and Handling Difficult People Blog
Dealing With Difficult Behaviour At Work
25 October 2019
Every organisation has people who are difficult to work with. Handling these people can be challenging, but taking the time to learn how to deal with difficult people is worthwhile and will make your working environment a better place for everyone.
Continue Reading >