Why Choose Us For Your Management Training?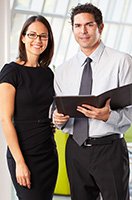 We focus on developing six key skills:
Look at what our delegates say about our training...
Our training courses are rated

4.9

/5, based on

468

reviews.
I found the course to be informative and I very much enjoyed the day. The number of delegates allowed for a more personal approach which I found helpful. I have taken away some useful tools to handle difficult and confrontational situations, that can be applied not only in the workplace but in life generally. Having access to the post course p... [Read More] Sue Cash - GNT UK Ltd
A valuable, well-balanced course which covered the key elements I was looking for; self-improvement to achieve both own and work-related goals. The trainer's presentation was excellent. Thank you for a well planned, full day of thought-provoking exercises. The formulation of individual action plans through the session is valuable and will help... [Read More] Mary Ahern - Alps
The course content was excellent and extensive, but well managed into easily digestible sections. Extremely practical and informative. The trainer's presentation was first class. His style and subject knowledge were brilliant. James Glover - Queenswood Golf Club
The course content was eye-opening for me as a relatively new line manager. There were definitely things that I found myself to be guilty of, so I appreciate the lessons. The examples were very practical and useful, hopefully I will put them to good use on the next occasion. The trainer was very well prepared, enthusiastic, with great stories ... [Read More] Claudia Rinciog - Symmetron Ltd
The course was wide-ranging and very interesting, with many concepts with practical applications both in business and outside work. The trainer was very knowledgeable and enthusiastic and able to give different types of examples which made the concepts presented easier to digest. Jon Lauder - Binding Site
---
Free Leadership Skills Training Tools

Self-Analysis
Questionnaires
Nobody is perfect. We could all improve.
Discover your individual strengths and weaknesses.
See all Questionnaires

Practical Decision
Making Tools
What if you could ALWAYS make the right decision?
With these practical decision tools, you can!
See all decision making tools

Success Tools and
Templates
Success is not based upon luck. Success is a definite process.
Here are some free success formulas and templates.
See all success tools and templates