Why Choose Us For Your Management Training?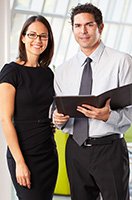 We focus on developing six key skills:
Look at what our delegates say about our training...
Our training courses are rated

4.9

/5, based on

469

reviews.
The course content was very interesting and full of information that is clearly put across to the audience. All course content was relevant to both business and personal life. Helpful! Gez was very good at putting information across. I found I could listen and not feel bored. Very informative and enthusiastic. Charlotte Donaldson - Print Data Solutions Ltd
Excellent content, covered many issues I have come across in my new role. I feel more confident on how to deal with conflict and prioritising workload. The trainers presentation was really clear and helpful and made me feel really comfortable. I am walking out of this training course feeling a better person. Thank you, Alison Carol Coleman - Oxford Instruments
I found this course beneficial to know how to successfully conduct an investigation into issues. The tools will enable me to find the correct, factual information. The trainer's presentation was very good, light-hearted and easy to understand. He gave a good insight and tools to assist in investigating. LynseyHanley - Quantum Care
Training course content was clear, concise and surprisingly unrushed, as two days condensed into one. Useful area on separation of objective and subjective. Also interesting conflict management, wrong box, right box. Good reminder of smart technique. Trainer's presentation kept delegates engaged, off the phone/ laptop, which is rare. Interesti... [Read More] Tracey Redfern - Fast React Systems Ltd
The course content was eye-opening for me as a relatively new line manager. There were definitely things that I found myself to be guilty of, so I appreciate the lessons. The examples were very practical and useful, hopefully I will put them to good use on the next occasion. The trainer was very well prepared, enthusiastic, with great stories ... [Read More] Claudia Rinciog - Symmetron Ltd
---
Free Leadership Skills Training Tools

Self-Analysis
Questionnaires
Nobody is perfect. We could all improve.
Discover your individual strengths and weaknesses.
See all Questionnaires

Practical Decision
Making Tools
What if you could ALWAYS make the right decision?
With these practical decision tools, you can!
See all decision making tools

Success Tools and
Templates
Success is not based upon luck. Success is a definite process.
Here are some free success formulas and templates.
See all success tools and templates