Why Choose Us For Your Management Training?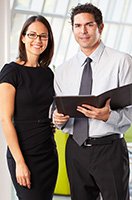 We focus on developing six key skills:
Look at what our delegates say about our training...
Our training courses are rated

4.9

/5, based on

475

reviews.
This was an excellent practical course. It was a 'Breath of fresh air' to attend a training session that gives you useful tools rather than psychological 'fluff'. The trainer's presentation was very good. Managed to keep the audience interested at all times. Time flew by. Sophie Brouillet - AMOT
The course was excellent and I have been able to gain a lot of tools for me to apply to my role and everyday work. Especially enjoyed the planning section and how to deal with conflicts. I look forward to putting them into practice. The trainer's presentation was excellent and kept my attention the whole time. I liked that it was varied and no... [Read More] Karen Kang - The Binding Site Group Ltd
I now understand that lack of appreciation is often the cause of conflict and that an efficient leader should seek to change the future behaviour. The trainers were very practical, clear and able to communicate very efficiently. They were unambiguous and made the sessions very interesting. Chinyere Umeh - Niger Delta Development Commission
Very informative training. Diagrams and plans will be very useful, as will the decision matrix in helping me to keep focused on my goals and maintain a positive mental attitude. The presenter was also extremely engaging, fast-paced but clear, good interaction and would definitely recommend this course to others. Mike Lockton - FWJ Legal Limited
The course was wide-ranging and very interesting, with many concepts with practical applications both in business and outside work. The trainer was very knowledgeable and enthusiastic and able to give different types of examples which made the concepts presented easier to digest. Jon Lauder - Binding Site
---
Free Leadership Skills Training Tools

Self-Analysis
Questionnaires
Nobody is perfect. We could all improve.
Discover your individual strengths and weaknesses.
See all Questionnaires

Practical Decision
Making Tools
What if you could ALWAYS make the right decision?
With these practical decision tools, you can!
See all decision making tools

Success Tools and
Templates
Success is not based upon luck. Success is a definite process.
Here are some free success formulas and templates.
See all success tools and templates