Why Choose Us For Your Management Training?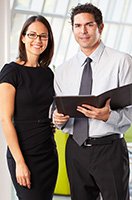 We focus on developing six key skills:
Look at what our delegates say about our training...
Our training courses are rated

4.9

/5, based on

468

reviews.
I found the course content to be varied and covered a good range of materials. The mix of tool-kits, activities and contextual material was well-balanced. I enjoyed the trainer's manner and delivery. He balanced the course content and personal anecdotes, so the course was engaging as well as useful. He was positive, constructive and knowledgea... [Read More] Sarh Ilieva - British Council
The course content was fascinating and very relevant to me. Encouraged me to review my positives and negatives but importantly provided clear instruction on tools and models to enhance my personal and professional development: Brilliant. The trainers presentation was first class, well delivered, informed, relevant and with the right energy and... [Read More] Nathan Cook - Cable Management Products
I found all the course content very useful, even the topics I didn't think I needed training on. The most beneficial topics were decision making, managing emotions, conflicts and communication. The trainer was very engaging, using a lot of great examples. There was not a boring moment in the two days I attended. He made sure that we left knowi... [Read More] Katalin Kurilla - Independent Doctors Federation
The course content was very informative and detailed, relatable and useful. Easy to understand and absorb the information as well as enjoyable and entertaining. Will certainly be implementing the methods/rules learnt today in my working and personal environment. The trainer was professional, enthusiastic and understandable. His method of train... [Read More] Sarah Louise Johnston - International Greetings UK Ltd
A very informative course. Covered many areas of use, with plenty of content. Assisted me in realigning my business approach. The trainer was very engaging, delivered the course clearly in a timely manner. I would highly recommend attending the course, if you would like to understand how to be more effective and productive in your working day.... [Read More] Mark Willmott - Theiscraft Ltd
---
Free Leadership Skills Training Tools

Self-Analysis
Questionnaires
Nobody is perfect. We could all improve.
Discover your individual strengths and weaknesses.
See all Questionnaires

Practical Decision
Making Tools
What if you could ALWAYS make the right decision?
With these practical decision tools, you can!
See all decision making tools

Success Tools and
Templates
Success is not based upon luck. Success is a definite process.
Here are some free success formulas and templates.
See all success tools and templates