Why Choose Us For Your Management Training?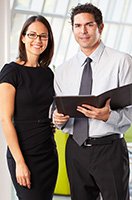 We focus on developing six key skills:
Look at what our delegates say about our training...
Our training courses are rated

4.9

/5, based on

469

reviews.
The course was very comprehensive. A lot of content covered over two days. Extremely helpful, practical approach that I can relate to my role and put into practice. Proposes things that are achievable day to day. The trainer's presentation was good and at the right pace for the content delivered. Clearly explained. Opportunity for group discus... [Read More] Ellen Jenner - Binding Site
The course content was concise and practical as related to my business. It contained information that I had not seen in 48 years in the business world. The trainer's presentation was straightforward, understandable, relevant and well structured. David E Reynolds - AkzoNobel
The course was wide-ranging and very interesting, with many concepts with practical applications both in business and outside work. The trainer was very knowledgeable and enthusiastic and able to give different types of examples which made the concepts presented easier to digest. Jon Lauder - Binding Site
The course was really interesting and very useful. It has helped to reinforce things that I am already doing well, but has offered lots of solutions, strategies and ideas for areas I really need to improve. The materials provided are very good and I will use to refer back to on my return to work. The trainer was excellent. She had a lot to cov... [Read More] Michelle Wilkins - Castle Value Community Regeneration Services
The course covered a lot of topics which were well explained, with good examples that kept all of the delegates engaged in the course right to the end. Lots of ideas that need to be applied to my day job. The trainer was able to control the delegates well. Many large and different personalities in the room so not an easy job. The use of the fl... [Read More] Sue Durnall - Acora
---
Free Leadership Skills Training Tools

Self-Analysis
Questionnaires
Nobody is perfect. We could all improve.
Discover your individual strengths and weaknesses.
See all Questionnaires

Practical Decision
Making Tools
What if you could ALWAYS make the right decision?
With these practical decision tools, you can!
See all decision making tools

Success Tools and
Templates
Success is not based upon luck. Success is a definite process.
Here are some free success formulas and templates.
See all success tools and templates