Why Choose Us For Your Management Training?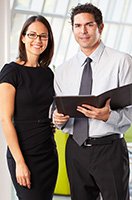 We focus on developing six key skills:
Look at what our delegates say about our training...
Our training courses are rated

4.9

/5, based on

470

reviews.
I feel really positive. The course was extremely comprehensive and very interactive. It's a rare course where I would be happy to keep going at the end of the day. Lots of good, practical tools to use. Will look forward to applying it. Manual is good, well-structured and clear to follow. The trainer was highly engaging, motivating, knowledgeab... [Read More] Cassandra Cameron - Foundation Trust Network NHS
This training course was very interesting, the content made me think about being more positive in my working and family life. I think the theories and examples used will be very beneficial to me going forward. Chris (Trainer) was an exceptional trainer with great life experience examples to illustrate his training. He was very engaging as a ... [Read More] Charlotte Burns - EvoBus (UK) Ltd
The course was professionally presented and well paced, with materials that made the learning easier. Excellent! The trainer was professional and knowledgeable about the subject material. Responsive to questions and scenarios and also helpful. Robert Simpson - Education Funding Agency
The course content was excellent with useful, concise management techniques that I have never been tutored in. I will be able to put to use all of the course content. Chris presented the course in a friendly and professional manner, with personal stories. This made the two days very engaging and the atmosphere was very relaxed. Ben Freeth - The Binding Site Group Ltd
Although I was cynical prior to the course, I found the course very rewarding and informative. An interesting two days, of great value. The trainer's presentation was exceptionally good. Tony Morris - British International Helicopter Services Limited
---
Free Leadership Skills Training Tools

Self-Analysis
Questionnaires
Nobody is perfect. We could all improve.
Discover your individual strengths and weaknesses.
See all Questionnaires

Practical Decision
Making Tools
What if you could ALWAYS make the right decision?
With these practical decision tools, you can!
See all decision making tools

Success Tools and
Templates
Success is not based upon luck. Success is a definite process.
Here are some free success formulas and templates.
See all success tools and templates