Why Choose Us For Your Management Training?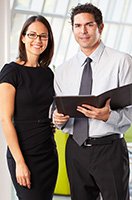 We focus on developing six key skills:
Look at what our delegates say about our training...
The course content is practical and adaptable to everyday living – not just work! I am sure that the skills I have learnt will come into immediate use and I urge other new managers to take this course. The trainer's presentation was fantastic and he delivered the presentation exceptionally. He was helpful, energetic, inspiring and fun. Daisy Steel - Doctors.net.uk
A valuable, well-balanced course which covered the key elements I was looking for; self-improvement to achieve both own and work-related goals. The trainer's presentation was excellent. Thank you for a well planned, full day of thought-provoking exercises. The formulation of individual action plans through the session is valuable and will help... [Read More] Mary Ahern - Alps
The course content suited me as it pointed out the ways I could make my own attitude more positive, which would allow me to pass on that positivity to my colleagues. This should ensure a happier more productive working environment. I felt the trainer was excellently prepared. It wasn't a 'classroom' situation and humour was incorporated leadin... [Read More] Anthony Krogulec - KCH Garden Square
The course was very relevant and practical, but also made me pause and reflect on approaches to life in general and not just working life. It also made me think more about the impact of my behaviour on others. I think that attending this course will make me a better manager. The trainer was an excellent presenter; personable, authoritative, ex... [Read More] Sivakumar Anandaciva - Foundation Trust Network NHS
An excellent course - interesting, different, with great handouts. Very well presented with some great real-life fun examples people could relate to, that brought the course to life. Relaxed and very positive delivery. Linda McLaren - Lumesse
---
Free Development Training Resources

Self-Analysis
Questionnaires
Nobody is perfect. We could all improve.
Discover your individual strengths and weaknesses.
See all Questionnaires

Decision Making
Tools
What if you could ALWAYS make the right decision?
With these decision tools, you can!
See all decision making tools

Success Tools and
Templates
Success is not based upon luck. Success is a definite process.
Here are some success formulas and templates.
See all success tools and templates