Why Choose Us For Your Management Training?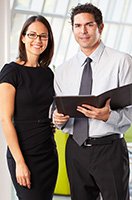 We focus on developing six key skills:
Look at what our delegates say about our training...
Our training courses are rated

4.9

/5, based on

469

reviews.
The course was very relevant and practical, but also made me pause and reflect on approaches to life in general and not just working life. It also made me think more about the impact of my behaviour on others. I think that attending this course will make me a better manager. The trainer was an excellent presenter; personable, authoritative, ex... [Read More] Sivakumar Anandaciva - Foundation Trust Network NHS
The course was brilliant, very informative and the tools gained to use in my workplace will be invaluable. Well worth it on all levels and will recommend to others. The trainer was fantastic, clear, precise and easily understood. It was a pleasure to be a part of this. Thank you so much. Angela Chapman - VDEF (St John's Shopping Centre)
The course content was excellent. I learnt a lot of new skills to help me become more organised and better in my job. The trainer's presentation was very good. Enjoyed both days from start to finish. Graham Holden - River Jack Ltd
Excellent combination of psychology, philosophy and exponential theory and examples. Great tasks to reinforce and stimulate debate. The trainer's presentation was outstanding. Kept the pace high to retain attention and engaged with everyone. A great positive example. Bert Appleton - Premier Global
The course content has give me a better insight into the way I would like to be perceived as both a colleague and a manager. The trainer, Chris, came highly recommended and I hope to act on everything he has taught me over the coming weeks, months and years. Thank you. Ben Jones - IBS Schools (WCC)
---
Free Leadership Skills Training Tools

Self-Analysis
Questionnaires
Nobody is perfect. We could all improve.
Discover your individual strengths and weaknesses.
See all Questionnaires

Practical Decision
Making Tools
What if you could ALWAYS make the right decision?
With these practical decision tools, you can!
See all decision making tools

Success Tools and
Templates
Success is not based upon luck. Success is a definite process.
Here are some free success formulas and templates.
See all success tools and templates