Why Choose Us For Your Management Training?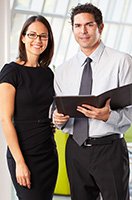 We focus on developing six key skills:
Look at what our delegates say about our training...
Our training courses are rated

4.9

/5, based on

473

reviews.
The course content was excellent with useful, concise management techniques that I have never been tutored in. I will be able to put to use all of the course content. Chris presented the course in a friendly and professional manner, with personal stories. This made the two days very engaging and the atmosphere was very relaxed. Ben Freeth - The Binding Site Group Ltd
This course was very relevant and informative and has given me the confidence for the future in knowing that I am following best practice guidelines to manage my team effectively. The trainer was informative and easy to understand. A very enjoyable course. Chris Waring - Pinnacle Communications Ltd
The course content was quite detailed, but the presentation broke it down so that it wasn't too daunting. Covered a lot of ground in two days. Really informative. The trainer's presentation was excellent. The best training presentation I have ever seen. Alison Patrick - Sentinel
The two days were simply brilliant; content and delivery were spot on. Well worth the time to which will help me, my company and my team. This will also help in my personal life. Trainers presentation: True professional Nick Baker - Pacific West Foods
The course content was fascinating and very relevant to me. Encouraged me to review my positives and negatives but importantly provided clear instruction on tools and models to enhance my personal and professional development: Brilliant. The trainers presentation was first class, well delivered, informed, relevant and with the right energy and... [Read More] Nathan Cook - Cable Management Products
---
Free Leadership Skills Training Tools

Self-Analysis
Questionnaires
Nobody is perfect. We could all improve.
Discover your individual strengths and weaknesses.
See all Questionnaires

Practical Decision
Making Tools
What if you could ALWAYS make the right decision?
With these practical decision tools, you can!
See all decision making tools

Success Tools and
Templates
Success is not based upon luck. Success is a definite process.
Here are some free success formulas and templates.
See all success tools and templates