Why Choose Us For Your Management Training?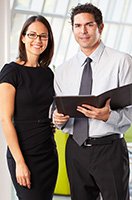 We focus on developing six key skills:
Look at what our delegates say about our training...
The training course content was really superb and engaging; I will use a lot of these concepts in my daily work. The best course I have been on in a very long time. Trainer's presentation: Positive, lively and engaged the whole group. Felt energised throughout the day. Helen Eaton - ASDA
On this course, I particularly liked the way principals were broken down in explanation and then built back up to give a better understanding. The section on conflict was extremely interesting, mainly to do with the language used. The trainer was very clear and precise. Alex - Translate Bar
I found this course beneficial to know how to successfully conduct an investigation into issues. The tools will enable me to find the correct, factual information. The trainer's presentation was very good, light-hearted and easy to understand. He gave a good insight and tools to assist in investigating. LynseyHanley - Quantum Care
Course content was absolutely brilliant. Gave me another insight into management. I will use the success formula. The trainer was brilliant at presenting the course and I would recommend him. A great mix of information and comedy. Andrew Roberts - Turner Construction
The course was very comprehensive. A lot of content covered over two days. Extremely helpful, practical approach that I can relate to my role and put into practice. Proposes things that are achievable day to day. The trainer's presentation was good and at the right pace for the content delivered. Clearly explained. Opportunity for group discus... [Read More] Ellen Jenner - Binding Site
---
Free Development Training Resources

Self-Analysis
Questionnaires
Nobody is perfect. We could all improve.
Discover your individual strengths and weaknesses.
See all Questionnaires

Decision Making
Tools
What if you could ALWAYS make the right decision?
With these decision tools, you can!
See all decision making tools

Success Tools and
Templates
Success is not based upon luck. Success is a definite process.
Here are some success formulas and templates.
See all success tools and templates