Our Corporate Training Courses
---
Corporate Training Courses in the UK and Overseas
With over 20 years experience as one of the UK's most successful leadership training companies, we hold regular open courses in London, Birmingham, Bristol, Cambridge, Leeds, Liverpool, Manchester, Reading. We can also deliver courses in-house at your premises, both within the UK and internationally.
Management Courses That Provide A World Class Training Experience
Corporate Coach Group have been endorsed by the
Institute of Leadership and Management (ILM)
and by the
CPD
. You will enjoy the presentation of the courses, because our trainers are all friendly knowledgeable, experienced and fun. The trainers will make you feel welcome and will ensure that you have a beneficial and pleasurable learning experience.
Training That Delivers Exceptionally Clear, Specific and Practical Methods
Our coaching courses offer your staff exceptionally clear, specific and practical methods, which will provide them with answers to their most pressing questions. Whether you want London corporate training or in the rest of the UK (or internationally), you will find our Corporate Coach courses give you practical methods that you can immediately apply.
Post-Course Online Interactive Tools
Your training comes with additional online interactive tools that you can access for free, forever. These online tools will help you to apply the methods we learn on the course. You will also receive a terrific course workbook, that you will use in during the course, and to which you will want to use to as a permanent reference book to guide your success.
Our Training Is Universally Applicable
You will find our training is inclusive: it is gender neutral and does not discriminate in favour of or against anyone. So, no matter WHO you are, or WHERE you are, you will find our methods will work for you too, because we are studying the UNIVERSAL principles of SUCCESSFUL human action.
Why Choose Us For Your Management Training?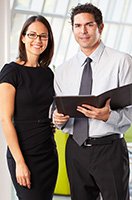 Our training courses offer a proven system to develop the top ten universally applicable skills: Goal achievement, clear communication, time management, prioritisation, delegation, conflict management, self-motivation, self-confidence, emotional management and inspirational leadership.
Our courses have proven to be the best because they teach both what to do and specifically how to do it. We attach to each "success principle" a corresponding practical method, which combine to provide a step by step guide to superior performance. These success principles apply to everyone and to every industry.
People find our courses are better than others because ours are highly structured, well designed, fast paced, engaging, practical, relevant, tried, tested and approved by thousands.
It is said that "Knowledge is Power" and our courses empower people.
What distinguishes Corporate Coach Group courses from other training providers?
We focus on developing six key skills:
---
A Word From Our Delegates
Training course content was far more in depth than I imagined and a change to other courses I have been on, which I would say brushed over thing... [Read More] Patrick Beebe
Keybury Fire & Security
The course content was very good, clear and interesting. Feel like I have a lot of tools in my tool box! The trainer was fun, friendly and a deli... [Read More] Jade Atkinson
MEL Health & Safety Consultants Ltd
---
Free Leadership Skills Training Tools

Self-Analysis
Questionnaires
Nobody is perfect. We could all improve.
Discover your individual strengths and weaknesses.
See all Questionnaires

Practical Decision
Making Tools
What if you could ALWAYS make the right decision?
With these practical decision tools, you can!
See all decision making tools

Success Tools and
Templates
Success is not based upon luck. Success is a definite process.
Here are some free success formulas and templates.
See all success tools and templates
---