Why Choose Us For Your Management Training?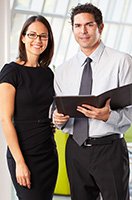 We focus on developing six key skills:
Look at what our delegates say about our training...
Our training courses are rated

4.9

/5, based on

475

reviews.
The course was very comprehensive. A lot of content covered over two days. Extremely helpful, practical approach that I can relate to my role and put into practice. Proposes things that are achievable day to day. The trainer's presentation was good and at the right pace for the content delivered. Clearly explained. Opportunity for group discus... [Read More] Ellen Jenner - Binding Site
"Thanks Chris, you changed my life!" Honestly, I thought I knew most of it already, but I've learned a lot more. The trainer's presentation was very good, good communication (physical and verbal) and always looking at everyone which is important! Samir Ammali - United Print
This course was very relevant and informative and has given me the confidence for the future in knowing that I am following best practice guidelines to manage my team effectively. The trainer was informative and easy to understand. A very enjoyable course. Chris Waring - Pinnacle Communications Ltd
The course was brilliant, very informative and the tools gained to use in my workplace will be invaluable. Well worth it on all levels and will recommend to others. The trainer was fantastic, clear, precise and easily understood. It was a pleasure to be a part of this. Thank you so much. Angela Chapman - VDEF (St John's Shopping Centre)
The course content was very relevant and well structured. Flowed extremely well from one topic to the next so that you were left with a coherent series of techniques to apply in both the workplace and wider life. The trainer's presentation was very engaging, well informed and inspiring. A friendly and approachable presenter, who was positive a... [Read More] Richard Tattersall - UHY Hacker Young LLP
---
Free Leadership Skills Training Tools

Self-Analysis
Questionnaires
Nobody is perfect. We could all improve.
Discover your individual strengths and weaknesses.
See all Questionnaires

Practical Decision
Making Tools
What if you could ALWAYS make the right decision?
With these practical decision tools, you can!
See all decision making tools

Success Tools and
Templates
Success is not based upon luck. Success is a definite process.
Here are some free success formulas and templates.
See all success tools and templates