Why Choose Us For Your Management Training?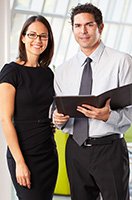 We focus on developing six key skills:
Look at what our delegates say about our training...
Our training courses are rated

4.9

/5, based on

468

reviews.
The course was brilliant! Very informative and worthwhile. I learned a lot about myself. Will certainly use the prioritisation tool. The trainer was again, brilliant! Clear, inspiring and engaging. Lindy Martin - LCTU, University of Liverpool
The course content was excellent. An enjoyable course, very thought-provoking and informative. Lots of information compacted into a short time, with good notes to refer back to. The trainer's presentation was excellent. Well presented and kept everyone focused. One of the best courses I have attended. Nick Hills - International Greetings UK Ltd
I found this conflict course really useful, particularly highlighting the importance of using objective language when in conflict situations and the model 'six steps' for managing complains as this is something that presents as a manager. I also found the 'wrong box, right box' method useful, - removing the emotion. The presentation was really... [Read More] Laura Byrne - Swindon Womens Aid
The course content was excellent and very detailed. I found the time management section very useful and lots of new methods to help me be better organised. I found the emotions section very interesting and a great way to approach the issues. Chris was an excellent trainer, very clear and worked at a good pace. Hannatu Gentles - TY Danjuma Family Office Ltd
The content of the course was very appropriate, relevant to purpose and identifying key skills. I feel I have learnt a lot of new skills which I will definitely use moving forward. The trainer's presentation was excellent and ensured key points were reiterated and reinforced through course. One of the best training methods I have ever come acr... [Read More] Saera Ul-hasan - Binding Site
---
Free Leadership Skills Training Tools

Self-Analysis
Questionnaires
Nobody is perfect. We could all improve.
Discover your individual strengths and weaknesses.
See all Questionnaires

Practical Decision
Making Tools
What if you could ALWAYS make the right decision?
With these practical decision tools, you can!
See all decision making tools

Success Tools and
Templates
Success is not based upon luck. Success is a definite process.
Here are some free success formulas and templates.
See all success tools and templates