Why Choose Us For Your Management Training?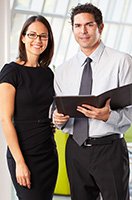 We focus on developing six key skills:
Look at what our delegates say about our training...
The content of the course was very good with lots of thought-provoking topics, eg use of words, dealing with conflict, planning and prioritising. There was lots of material to cover but the trainer covered it at a good speed with lots of small sessions of thinking time. Writing our own action plan was a great idea as much more likely to focus ... [Read More] Chris Compton - Centerplate UK
The course content was excellent and extensive, but well managed into easily digestible sections. Extremely practical and informative. The trainer's presentation was first class. His style and subject knowledge were brilliant. James Glover - Queenswood Golf Club
I found the course content to be interesting, engaging and stimulating across both days. I especially enjoyed the references made to philosophy and the application of ancient thinkers such as Aristotle. The trainer is a great public speaker and gives an energetic presentation, displaying a thorough interest in the course content which transcen... [Read More] Andrew McNally - Old Friends Care Ltd
The course contained lots of interesting topics that were all relevant to my job role. All topics were explained in lots of detail, with great strategies to remember them. The trainer's presentation was great, with use of both personal case studies and from the group, ensured we were all engaged. The training media and training manual, made th... [Read More] Laureen Doyle-Henson - Neptune
The course content contained a number of key tools that I can use with my direct reports and in relation to my own performance. Able to use immediately. The course brought out a number of areas, previously learned, back to the surface. The trainer's presentation was clear, direct and great pace. Managed all delegates expectations well. Positiv... [Read More] Dave Jackson - International Greetings UK Ltd
---
Free Development Training Resources

Self-Analysis
Questionnaires
Nobody is perfect. We could all improve.
Discover your individual strengths and weaknesses.
See all Questionnaires

Decision Making
Tools
What if you could ALWAYS make the right decision?
With these decision tools, you can!
See all decision making tools

Success Tools and
Templates
Success is not based upon luck. Success is a definite process.
Here are some success formulas and templates.
See all success tools and templates