Why Choose Us For Your Management Training?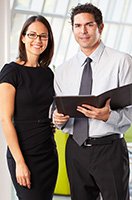 We focus on developing six key skills:
Look at what our delegates say about our training...
Our training courses are rated

4.9

/5, based on

473

reviews.
Really useful and practical, drawing on plenty of real world examples. Provided plenty of guidance for dealing with a range of situations. Useful to hear of examples from other industrial sectors. Will prove very useful for organising my time and priorities. Trainer was very clear – good pace. Never felt rushed or too slow. One of the best cou... [Read More] David Killick - Eurofins Professional Scientific Services
The course was very relevant and practical, but also made me pause and reflect on approaches to life in general and not just working life. It also made me think more about the impact of my behaviour on others. I think that attending this course will make me a better manager. The trainer was an excellent presenter; personable, authoritative, ex... [Read More] Sivakumar Anandaciva - Foundation Trust Network NHS
It was a very practical course, providing methods of implantation and the reason for, rather than including a lot of 'theoretical' ideas and models that I have been given on previous such courses. This was an excellent Course! Chris was very clear and able to provide plenty of examples / scenarios that demonstrated the content. Excellent! Les Samuels - DHC
I thought the course was very eye-opening and made me look at simple processes in a very different light and in much more depth. Being a visual learner, I found the diagrams, models and structures very interesting and valuable. Chris is a very engaging and positive presenter, ensuring he explains things thoroughly and ensures everyone understa... [Read More] Katy Woollard - TY Danjuma Family Office Ltd
I really enjoyed this course. The trainer was fantastic, very positive energy and extremely engaging and knowledgeable.The printed training books had good visuals and wording, it was easy to understand. The course covered all the relevant topics – nothing was unnecessary. I learned a lot over the two day course and have already been able to pu... [Read More] Joanne Cook - Q-Lab Europe LTD
---
Free Leadership Skills Training Tools

Self-Analysis
Questionnaires
Nobody is perfect. We could all improve.
Discover your individual strengths and weaknesses.
See all Questionnaires

Practical Decision
Making Tools
What if you could ALWAYS make the right decision?
With these practical decision tools, you can!
See all decision making tools

Success Tools and
Templates
Success is not based upon luck. Success is a definite process.
Here are some free success formulas and templates.
See all success tools and templates