Why Choose Us For Your Management Training?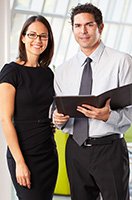 We focus on developing six key skills:
Look at what our delegates say about our training...
Our training courses are rated

4.9

/5, based on

473

reviews.
I had a wonderful experience with such a learning oriented course. It was really beneficial for me in terms of managing conflict, directing and delegating the tasks, setting about the priority of tasks effectively. Gezz is unique trainer I must say, equipped with wonderful expertise and practical examples both for professional and personal lif... [Read More] Sameera Rasheed - ASK Development Ltd
I found the two-day course really valuable and has helped me to have a clearer focus. The techniques and tips will make a positive difference in particular the success formula and wrong box / right box. Chris, the trainer, was outstanding, very engaging, clear, rational and positive. Mo Ali - Gateway Housing
The course content was perfect, with detailed notes that interlinked with the full two-day presentation, including interaction throughout. The trainer was planned and prepared. He presented based on course notes fluently with no need to refer to notes. Maintained focus and attentiveness for full two days. Mai Chim - International Greetings UK Ltd
The course content was mixed and kept me attentive. I appreciated all the examples and stories, much easier to learn from experiences. The trainer was very interactive. I enjoyed working in pairs, definitely helped content sink in. Chloe Pott - Nexthink SA
The course was extremely helpful, I really enjoyed the whole content. I found particularly helpful and will implement in my day to day work: Conflict management – rational objective language; 8 Part SMART questions; Time management matrix. Chris' presentation was very informative, polite and friendly – very knowledgeable. Chris did not lose m... [Read More] Misbah Nareen - Carbogen Amcis Ltd
---
Free Leadership Skills Training Tools

Self-Analysis
Questionnaires
Nobody is perfect. We could all improve.
Discover your individual strengths and weaknesses.
See all Questionnaires

Practical Decision
Making Tools
What if you could ALWAYS make the right decision?
With these practical decision tools, you can!
See all decision making tools

Success Tools and
Templates
Success is not based upon luck. Success is a definite process.
Here are some free success formulas and templates.
See all success tools and templates