Why Choose Us For Your Management Training?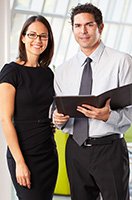 We focus on developing six key skills:
Look at what our delegates say about our training...
Our training courses are rated

4.9

/5, based on

468

reviews.
The course content was very comprehensive and covered everything I wanted to learn about and improve upon. I found the content very interesting and look forward to putting it into practice! Gezz is a very thorough trainer and comes across very clear, whilst keeping the attendees interested throughout the two days. Georgina Macleod - ALMIS International Ltd
"Thanks Chris, you changed my life!" Honestly, I thought I knew most of it already, but I've learned a lot more. The trainer's presentation was very good, good communication (physical and verbal) and always looking at everyone which is important! Samir Ammali - United Print
The course was very useful, with many day-to-day examples and processes that can be applied to my role. The course book is very thorough. Trainer's presentation was thorough and well planned. Very good use of examples and additional literature for reading etc. Victoria Jones - Thrive Architects
The course content was eye-opening for me as a relatively new line manager. There were definitely things that I found myself to be guilty of, so I appreciate the lessons. The examples were very practical and useful, hopefully I will put them to good use on the next occasion. The trainer was very well prepared, enthusiastic, with great stories ... [Read More] Claudia Rinciog - Symmetron Ltd
The course content was excellent with useful, concise management techniques that I have never been tutored in. I will be able to put to use all of the course content. Chris presented the course in a friendly and professional manner, with personal stories. This made the two days very engaging and the atmosphere was very relaxed. Ben Freeth - The Binding Site Group Ltd
---
Free Leadership Skills Training Tools

Self-Analysis
Questionnaires
Nobody is perfect. We could all improve.
Discover your individual strengths and weaknesses.
See all Questionnaires

Practical Decision
Making Tools
What if you could ALWAYS make the right decision?
With these practical decision tools, you can!
See all decision making tools

Success Tools and
Templates
Success is not based upon luck. Success is a definite process.
Here are some free success formulas and templates.
See all success tools and templates