Why Choose Us For Your Management Training?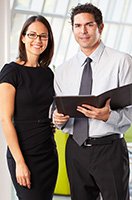 We focus on developing six key skills:
Look at what our delegates say about our training...
Our training courses are rated

4.9

/5, based on

466

reviews.
I had a wonderful experience with such a learning oriented course. It was really beneficial for me in terms of managing conflict, directing and delegating the tasks, setting about the priority of tasks effectively. Gezz is unique trainer I must say, equipped with wonderful expertise and practical examples both for professional and personal lif... [Read More] Sameera Rasheed - ASK Development Ltd
This training course was very interesting, the content made me think about being more positive in my working and family life. I think the theories and examples used will be very beneficial to me going forward. Chris (Trainer) was an exceptional trainer with great life experience examples to illustrate his training. He was very engaging as a ... [Read More] Charlotte Burns - EvoBus (UK) Ltd
The course content was very relevant and well structured. Flowed extremely well from one topic to the next so that you were left with a coherent series of techniques to apply in both the workplace and wider life. The trainer's presentation was very engaging, well informed and inspiring. A friendly and approachable presenter, who was positive a... [Read More] Richard Tattersall - UHY Hacker Young LLP
The course contained some very interesting concepts, of which I can apply immediately to my role and that of my team. A lot of information in the two days so I will definitely review the handbook to ensure I put as much into practice as possible. Chris was extremely engaging and knowledgeable, his style and humour made the delivery interesting... [Read More] Emily Thomas-Hey - International Greetings UK Ltd
The course content was fascinating and very relevant to me. Encouraged me to review my positives and negatives but importantly provided clear instruction on tools and models to enhance my personal and professional development: Brilliant. The trainers presentation was first class, well delivered, informed, relevant and with the right energy and... [Read More] Nathan Cook - Cable Management Products
---
Free Leadership Skills Training Tools

Self-Analysis
Questionnaires
Nobody is perfect. We could all improve.
Discover your individual strengths and weaknesses.
See all Questionnaires

Practical Decision
Making Tools
What if you could ALWAYS make the right decision?
With these practical decision tools, you can!
See all decision making tools

Success Tools and
Templates
Success is not based upon luck. Success is a definite process.
Here are some free success formulas and templates.
See all success tools and templates