Why Choose Us For Your Management Training?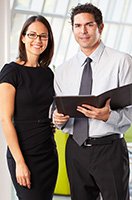 We focus on developing six key skills:
Look at what our delegates say about our training...
Our training courses are rated

4.9

/5, based on

468

reviews.
The course was excellent and I have been able to gain a lot of tools for me to apply to my role and everyday work. Especially enjoyed the planning section and how to deal with conflicts. I look forward to putting them into practice. The trainer's presentation was excellent and kept my attention the whole time. I liked that it was varied and no... [Read More] Karen Kang - The Binding Site Group Ltd
The content of the course was very appropriate, relevant to purpose and identifying key skills. I feel I have learnt a lot of new skills which I will definitely use moving forward. The trainer's presentation was excellent and ensured key points were reiterated and reinforced through course. One of the best training methods I have ever come acr... [Read More] Saera Ul-hasan - Binding Site
Extensive content that was applicable to both professional and personal development, especially associated with time management, prioritisation and emotional management. The trainer was concise and knowledgeable, conscious of the group and how well information was retained. Would definitely recommend the course. Bob Cott - Eventbrite
I found the course to be informative and I very much enjoyed the day. The number of delegates allowed for a more personal approach which I found helpful. I have taken away some useful tools to handle difficult and confrontational situations, that can be applied not only in the workplace but in life generally. Having access to the post course p... [Read More] Sue Cash - GNT UK Ltd
The course content was useful, informative and made you think and look at things differently. The trainer's presentation was really engaging, interesting, involved everyone, made me feel at ease. Helen Baker - Centerplate at Warner Bros
---
Free Leadership Skills Training Tools

Self-Analysis
Questionnaires
Nobody is perfect. We could all improve.
Discover your individual strengths and weaknesses.
See all Questionnaires

Practical Decision
Making Tools
What if you could ALWAYS make the right decision?
With these practical decision tools, you can!
See all decision making tools

Success Tools and
Templates
Success is not based upon luck. Success is a definite process.
Here are some free success formulas and templates.
See all success tools and templates