Why Choose Us For Your Management Training?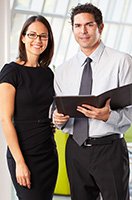 We focus on developing six key skills:
Look at what our delegates say about our training...
The training course could not have been better for me! Content was extremely relevant and context was spot on! Diagrams, processes and exercises were clear and accessible and I enjoyed every part. The trainer's presentation was excellent for my learning style: fast paced, visual and course material were very good. Chris was very professional. Hannah Ginn - Langley House Trust
The course content was fascinating, useful and concise. The trainer's presentation was engaging, interesting, funny, inspirational, knowledgeable, respectful, friendly, energetic, highly intelligent and draws on startlingly broad frames of reference. Keir Ritchie - Imperial College Healthcare NHS Trust
The course content was very informative and relevant to my first steps into a management level role. Lots of tools and information to take away to help me in the job. The trainer's presentation was very good, I felt quite inspired on completion of the course, thank you! Graeme Varney - AMOT
The course was informative and made me question leadership skills that I have operated with for years, but made me see a fresh approach to dealing with different scenarios I am faced with. The trainer's presentation was fantastic. He kept the group involved and made everything very clear as the presentation went on. Very knowledgeable. Dean Stones - Centreplate UK Ltd
The course content was excellent and extensive, but well managed into easily digestible sections. Extremely practical and informative. The trainer's presentation was first class. His style and subject knowledge were brilliant. James Glover - Queenswood Golf Club
---
Free Development Training Resources

Self-Analysis
Questionnaires
Nobody is perfect. We could all improve.
Discover your individual strengths and weaknesses.
See all Questionnaires

Decision Making
Tools
What if you could ALWAYS make the right decision?
With these decision tools, you can!
See all decision making tools

Success Tools and
Templates
Success is not based upon luck. Success is a definite process.
Here are some success formulas and templates.
See all success tools and templates