Conflict Management Training Course
- One Day
Learn practical tools that you can use in real-life situations.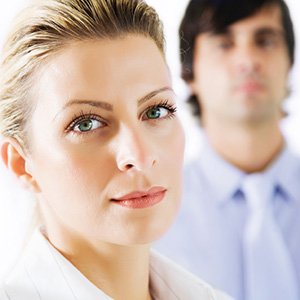 How to settle workplace conflict and quickly restore harmony
When in conflict, avoid using anger and upset, instead use REASON and LOGIC
Don't emotionalise, instead objectify the situation and quickly find solutions
In conflict, know when to compromise and when to stand firm
Distinguish "reasons" from "excuses" and have a different policy for each
Use the correct level of assertiveness; the proper use of voice tones and body language.
How to use praise and appreciation to immediately reinforce any positive changes
Learn proven techniques from expert trainers
Learn in a friendly and relaxed atmosphere with people who are facing similar situations as you.
The course content was very useful and practical, as I can apply the skills gained not only at work but outside of the office environment. The trainer's presentation was excellent. Everything was very clear, easy to understand follow. Chris is very knowledgeable and has very good advice.
Customer Reviews
Make an Enquiry
X
If you feel you would like to attend but cannot yet commit to a secured booking, you can express your interest here.
Conflict Management Training
Is it true that some people in your organisation do not manage conflict very well? Instead, do they sometimes mis-manage conflict and make the situation worse? Conflict in your team is inevitable and could even be beneficial, but ONLY IF it is managed according to correct principles.
Conflict Management Training - Course Overview
This is a brief overview of the content covered in the one-day course
For a more in-depth course outline click:
Morning - Managing Intellectual Conflict
Conflict is damaging to productivity and happiness and therefore must be resolved
Many people mishandle conflict situations and make things worse
How can you get the best result from any conflict situation?
During dispute resolutions, speak clearly, rationally and with a positive attitude
Self-assessment of your strengths and weaknesses
Clarity of purpose. Know what you want from the situation.
You must know what you want AND what the other wants
Use specific language, avoid ambiguous terms
Talk about what you can do, not what you cannot do
Distinguish between critical responses and cynical responses
We want to develop our critical thinking without any cynicism
Whenever possible, give affirmative commands
Be wary of giving accidental negative commands, 'Don't panic!'
The use and misuse of humour at work
How to handle the 'Smiling Assassin' and the 'Social Bully'
Afternoon - Managing Behavioural Conflict
Three wrong ways to handle conflict: Anger, upset and evasion
The right way to handle conflict: By REASON
Self-image psychology. Never attack a person's self-image
Use objective, factual language, not derogatory, emotional language
Be exact in your description of what is wrong
Suggest practical solutions and ask for an agreement
Distinguish reasons from excuses and have a different policy for each
During dispute resolution, learn when to compromise and when to stand firm
Notes on proper body language; Gestures, posture, eye-contact and facial expression
Notes on proper voice tones; volume, pitch, pace
Get the timing right; you can say the right things, in the WRONG place and time
Give instant praise and appreciation for any concessions or movement
Always finish on a positive note
Summary action planning and close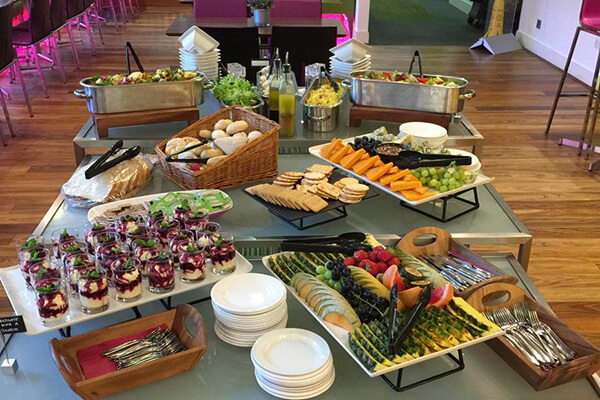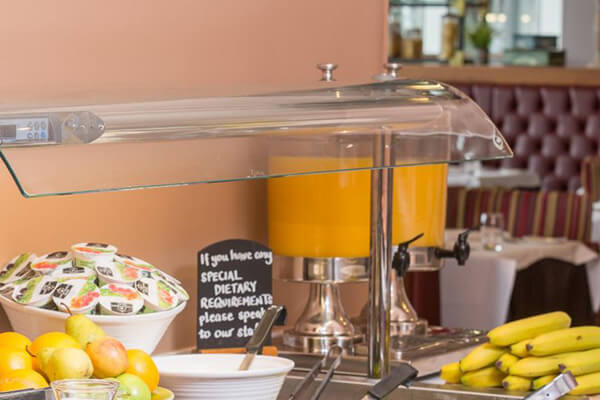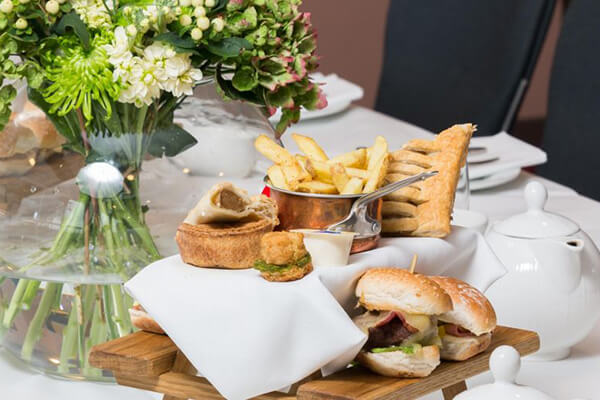 A selection of food which is available on our open courses - varies per venue
Book Now - Open Training Course Pricing and Availability
A selection of venue photos
The Conflict Management open training course costs only £450 +VAT per delegate.
For this price we provide:
A full day of quality training
6 trainer-led hours, additional 2-3 via post-course portal independent learning
Tea, coffee and cakes
Lunch
Full colour course handbook
Written action plan
Certificate
Training articles and newsletters
Access to additional free training material after the course
Plus, 3 months free telephone coaching
To answer any on-going questions, you will also receive email and telephone support from your trainer after you have attended the course. Whilst you are implementing what you have learned we will be there to help you if you need us for advice, guidance and coaching.
Next Open Course Dates
More dates and locations are available -
The course was well structured with a good flow of topics which led onto the next topic. I liked the interactive part, working with the other attendees. Thank you for delivering a course with NO power point slides. It was really refreshing. The trainer's presentation was excellent! Informative, engaging, very knowledgeable and the real life examples were excellent.
Customer Reviews
In-House Training Course Pricing and Proposal
This course is also available from just £1,950 +VAT per day as a bespoke in-house group training course in the UK and worldwide.
It has been designed to provide a similar experience to our open courses, however we can tailor the content to fit your specific needs. In-House Group training costs from just £1,950 +VAT per day (international training price varies). Plus, hotel accommodation for trainer if necessary. (Premier Inn type: not the Hilton!)
This price includes:
Quality training delivered by an experienced trainer
Full days training
Full colour course handbook
Preparation work
Travel costs and time
Written action plan to take away
Access to our post course portal
Access to our on-line leadership and management decision matrix templates and tools
Plus three months FREE telephone coaching to answer any on-going questions
In-House Proposal Document
Download the in-house training proposal document
Contact Us Today
Please call us on +44 (0)20 3856 3037 to discuss your requirements for the in-house training course.
If you want to know more about any other Management Training Courses, or their suitability for you or a colleague, call us on +44 (0)20 3856 3037.
Course content is on point. A useful handbook with practical implementation. The course follow-up is a bonus. Would perhaps like time to focus on own work specific examples more. The trainer took a measured, engaging approach. Pace was just right and he did not make you feel negatively about performance at work, or being right or wrong. Perfect use of humour and measured examples.
Customer Reviews