Conflict Management Training Availability, Pricing and Course Dates
If you have any questions, please phone us (020 3856 3037) or send us a message.
Live Online Virtual Training
Live Online Conflict Management Virtual Training delivered via Zoom or Microsoft Teams
Easy to join - all you need is a laptop or tablet with a Webcam
Learn the same skills as a face-to-face session, but from the comfort of your own home (or office!)
Open Course (Face-to-Face)
£475
+VAT per delegate
(Early Bird Offers Available)
Delivered at venues around the UK
Open Course Timings are: 9am - 4.30pm
If you arrive earlier than 9am, there is coffee / tea waiting for you.
Bespoke Training (In-House or Live Online)
£2,150
+VAT per training day
(International Price Varies)
In-House training has been designed to provide a similar experience to our open courses, however we can tailor the content to fit your specific needs.
Plus, hotel accommodation for trainer if needed (Premier Inn type: not the Hilton!)
We are able to train in your timezone.
All our training includes:
A full day of quality training, delivered by an experienced trainer
CPD-endorsed training course: Total of 6 CPD training hours (9am - 4.30pm), plus an additional 2-3 via post-course online independent learning.
Full digital interactive course notes
Training certificate
Access to additional free training material after the course via our post-course portal
3 months free telephone coaching: Whilst you are implementing what you have learned, if you need to, you can contact us for support and guidance
What is Conflict Management Training?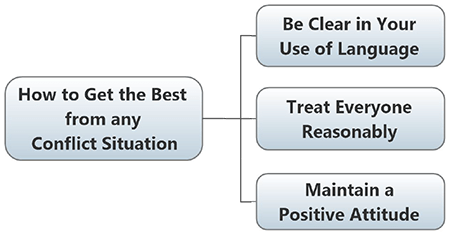 This conflict management training is designed to help you prevent unnecessary conflicts, and to quickly deal with those conflicts that do occur.
We show you how poor communication leads to misunderstandings and conflict and how we can reduce the number of conflicts by improving the quality of communications.
But when conflicts occur, or if we have to manage instances of unacceptable behaviour, or poor performance, then we must act quickly, because poorly managed conflicts can grow to costly disputes.
You learn how to manage conflicts in a professional, objective and expert manner and how to avoid the negative emotions commonly associated with conflicts.
When you finish this course, you will know exactly how to minimise and quickly resolve conflicts.
Contact Us Today
If you want to know more about this course, or any other Management Training Courses, or their suitability for you or a colleague, call us on 020 3856 3037 or make an enquiry online.
Customer Reviews
I found this conflict course really useful, particularly highlighting the importance of using objective language when in conflict situations and the model 'six steps' for managing complaints as this is something that presents as a manager. I als... [Read More] Laura Byrne
Swindon Womens Aid
Training course content was very structured and easy to understand. Liked the simplicity of the 'wrong box' 'right box' method. The trainer's presentation was excellent, with examples, easy to follow. Chris is very personable and gave good advic... [Read More] Emma Griffiths
ASDA
Conflict Management Training Course Overview
The course is split into two parts: Morning and afternoon.
AM Managing conflicts based on disagreements of ideas and opinions.
PM Resolving conflicts based upon poor performance issues or unacceptable behaviour.
The morning session covers how to resolve conflicts based on a clash of ideas, opinions and personalities. We learn how to improve the quality of our communication and how to avoid conflicts caused by misunderstandings. We show you how to present your thoughts in a clear, rational and positive manner. We learn how to handle negativity and cynicism, and social bullying. We learn how to de-escalate situations; how to avoid losing your temper and how to influence situations with positive suggestions, being sure to always leave every interaction on a positive note.
The afternoon session deals with conflicts arising from poor performance, or unacceptable behaviour. We learn why, when in conflict we use objective factual language, not subjective emotionalised language. We learn how to deal with conflicts rationally, not emotionally. How to objectify the situation using facts, rather than feelings. Distinguish reasons from excuses and then find a solution to the conflict and gain their commitment. We discuss how body language, voice tones and timing affect conflict, and how to get it right. We learn when to compromise and when to "stand your ground". We will also cover how to be assertive without ever being aggressive. And we finish on how to use appreciation and praise to reinforce correct behaviours.
When you finish this course, you will know how to effectively handle conflicts.
Learning Outcomes:
How to settle workplace conflict and quickly restore harmony
How to use reason and logic, rather than anger and emotion, when handling conflict
Be able to objectify the situation and quickly find solutions, without emotionalising
In conflict, know when to compromise and when to stand firm
Distinguish "reasons" from "excuses" and have a different policy for each
Use the correct level of assertiveness; the proper use of voice tones and body language.
How to use praise and appreciation to immediately reinforce any positive changes
Conflict Management Training Course Details
Morning Session
Conflict Resolution Training: Avoiding conflicts based on misunderstandings
Many conflicts are born of a misunderstanding of an earlier message. By clarifying your original message, you can avoid many errors and misunderstandings.
Clarity of Purpose and Goal Setting
The first thing you must do, is to clarify the goal. You must know what you want and be able to clearly communicate your objectives to others. In addition, you must understand what the other person wants.
The dangers of an ambiguous message
An ambiguous message is one that can be understood in multiple ways. For example, "Send me that document, asap".
Notes on how to eliminate vagueness and ambiguity from your spoken and written communications.
Clarity is a virtue, vagueness is a vice.
How to give a clear, specific message
We will show you eight ways to clarify your message and ensure there can be no conflict, based on misunderstanding.
How are you perceived at work?
Remember that people make judgements about you, based upon everything you say and everything you do.
You have the power to control what you say and do, and therefore you should decide exactly how you want to be perceived and then act accordingly.
The correct and incorrect use of humour
The misuse of humour can be the source of conflict. We will discuss how to properly use humour and the negative effects of the misuse of humour.
How to define the exact meaning of your message
It is important to be able to accurately express your message, in a single sentence. We will show you how to reduce a complex message to its essential terms, so that it can be more easily and correctly understood.
How to give a clear, specific message
How to deal with a negative personality
Some people are cynical and negative – they call it being realistic. We will show you how to transform your negative cynic, into a critical thinker.
Avoid making negative suggestions, keep them positive
Every time you speak, you create mental images in the mind of your listener, which are then acted upon. Therefore, it is very important to phrase your message, so that the images you create, correspond to the things that you do want. We call this process embedded command.
Afternoon Session
Four ways to approach conflict resolution situations
Managing confrontational situations
Conflict is inevitable, since not everybody agrees with your views. How you deal with conflict and confrontation is an important issue.
Three common mistakes people make in conflict situations
Many people get too emotional, too quickly.
They argue far too long about what has already happened (the past).
They lose control of their language and make a bad situation, worse.
The proper approach to conflict resolution
We will use reason and objective language to resolve conflict.

What are the principles of rational conflict resolution?
Whilst in conflict, keep your negative emotions under control.
Strictly control your language and don't verbalise your derogatory opinions.
Don't argue about the past, instead negotiate a plan going forward.
Operate according to the facts, not your feelings.
The rational approach to handling conflict and difficult people
Your goal is to modify their behaviour, not "win" the argument
"Nip it in the bud" technique, to quickly handle conflict
Don't use emotional language when dealing with conflict in the workplace
Use objective language
Don't attack their self-image, character, ego or pride
Give them a clear way out of the conflict
Ask them for a specific change in their behaviour
Distinguish reasons from excuses
Don't give concessions to excuse givers
Positively reinforce any positive change in their behaviour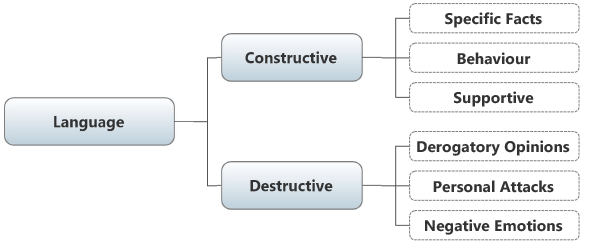 Correct use of body language in conflict situations
In conflict situations it is important to get your body language right.
Learn our Pat Goes Ape formula:
Posture
Appearance
Touch (handshake)
Gestures
Orientation
Expression
Scent
Accessories
Proximity
Eye contact
Proper voice tone in conflict situations
Volume
Pitch
Pace
Intensity of emotion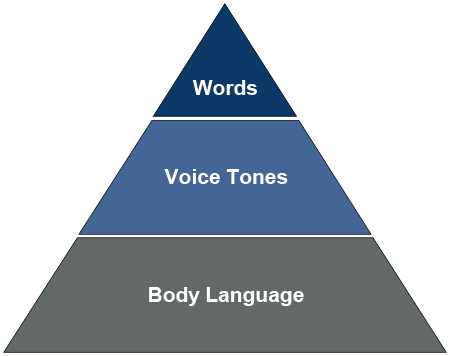 Handle real-life conflict situations
We practice our skills in handling real-life conflict scenarios. You will have the opportunity to present your own problems and we will work out a solution.
Common conflict situations
Interestingly, we all have similar problems when handling other people, for example, dealing with:
Harassment issues
Consistent lateness
Social bully
Inappropriate humour in the workplace
Aggressive behaviour
Poor performance issues
The need for praise and appreciation
The lack of appreciation may be the cause of a conflict situation.
How and when to give praise and appreciation.
Positive reinforcement
Whenever the person makes a move in the right direction, then immediately, "tag it" with a piece of positive reinforcement.
Conflict Management and Resolution Training Summary
Summarise and write your personal development action plan.
Conflict Management Training FAQs
How do I join a Corporate Coach Group course?
In order to attend this course, the very first thing is simply to decide to!
The second step is to select the date, and the venue that are most convenient.
Third step is simply to register your name, or call us on 01452 856091, and we will help put you on the course.
Is this course offered in-house?
Yes. We will come to you if you want us to present to your team in-house.
We will run the training with a version of the course that has been specifically tailored to meet the needs of your team. Click here for details.
Why is it important to resolve conflicts?
It is important to resolve conflicts because, in order for your organisation to succeed, it needs people to cooperate. When cooperation is replaced by conflict everyone suffers.
So, you need to find ways minimise the number of conflicts, and when conflicts do occur, you need to resolve them quickly and professionally.
What are the sources of conflict?
The sources of conflict are many, but you can put them all under two broad headings. Conflict of ideas, and Behavioural conflict.
Conflict of ideas is common, and it means that you do not agree with the others opinion, plan or proposal. In order to manage this type of conflict you need to develop your communication skills to make yourself more persuasive.
Behavioural Conflict is when the other person is doing things you don't want them to do, (or failing to do things they should do). Then you have to use your communication skills to do some "behaviour modification". Modifying another person's behaviour using only your words, is not an easy thing to do, but you will learn how to do it on this course.
What is the course training style? Is it interactive?
Yes. We have made sure that your course is highly interactive. Throughout the day, we vary the training style.
Sometimes you will be working introspectively, (for example, when you are scoring your own performance), then later you will work with another delegate in pairs, (or groups of three).
Then later, you will work in bigger groups.
There is always a lot of interaction.
There is never any "Death by PowerPoint". So, you won't feel bored, you will feel motivated. From beginning to end, you will be fully engaged and involved.
Many delegates tell us how the time seemed to fly by, (which is always a good sign).
Delegates tell us the content is well designed, simple to understand and use.
We have made sure that the training is relevant to real life, beneficial and crammed with useful knowledge. We are confident you will find the course interesting, well structured, practical, and fun.
What are the six steps of conflict resolution?
The six steps to resolving conflicts are: Listen, empathise, find the facts, negotiate a solution, confirm understanding, close.
Listen for a while without interruption.
Empathise means; try to see it from their perspective.
Find the facts: separate the facts from the hostile feelings.
Negotiate a solution: based upon a logical evaluation of the facts, negotiate a plan.
Confirm understanding means; reaffirm the meaning of the plan and gain their cooperation.
Close means; stop arguing. Move-on to talk about something else, or simply leave.
What kinds of people attend this Conflict Management course?
The people that attend this course, are likely to come from organisations that are going through a lot of change.
The delegates who attend this course all want to improve their ability to get the best performance from themselves and others.
The delegates are all different types of personalities, but you will soon discover that although we are all different, we all share a desire to learn and apply new skills.
What are the open course timings?
The training timings are as follows.
0900 Start
1100 Tea break, fifteen minutes.
1300 Lunch, thirty minutes.
1500 Tea Break, fifteen minutes.
1630 Finish
If you arrive earlier than 0900, there is coffee / tea waiting for you.
Related Articles from our Conflict Management and Handling Difficult People Blog
Is the Karpman Drama Triangle Good for Resolving Conflicts?
8 November 2022
The Karpman Drama Triangle represents a commonly used method to resolve conflicts, but is flawed and ineffective. This blog explains what should be used instead to resolve conflict.
Continue Reading >