One Day Communication Skills Training
Learn practical tools that you can use in real-life situations.
Improve your communication skills: Become more clear, convincing and persuasive
Gain more confidence; present your message with more assurance
How to specify the exact meaning, so there is no misunderstanding
The proper (and improper) use of humour and office banter
Handle conflict situations and difficult conversations with greater assertiveness
Effective use of body-language gestures and voice tones
The proper use of praise, appreciation and thanks: Always leave on a positive note
Learn in a friendly and relaxed atmosphere with people who are facing similar situations as you.
One Day Course Outline for Communication Skills Training
After you have attended this popular Communication skills training, you will know precisely how to:
Day One - Morning
Communicate your message with more clarity, and persuasion.
Make your communications more specific.
Use humour to your advantage.
Communicate your own goals.
Ask the right questions.
Speak and write more accurately, by giving clear definitions.
Speak in more optimistic terms.
Avoid accidental "negative commands" such as, "Don't panic!"
Day One - Afternoon
Give constructive, not destructive criticism.
Find the solutions to problems.
Handle difficult people with greater ease.
Distinguish between "a fact" and "an opinion".
Proper use of your body language.
Proper use of your voice tones.
Ensure that you always give praise and appreciation.
Available Dates and Locations
Guaranteed to Run! Book today in the confidence that your course is guaranteed to run. Read More >
Next Open Course Starts in 5 days, Cheltenham - Gloucester, places available Book Now >
Please note all our training courses include optional three months FREE telephone coaching to answer any on-going questions.
Course Timings: Start 09:00 - Finish 16:30. Lunch at 13:00, Tea Breaks at 11:00 and 15:00.
6 trainer-led hours, additional 2-3 via post-course portal independent learning
We currently offer training courses in: London, Manchester, Birmingham, Bristol, Maidstone, Kent, Glasgow, Scotland, Leeds, Gloucestershire
This was an extremely welcome and focussed course, covering rational behaviour in the workplace. Extremely useful tools for managing conflict and improving communication. The trainer was engaging and authoritative. The presentation was well paced, well illustrated, with a good variety of group work, plus presentation.
Customer Reviews
About this Communication Skills Training Course
Would you say that you already have perfect communication skills?

Would you agree that you could improve your communication skills?
And therefore, would you like help to improve your powers of communication?
You could define your "Communication skills" as your ability to transfer your information, ideas and emotions from your mind, into the minds of others.
Some people cannot always find the right words to express their exact meaning, so if you think that you need help to express yourself with more confidence, then this course is right for you.
And in addition, this course would be especially right for you if you want help dealing with conflict situations, or with difficult people.
This instructive training will give you all the help you need to communicate with more clarity, confidence and persuasiveness.
Who should attend the course?
You should attend this communication skills training course, if you:
Say to yourself "I know what I mean but I can't explain it"
Need to set clear goals and targets for others to achieve
Need to be able to transfer information accurately
Believe that problems are often caused by miscommunication
Need to explain your exact meaning to others
Need to handle difficult people and conflict
Want more confidence in expressing your ideas
Benefits of the communication skills training course
The benefits of the communication skills course are:
You will feel more confident to express your ideas and opinions.
You will get the best possible results from interviews and important meetings of all kinds.
You will avoid all the perils and costs of badly worded messages and mis-understandings.
You will feel happier to handle situations where you need to criticise other people.
The course content was easy to understand, interesting and covered a variety of important topics which were motivating and focused on self-awareness. The trainer was very good and explained all content very thoroughly and with enthusiasm.
Customer Reviews
Communication Skills Training Course Content
Communication Skills Training - Day One - AM
Introductions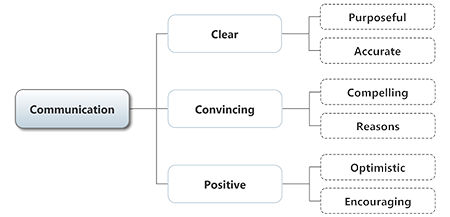 We need to know how to communicate in order to inspire the best performance from ourselves and others.
What are the characteristics of all good communicators?
All good communicators share the same three characteristics.
Good communicators are:
Clear
Convincing
Positive
If you are a clear, convincing and positive communicator then, everyone will understand what you are saying, they will understand why you are saying it; and they will get a good feeling about it.
How can you gain a reputation for being a clear, convincing and positive communicator?
Here are the steps:
Communicate your goals – You are defined by your goals. Your goals need to be expressed in clear and unambiguous terms.
Use numbers to gain greater clarity - Using numbers is the easiest way to improve the clarity of your language. Numbers introduce exact times, exact quantities and more specific information.
Use the EIGHT PART SMART model to give exact meaning to your message.
Practice good humour. Remember that some people use humour in the wrong way. They use humour in destructive ways. We want to use humour only in fun and friendly ways. We need to distinguish between the incorrect and the correct use of humour.
Explain your ideas - some people have difficulty explaining their ideas. They cannot translate their mental images into language. You need to be able to transform your thoughts into clear, specific language. We will give you the best way to do this.
Improve your listening skills (how to pick out the exact meaning of a message). Listening is the art of picking out the most important things and gaining an exact understanding.
Make the distinction between a negative cynic and a positive critic. Sometimes criticism is a good thing. It all depends how the message is worded. We will help you to distinguish between constructive criticism (the good thing) and cynicism, (the bad thing).
Make the distinction between using negative language and positive language - It is not enough to tell people what you won't, or can't do, and why, (negative language). You must, in addition, tell people what you will do, can do, and how, (positive language).
Give only positive instructions. Negative instructions cause confusion. Make sure the last thing they hear or read, is what you DO want.
Practical exercises for the delegates to learn skills
The course content was structurally well organised and had a good set of exercises, the training manual was easy to read and understand. The trainer's presentation was engaging and interactive. The audience felt involved and I learnt some new techniques.
Customer Reviews
Communication Skills Training - Day One - PM
Conflict situations are inevitable. When there is tension or conflict, then it is important to make your communication clear, assertive and not too emotional.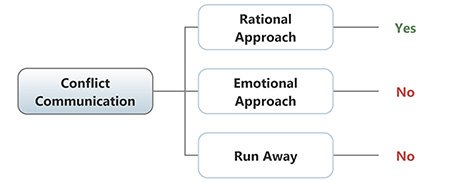 How can you keep calm in conflict?
Here are the steps for clear, rational and positive communication during difficult conversations.
1. Get the timing right
Never criticise people in front of their friends and colleagues. If you are in front of an audience, then they will never back down, and comply with your request.
If their retreat is a public spectacle, they will become stubborn. Instead, try to have the conversation away from the others.
You are much more likely to succeed a gaining an agreement, if you are away from an audience.
We will help you get the timing right.
2. Use a rational, not emotional approach
Conflicts have a tendency to trigger negative emotions in the mind; such as anger and upset.
But too much anger and upset can a bad make the situation worse.
Therefore, you need to minimise the risk of triggering negative emotional responses.
We will show you exactly how to do this.
3. Use factual, specific, non-emotionalised language We will show you how to describe your message in objective terms.
Objective language is your key to success.
Use only objective language, when in conflict. We will help you do this.
4. Be assertive, NOT aggressive nor passive
Assertiveness is important. If you come-on too strong, they will fight you: If you don't come-on strong enough, they will ignore you.
We will help you achieve the right level of assertiveness.
5. Your goal is always to take the heat out of the situation
You need to choose your words carefully.
We will show you how to pick the right words to express yourself. 6. Instead of arguing about the past, that led to the conflict, try to switch the conversation onto the future
Don't argue about the past: Instead, negotiate a way forward into a better future.
This is a very important point: If you are going to argue at all, argue over the future, since the future is capable of change.
7. Prepare your message in advance
If you can prepare in advance. You need to know what you will say before you say it.
8. Formulate a solution to the problem or difficult situation
You need to figure out a solution that is rational under the circumstances, and therefore more likely to obtain an agreement.
9. If the person says NO to your proposal, then you need to know how to distinguish "reasons" from "excuses" for not doing something.
10. Know when to compromise (and when not to)
Compromise is sometimes the right thing to do, and sometimes it is the worst thing you could do.
We will discuss when to compromise and when not to.
11. Notes on body language and proper voice tone
You need to master your own posture, eye contact, facial expression and gestures.
In addition, you must master your own voice volume, pitch and speed of delivery.
12. The proper use of praise and appreciation
The absence of appreciation is the cause of many conflicts.
We will discuss the need for effective praise and appreciation.
13. Maintain your self-control and confidence
Practical exercises for the delegates to learn skills
Final Summary and Close
Training course covered a lot of ground, was interesting and it kept my attention throughout. The trainer was excellent. Gez kept it relevant and interesting. Liked his style, very engaging.
Customer Reviews
The Course Training Method
The training method follows this general pattern - the training is very interactive and interesting:
The trainer gives a clear explanation of the point in question with specific examples.
Then, the delegates practice by doing an exercise with each other.
The delegates practice by doing an exercise with the trainer.
All points are supported with full written notes to take away.
Delegates are asked to write down an associated action, for each point made.
(At the end of the day, we have about twenty such actions, from which the delegates choose six which are the most personally meaningful).
Note: we do not believe in placing people in any situation of embarrassment by demanding that they 'perform' in front of the whole group. So you can relax: come on this course and be at ease; ready to learn new skills!
Open Training Course Pricing and Availability
You are able to book this course online today.
Guaranteed to Run! Book today in the confidence that your course is guaranteed to run. Read More >
Next Open Course Starts in 5 days, Cheltenham - Gloucester, places available Book Now >
The open training course costs only £435 +VAT per delegate. For this price we provide:
A full day of quality training
Tea, coffee and cakes
Lunch
Full colour course notes
Written action plan
Certificate
Additional training material by means of monthly updates
Access to the Post Course Portal
Plus, 3 months free telephone coaching
To answer any on-going questions, you will also receive email and telephone support from your trainer after you have attended the course. Whilst you are implementing what you have learned we will be there to help you if you need us for advice, guidance and coaching.
Course Timings
Start 09:00 - Finish 16:30.
Lunch at 13:00, Tea Breaks at 11:00 and 15:00.
6 trainer-led hours, additional 2-3 via post-course portal independent learning.
After the course, how can you keep the training-momentum going?
We understand that it is important to keep the momentum of the training going, in the weeks after the course. The ideas and methods that you learnt during the course need to be implemented, not just for the two weeks after the course, but for all time!
In order to make that happen, we will give you continued, on-going support after the training course has finished. The support comes in the form of the Post Course Portal.
The Post Course Portal is a web page that contains a review of all the course material, plus the following:
Newsletters containing training blogs and articles, which will provide you with ongoing training and good ideas, whenever you need them.
Fun questionnaires that are designed to tease out your strengths and weaknesses and then give you ideas as to how you might improve your performance.
Decision matrices that will allow you to make decisions and prioritise tasks into the correct order.
Summary diagrams and mind maps from the course.
Conflict scripts that give you examples of how the conflict method can be used, in real life situations.
Free eBook the effective leader manager.
In-House Training Course Pricing and Proposal
This course is also available as a bespoke in-house group training course in the UK and worldwide.
We can tailor the content to fit your specific needs. In-House Group training costs from just £1,850 +VAT per day for up to 20 delegates (international training price varies).
This price includes:
Full days training
Full course training manual
Personal written action plans
Access to the post course portal
Three months free telephone coaching
In-House Proposal Document
Download the in-house training proposal document
Contact Us Today
Please call us on +44 020 3856 3008 to discuss your requirements for the in-house training course.
If you want to know more about any other Management Training Courses, or their suitability for you or a colleague, call us on +44 020 3856 3008.
Email your Manager
If you are reading this page with the intention of attending the course, then you may need to 'put forward a case' to a manager who makes the final decision.
So, you may find it beneficial to give your manager this document, which will give all the information needed to make the right decision.
To do this, please enter the manager's email address below and.. take me to your leader!



* Just so you know, we'll add your details to our records.
Communication Skills Training Course Quiz
To succeed, you need to communicate clearly.
Try this quick quiz and discover where your communication skills are strong, and where they are not so strong.
View this page on your computer to complete the quiz!