Change Management Questionnaire
Change Management Questionnaire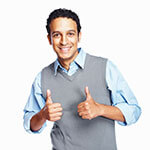 Most people are facing the pressure of a changing environment.
There are many changes in the economy as it reconfigures itself to the new economic situation. This change effects many people, in the sense that it causes us all to adapt to new conditions, some hostile, some beneficial.
But in either case change is always the cause of pressure.
Some people take change in their stride without breaking a sweat, others have more trouble.
Take our free questionnaire to see how well you are set up to deal with the pressure of change.
This questionnaire is free, it is informative and fun.
Q1 - Generally, do you like it when things are in a state of flux, uncertain and changeable or do all these things unnerve you?
Q2 - If change is upon you right now, is the change being imposed upon you or is the change, essentially your decision?
Q3 - If changes are occurring, do you know the historic causes, which have made the need for change inevitable?
Q4 - If changes are occurring, do you know what condition you are supposed to be changing TOWARDS?
Q5 - If there is change, in your opinion, is the plan to implement the change well formulated, or not?
Q6 - Does the change require a revolution in your circumstances, or merely an adaptive evolution in your circumstances?
Q7 - When you look into the future, after the change, do you see your future as benefiting from the change or being negatively affected by the change?
Q8 - Do the people around you talk about the change as if it is a catastrophe or an opportunity?
Q9 - Would you regard yourself as an adaptive person; capable of handling changing circumstances; or not?
Q10 - What is your emotional reaction to the following phrase: "We must adapt to changing circumstances!" Is your reaction, positive or is it negative?
Your Details
Your name and email address will be used once to email you your report. If you haven't already chosen, you will be given the option on the next page regarding what other emails (if any) you would like to receive.