Change Management Training Availability, Pricing and Course Dates
If you have any questions, please phone us (020 3856 3037) or send us a message.
Live Online Virtual Training
Live Online Change Management Virtual Training delivered via Zoom or Microsoft Teams
Easy to join - all you need is a laptop or tablet with a Webcam
Learn the same skills as a face-to-face session, but from the comfort of your own home (or office!)
Bespoke Training (In-House or Live Online)
£2,150
+VAT per training day
(International Price Varies)
In-House training has been designed to provide a similar experience to our open courses, however we can tailor the content to fit your specific needs.
Plus, hotel accommodation for trainer if needed (Premier Inn type: not the Hilton!)
We are able to train in your timezone.
All our training includes:
A full day of quality training, delivered by an experienced trainer
Total of 6 CPD training hours (9am - 4.30pm), plus an additional 2-3 via post-course online independent learning.
Full digital interactive course notes
Training certificate
Access to additional free training material after the course via our post-course portal
3 months free telephone coaching: Whilst you are implementing what you have learned, if you need to, you can contact us for support and guidance
What is Change Management Training?
When we listen to the news, we see that change is everywhere: economic change, political change, social change. These changes affect us all.
The impact of change on our business can be positive or negative, depending on how well we manage the process and adapt to it.
That's why the purpose of this one-day Change Management training course is to help us manage change effectively and secure our better future.
During this course, participants learn to re-evaluate their perception of change and transform any negative associations to be more rational and optimistic.
This involves managing the change process on both an emotional and a technical level. For example, we may learn how to communicate changes to our team members effectively, anticipate and address resistance to change, and implement new systems or processes smoothly.
The course aims to equip people with the necessary skills and mindset needed to navigate change successfully and thrive in a dynamic, ever-changing environment.
Contact Us Today
If you want to know more about this course, or any other Management Training Courses, or their suitability for you or a colleague, call us on 020 3856 3037 or make an enquiry online.
Customer Reviews
Really appreciated the real-life examples given. The course was a good pace, with good use of repetition to underline key concepts. Excellent summary. The trainer responded well to feedback, both explicit and implicit. Preferred the fact that th... [Read More] Marie Helson
United Arab Shipping Company (UASC)
Really appreciated the real-life examples given. The course was a good pace, with good use of repetition to underline key concepts. Excellent summary. The trainer responded well to feedback, both explicit and implicit. Preferred the fact that th... [Read More] Marie Helson
United Arab Shipping Company (UASC)
Change Management Training Course Overview
The Change Management Training Course provides effective strategies for managing change by dividing it into two parts: the emotional and practical aspects.
On the emotional level, the course examines typical emotional responses to change and provides strategies for managing people's feelings. Change managers must be keenly aware of and able to manage these emotions to ensure the necessary changes to the organization's processes succeed.
On the practical level, the course outlines an eight-step cycle for managing change effectively. This includes doing the right things in the right order and avoiding common mistakes. By the end of the course, participants will have the knowledge and skills needed to successfully adapt to changing circumstances.
Overall, the Change Management Training Course equips participants with the tools they need to manage change effectively, both on the emotional and practical level, and ensures that necessary changes to the organisation's processes are successful.
Learning Outcomes:
Change is something we cannot avoid
Understand why people dislike and fear change
How to manage change both logically and emotionally
How to make your team more adaptable and responsive
How goal setting can control the direction of change
How to replace fear and anger with something more positive
How to communicate the benefits of change
Change Management Training Course Details
Morning Session
Why change is inevitable and how it affects people emotionally
Change is inevitable, because your situation is influenced by four forces:
Yourself
Other people
The system
Mother nature
We will discuss which of these forces you can control.
Change is inevitable: You cannot escape change
Change is built into the fabric of the system. We must all deal with change; economic, social, political, climate and environmental change is inevitable.
Change can be both good and bad. It depends on how you react to it, both emotionally and behaviourally. Some people respond well to change, but many people do not.
This course is about understanding the process of change; how people commonly respond, and how we can help them to embrace change, benefit from it and possibly even enjoy the process!
What happens to those who refuse to adapt to changing circumstances?
Like gravity, change is built into the fabric of the universe; you cannot get around change any more than you can get around gravity.
Yet many people try to fight change: They struggle and resist, and they do all they can to stay the same.
We explore what happens to individuals or groups that refuse to adapt to changing circumstances.
Why don't people like change?
People don't like change because change introduces two things: uncertainty, and a requirement to change personal habits. Since humans are creatures of habit, we tend to resist changing our habits. We would rather keep our old habitual ways of doing something. Changing habits takes you out of your comfort zone and introduces uncertainty.
How people typically react to change
Some people respond well to change. They enjoy it. But most people don't.
We will analyse and list the typical responses we observe in people, when they are experiencing change.
Ideally, how should we respond to change?
An ideal reaction to change, would be to develop an adaptive response.
An adaptive response means seeing change as an inevitable reality. We should quickly perceive and identify the nature of the change, formulate a new goal, organise new plans, take effective action, and continually evolve our processes to keep pace with change.
Or even better, we should predict the change and get ahead of the curve, so that we are not merely reacting to changing circumstances, but rather, we are creating and benefiting from them.
Two types of change: Self-directed and forced
Forced change is change imposed from external forces. These changes are normally more difficult to handle.
Self-directed change is as a result of our own decision and volition. These changes are normally easier to handle.
Our task as Change Managers is to make change as self-directed as we can.
Afternoon Session
The role of the change manager
The role of a change manager includes:
Identify the facts of the situation as they are, not as we would like them to be.
Set a legitimate and worthy goal to aim for.
Develop practical plans, capable of taking us from where we are now, to where we need to be.
Communication skills that are capable of bringing people along with us, hearts and minds, as we navigate the change process.
Positive, intelligent, empathetic and optimistic attitudes, to those who are affected by the changes, and who are often the same people who are responsible for the implementation of the change plans.
What are the steps in the change management process?
We present our change management process.
It has eight major parts and forms a logical system of related steps that describes successful change management:
Accurate perception and identification of the facts; set a clear goal.
Formulate and communicate new, practical plans.
Prioritise the actions and implement the plan.
Observe the feedback results, both positive and negative.
Analyse the positive feedback results.
Analyse the negative feedback, and learn the hidden lessons contained within it.
In the light of negative feedback results make evolutionary, adaptive changes.
In the light of positive feedback, make adaptive improvements. Return to 1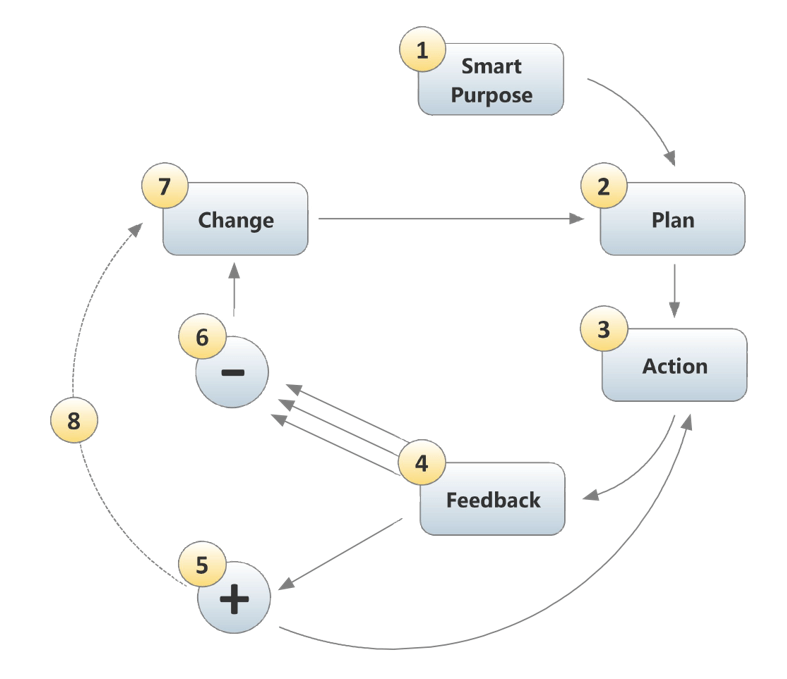 Three communication skills of a change manager
Effective change managers share three communication skills: They are able to communicate with clarity, rationality, and positivity.
Clarity: This means they will explain the purpose and reasons for the change, and they will clearly describe the plan and actions that will implement the change process.
Rationality: Nobody accepts change without good reason. So, the manager must be sure to provide a logical rationale that explains the change, to the satisfaction of intelligent people.
Positive emotion: Change is usually a trigger for many negative emotions, so the change manager must exude emotions of confidence, empathy and optimism.
We will show you how to communicate with clarity, reason and positive emotion.
We will also describe some common mistakes made by many change managers that have the effect of destroying the team's morale.
Manage the emotional responses associated to change
We explore the emotional elements of change management.
The change process includes negative emotions and we must recognise them, empathise and support people through these emotions, without allowing their negative emotions to become a brake on the change process itself.
How to reduce the fear and anger and replace it with confidence
We will introduce you to two methods that will allow you to interrupt the negative conversations and emotions that proliferate during change situations, and how to transform these conversations into something more progressive and productive.
We have two methods for you:
Reframing.
Conversation control.
How to manage your own emotions as you help others through change
Our course presupposes that all the change managers are on top-form as they manage the process and help others.
But we must also recognise that the change managers themselves, are going through the same process.
So, who motivates the motivators? We motivate each other, and we motivate ourselves.
We finish this course on how we can manage ourselves, on all levels: mental health, physical health, work habits, emotional habits, relationships.
Register for an Online Training Session
We offer online training webinars via Zoom and Microsoft Teams, please choose one of the sessions below to start your registration process:
1 full day training (9am - 4.30pm - UK time - Convert) - only £350+VAT per delegate
| Date | Platform | Cost | | Availability |
| --- | --- | --- | --- | --- |
Change Management Training FAQs
How do I join a Corporate Coach Group course?
In order to attend this course, the very first thing is simply to decide to!
Second step is to choose which date, and venue are best for you.
The final step is to click this link and reserve your place, or if you prefer, phone us, on 01452 856091.
Is this course offered in-house?
Yes. We will come to you if you want us to present to your team in-house.
We can tailor the course content to meet the specific needs of your team. Click here for details.
How do you cope with change?
Please, note the wording of this question! "How do you cope with change?"
The use of the word 'cope' suggests to the solution to the question. It is to change your attitude to the concept of change. Change is not something you should cope with. Because change is inherent in the nature of things, it is therefore something you should embrace.
Whenever you use words like cope, it signifies that change is an inherently disagreeable and unwanted factor. So, the first rule of all change management is to accept the need for change.
Try calling change, an 'evolutionary progression' and treat it as something that is a natural process. Whether the change is desirable or not, it is something to be embraced and worked with, not against.
What skills are required for change management?
The skills required for change management are:
Persuasion skills: Change managers need to embrace change and persuade others to embrace it too.
Knowing what to change: Change managers must know what to change, which will be made apparent by a careful analysis of the latest feedback results from your recent actions.
Knowing how to change: This can be done by the use of creative logic, which is the combined power of your teams' common sense, experience, education and native intelligence.
Clear communication of the new goal: Which means being able to explain the direction of change, ie the new goal. Why the new goal is necessary and how it will be implemented.
Motivate and support people through the change: Many people do not like change, it upsets them. Therefore, change managers need to motivate and emotionally support people through changing times.
You will learn all these skills, on our one-day change management course.
What is the course training method? Is it interactive?
Yes. We have made sure that your course is highly interactive. Throughout the day, we vary the training style.
Sometimes you are working independently, (for example, when you are doing a self-analysis exercise), then later, you will work in pairs.
Then later we will work as a whole class.
There is always plenty of interaction.
So, at no point in the training will you feel bored, (no "death by PowerPoint"). From start to finish, you will feel fully engaged and involved.
Our delegates tell us that "the time flew-by", which we take to be a good sign.
You will find the course is well designed, easy to understand and apply in practice.
The training is applied to real-life situations; it is beneficial and packed with useful knowledge. We are confident you will find the course interesting, well structured, practical, and fun.
What are the key elements of change management?
The key elements of change management are:
Emotionally embracing the need to change.
Knowing what to change.
Knowing how to change it.
1. Emotionally embracing the need to change.
Most people resist change, because by nature, humans are creatures of habit. Change requires a breaking of established habits, which goes against our nature. We need to overcome our natural desire to stay the same, and to adapt.
2. Knowing what to change.
There are two things that we need to change:
Things that are going badly: We need to fix, repair and improve any aspect of our current performance, product or service that feedback tells us is not working.
Things that are going well: We also need to change those things that are currently going well. We must continually improve upon our best. Failure to improve upon our current plan will soon render us obsolete.
3. Knowing how to change it.
Knowing how to change is governed by two things: the feedback we have got from our recent actions, and our creative logic.
Feedback informs change because if provides information about what is working and what is not. It is therefore crucial that we keep our eyes, ears and minds open, and pay attention to what is going on, especially events that relate to our sphere of activity.
Creative logic is our second source of knowing how to change. Creative logic is the combined power of your common sense, personal experience, education and native intelligence.
You use all these facilities to generate suggestions for progressive change.
What kinds of people attend this Change Management course?
People who attend this course come from organisations that are experiencing a lot of change.
The delegates who attend this course all want to improve their ability to get the best performance from themselves and others.
Delegates are of all personality types, and you will discover that, although we are all different, we have a lot in common with others.
Related Articles from our Change Management Blog
What are the Principles of Change Management?
21 February 2023
The eight principles of change management are a useful framework for understanding how to manage change effectively. By applying these principles, organisations can make progress towards their goals.
Continue Reading >