Time Management Questionnaire
Time Management Questionnaire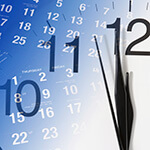 Many people are not very good at time management. As a result they are in a constant state of crisis, and they are not as effective as they would otherwise be.
Other people are good at time management, and as a result, they make much better progress in less time and effort.
Take this questionnaire to find out your time management strengths and weaknesses.
This questionnaire is free, it is informative and fun.
Q1 - Generally, are you a good time manager?
Q2 - Do you have clear and distinct goals?
Q3 - Do you operate according to a plan or are you mostly reactive?
Q4 - Do you know about the time management grid?
Q5 - Do you often have days that can be described as busy but not very productive?
Q6 - Do you work with people who tend to waste your time?
Q7 - Is your work station a mess, or is it tidy?
Q8 - Do you keep going strong, all day long? Or as the day progresses, do you tend to run out of energy?
Q9 - Could you be more efficient?
Q10 - Do you spend at least an hour a week planning for the next three weeks?
Q11 - Do you take good notes or do you rely too much on your unaided memory?
Q12 - If you have a plan, do you have sufficient will power to stick to it?
Q13 - Have you ever considered that your whole life depends upon your ability to make good decisions?
Q14 - Do you realise that there are five fundamental types of decision matrix?
Q15 - Do you tend to alternate endlessly between two options? Should I or shouldn't I?
Q16 - Do you know the difference between prioritisation by value, and prioritisation by logical sequence?
Q17 - Do you seek to always do the most valuable thing, or not?
Q18 - Do you use prioritisation decision matrix or do you just go by gut feel?
Q19 - Do you delegate sufficient work?
Q20 - If you do delegate sufficient work do you use SMART goals to help you to describe the task?
Q21 - If you don't delegate tasks is it because you think it is quicker to do it yourself?
Q22 - If you don't delegate tasks is it because you think the other person may do it wrong?
Q23 - If you don't delegate is it because you feel guilty for delegating work onto others?
Your Details
Your name and email address will be used once to email you your report. If you haven't already chosen, you will be given the option on the next page regarding what other emails (if any) you would like to receive.