Free Training Advice and Consultation Service
Free Consultation Service and Training Advice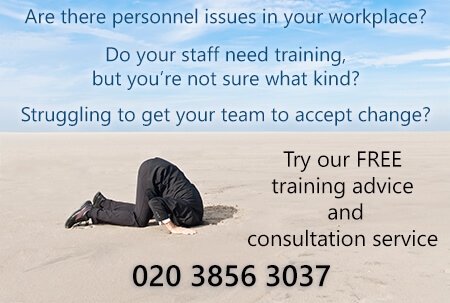 We've helped hundreds of businesses just like yours!
Corporate Coach are pleased to offer a free consultation service for you to discuss your training needs, or any personnel issues you may face.
We can help you draw up training plans based on your staff appraisals, making the best use of your company's time and training budget. We can suggest appropriate training courses for staff development and progression, suited to individual needs.
Staff poor performance issues are another area where we can help. We will listen to your problem and put forward a strategy to help you deal with it. Our confidential advice service is free to use and without obligation.
We are pleased to offer this free training advice and consultation service to talk through any personnel issues you may have.
No obligation: We will discuss the issues that you and your team are facing and formulate a plan within your budget.
Here are a few questions we have solved in the past:
All our calls are confidential and we're happy to help – no problem is too big or too small.
To arrange a callback, please fill in the following:
Thank you for your message
We will respond, usually within 48 hours.
Sorry - message not sent
Sorry - message not sent
We couldn't send your message due to a technical difficulty.
Would you please call us instead?
Telephone: +44 (0)20 3856 3037
Customer Reviews
Here are a selection of reviews for our training courses.
The course content was very clear, explained well and addressed the areas that I hoped it would. Gave time management a structure which will enable me to move into the 'box'. The trainer's presentation was clear, well controlled. Helpful to get us all to be involved and explain ideas to each other.

The course had a refreshingly different approach to other similar corporate coaching. Good pace and not dull. The trainer's presentation was fast paced but this went with the subject matter. A very good trainer with lots of interaction between trainer and group.

The tools and insights given on the course were eye-opening and I can envisage using them immediately and across many areas of my work and personal life. It's a lot more involved a subject than you expect. The trainer's presentation was comprehensive, clear, easy to understand.

Training course content was very structured and easy to understand. Liked the simplicity of the 'wrong box' 'right box' method. The trainer's presentation was excellent, with examples, easy to follow. Chris is very personable and gave good advice to real life situations.

This training course was rich in information and well put together. Good course manual – very useful. The trainer's presentation was skilful (good alternation of presentation with activities). I recommend it to all those who wish to improve their chances of professional and personal success.

The course was brilliant! Informative and lots of useful things to think about along with tool kits to use. I feel a lot more confident in myself and the way I will handle conflict going forward and prioritising. The trainer was excellent! I sometimes struggle with maintaining full attention for such a long time but Jez kept me listening at all times, made it fun and was very welcoming. All content was covered in an understandable and clear way.