Free Training Advice and Consultation Service
Free Consultation Service and Training Advice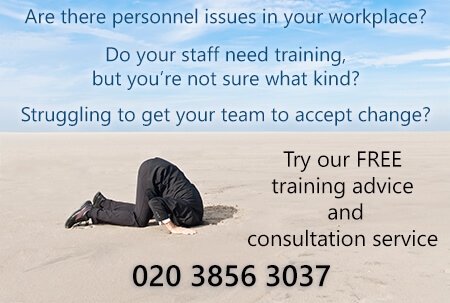 We've helped hundreds of businesses just like yours!
Corporate Coach are pleased to offer a free consultation service for you to discuss your training needs, or any personnel issues you may face.
We can help you draw up training plans based on your staff appraisals, making the best use of your company's time and training budget. We can suggest appropriate training courses for staff development and progression, suited to individual needs.
Staff poor performance issues are another area where we can help. We will listen to your problem and put forward a strategy to help you deal with it. Our confidential advice service is free to use and without obligation.
We are pleased to offer this free training advice and consultation service to talk through any personnel issues you may have.
No obligation: We will discuss the issues that you and your team are facing and formulate a plan within your budget.
Here are a few questions we have solved in the past:
All our calls are confidential and we're happy to help – no problem is too big or too small.
To arrange a callback, please fill in the following:
Thank you for your message
We will respond, usually within 48 hours.
Sorry - message not sent
Sorry - message not sent
We couldn't send your message due to a technical difficulty.
Would you please call us instead?
Telephone: +44 (0)20 3856 3037
Customer Reviews
Here are a selection of reviews for our training courses.
Training course content was excellent, very informative and practical, which can be applied in many different situations. Trainer's presentation was very engaging, amusing but clearly interested in everyone taking away the most they possibly can.

Great insight into thought-processing and good planning. Very inspiring to now go and put some of the content into practice as soon as possible. The trainer was clear, engaging, fun and insightful. Thank you.

The course content was broad and complete. I will review several times to make it go in. I really enjoyed it. Excellent life skills also. The trainer was engaging and interesting.

Very informative and constructive, carefully planned out presentations. Well timed breaks and a very clear message and objective for each subject. I especially found the time management and planning very beneficial, as well as the SMART and wrong box right box techniques. This course has not only benefited me as a manager, but also helped me improve as a person. Alison was a very knowledgeable and informative presenter, clearly understanding each members need to be there. An absolute credit to her profession.

Course content is on point. A useful handbook with practical implementation. The course follow-up is a bonus. Would perhaps like time to focus on own work specific examples more. The trainer took a measured, engaging approach. Pace was just right and he did not make you feel negatively about performance at work, or being right or wrong. Perfect use of humour and measured examples.

Full of techniques and defined approaches with less of the "psycho babble" usually included in these types of courses. Gave a framework to apply as a standard to any situation/team. The trainer was strong, clear and professional.