Free Training Advice and Consultation Service
Free Consultation Service and Training Advice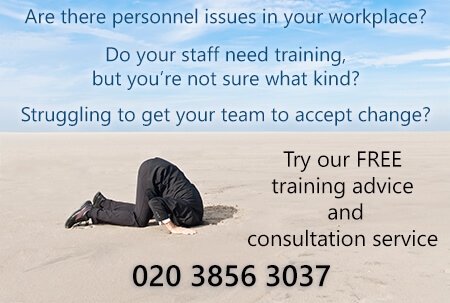 We've helped hundreds of businesses just like yours!
Corporate Coach are pleased to offer a free consultation service for you to discuss your training needs, or any personnel issues you may face.
We can help you draw up training plans based on your staff appraisals, making the best use of your company's time and training budget. We can suggest appropriate training courses for staff development and progression, suited to individual needs.
Staff poor performance issues are another area where we can help. We will listen to your problem and put forward a strategy to help you deal with it. Our confidential advice service is free to use and without obligation.
We are pleased to offer this free training advice and consultation service to talk through any personnel issues you may have.
No obligation: We will discuss the issues that you and your team are facing and formulate a plan within your budget.
Here are a few questions we have solved in the past:
All our calls are confidential and we're happy to help – no problem is too big or too small.
To arrange a callback, please fill in the following:
Thank you for your message
We will respond, usually within 48 hours.
Sorry - message not sent
Sorry - message not sent
We couldn't send your message due to a technical difficulty.
Would you please call us instead?
Telephone: 020 3856 3037