Training to Improve your Management Skills
Training to Improve Your Management Skills
In life, you need to get the best performance from yourself and others.
At work, you need to get the best performance from your colleagues, from your suppliers, your customers and your boss.
At home, you want to get the best from your family. You want to get the best family life you can. If you have kids, you certainly want to get the best from your kids.
You know that if you can get the best from your family, your colleagues, your suppliers, your customers and your boss, then your life runs more smoothly.
But you would probably agree that you cannot get the best from others, unless you are getting the best from yourself. This means, if you walk into any situation in the wrong mood, or the wrong frame of mind, or you are confused, disorganised and late, then you are in no position to get the best from yourself or others.
So, the question arises:
"How can you get the best performance from yourself; so that you can get the best performance from others and thus improve upon your current situation?"
The answer is to develop your skills every day, then over time you will get better and better. So theoretically, you could be better every year. In theory.
In practice, you need to actively try to improve, by learning new skills by attending good training courses.
Which skills do you need to actively try to improve?
There are six major skills sets to develop. Look at the diagram below.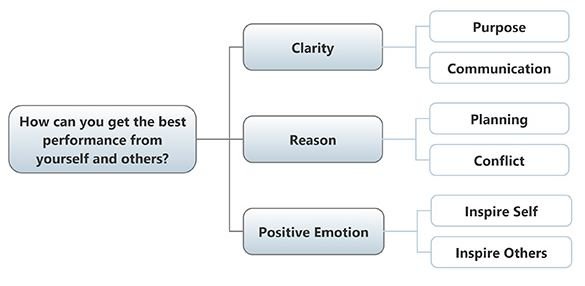 There are six major qualities that you should improve by training:
1. Clear goal focus.
Goal focus means the willingness to set clear and specific goals. The word "success" means, 'the achievement of a goal'. You cannot achieve a goal you never set. So, we can say that:
Goal setting is the root of all achievement.
Goal focus is the art of setting a goal and focusing on it until it is achieved.
2. Clear communication.
If you have a goal, then you need to communicate it to all those who need to know.
Clear communication is important. The opposite of clear communication is unclear communication. Unclear communication means, vague, ambiguous and misleading language. You need to have clear, distinct, specific and defined language. Clear communication is a skill that you need to perfect.
3. Rational planner.
Every goal needs a plan. A goal without a plan is a fantasy. A goal with a detailed plan is a powerful force for constructive change. Planning means; Preparation, prioritisation, prevention, prediction and practice. You can improve all these skills with proper training.
4. Rational conflict manager.
Even though you have a plan, not everyone will follow it.
So, you will occasionally have to deal with conflict situations and difficult conversations.
Conflict is inevitable.
You are bound to get some conflict. The question is how well do you deal with conflict situations. Do you come on too assertively, come on too strong, and make a bad situation worse, or do you lack assertiveness and fail to make an impression. You need to master the art of rational conflict management so that you are able to handle difficult people and situations in a timely and professional and confident manner.
5. Manage your own emotions: Inspire yourself.
Before you can effectively manage situations and before you can manage other people, you need to be able to manage yourself.
Self-management means; self-motivation, self-confidence, self-control self-discipline and the ability to create and sustain a positive mental attitude, especially during tough times.
You cannot give away what you haven't got. So, before you can motivate others you must first motivate yourself. Before you can manage the situation, you must first manage yourself.
Leadership and management begins with mastering yourself.
6. Inspire others. Create and sustain a positive attitude in others.
If you know how to inspire yourself, you can use similar techniques to inspire others.
Learning how to inspire positive emotions in the minds of others, is a key skill that you need to develop.
Learn how to inspire optimism, confidence and enthusiasm in the minds of others.
You need to know how to take away negative emotions such as fear, worry, anxiety, anger and how to replace them with a more positive alternative.
Good leadership training.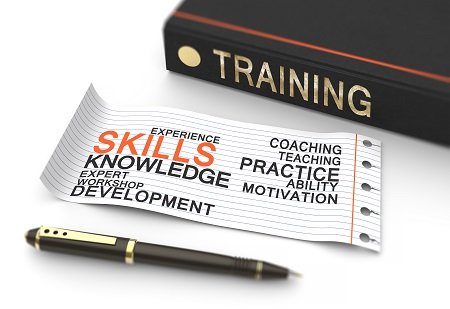 Your organisation needs your managers to be well-trained. In order to get the best from yourself and others you need to develop the six skills sets, through effective training.
Goal focus.
Clear communication.
Planning skills. Time management and prioritisation.
Rational conflict handling skills.
The ability to inspire yourself.
The ability to inspire others.
If you are interested in improving these skills, then you will really enjoy and benefit from our two-day Leadership and Management Training Course, which is held regularly at venues in central London, Birmingham, Cambridge, Luton, Leeds, Reading and Manchester.
Blogs by Email
Do you want to receive an email whenever we post a new blog? The blogs contain article 5-10 minutes long - ideal for reading during your coffee break!
Further Reading in Leadership and Management