12 Point Training Needs Analysis Questionnaire
12 Point Training Needs Analysis Questionnaire
You may recognise that you need to do some development training. but you do not necessarily know what training you need to focus on. In order to help you, we have created this simple training needs analysis questionnaire.
Please read the following 12 questions. If you answer "No" to any of them, then you should recognise that you may have a weakness in this area, and you may want to take some training to improve your chances of future success.
Training needs analysis questions
1. Do you have a clear idea about what your goals are for the next six months or year? Yes or No?
2. Do you have the ability to explain your ideas or information or opinions, to other people, so that they always understand exactly what you mean, without any chance of miscommunication or misunderstandings? Yes or No?
3. Are you good at listening so that you absorb and remember all important information, such as people's names, important facts and figures, dates and places? Yes or No?
4. Are you good at prioritising your work so that you are always doing the most important, valuable thing, and not wasting your time on trivial things? Yes or No?
5. Do you build detailed written plans for the future, and take immediate action on those plans without procrastination? Yes or No?
6. Are you able to work cooperatively and productively with those people whom you do not necessarily like? Yes or No?
7. Are you able to maintain a positive mental attitude, especially during tough times? (A positive mental attitude means; you are optimistic that the future will be better than the past). Yes or No?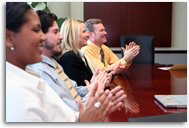 8. Do you have sufficient self-confidence to enable you to put yourself and your ideas forward, and thus improve your chances of success? Yes or No?
9. Do you have the ability to inspire confidence and motivation in the minds of other people by means of purposefully psyching them up? Yes or No?
10. Do you have a high level of energy and vitality based upon optimum-nutrition, sound-sleep and good exercise habits? Yes or No?
11. Are you able to logically analyse any problem so as to reveal its multiple causes, and therefore to arrive at practical solutions? Yes or No?
12. Are you willing to learn new skills as you get older? Yes or No?
If you answered Yes to the last question, then take a look at the courses that we are running nearest to you, and book yourself onto the next available, appropriate course.
Warning: Our courses can seriously improve your success-rate!
Free Training Needs Analysis Questionnaire
For a more in-depth analysis of your relative strengths and weaknesses, try our free Training Needs Analysis questionnaire.
Blogs by Email
Do you want to receive an email whenever we post a new blog? The blogs contain article 5-10 minutes long - ideal for reading during your coffee break!
Further Reading in Coaching, Mentoring and Developing Staff