Communication Skills for Sales People
Communication Skills for Sales People
All organisations, to some degree, need to be able to sell. As sales people, you need to improve the following skills:
1. Making a good first impression.
2. Full analysis of customer needs, wants and DON'T wants.
3. Presentation and explanation of products and services.
4. Answering objections and questions.
5. Persuasion.
6. Negotiation.
7. Closing / advancing the sale process.
8. After sales customer service .
9. Add on sales.
10. Referrals.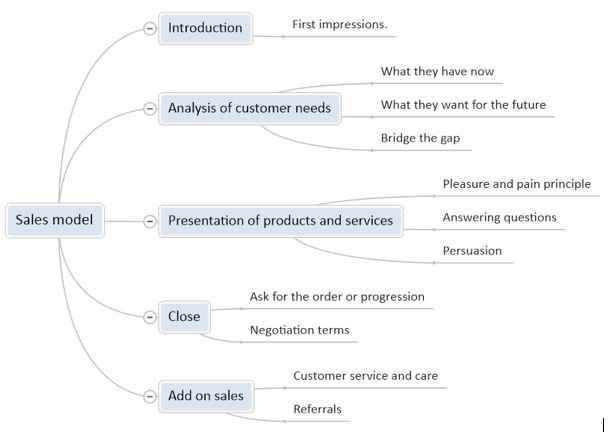 Questionnaire
1. To what degree do you think you make a good first impression. Do people warm to you instantly or does it take longer for people to get to like you?
2. To what degree are you a good analyst of other people needs? Do you ask questions and really try to understand the other person's view, or do you tend to talk too much about yourself and your own business?
3. To what degree do are you able to present and explain your ideas and products to other people, in a way that they find informative, convincing and attractive? Do you find it easy to express yourself, or do you sometimes struggle to explain what you really mean?
4. To what degree are you able to handle objections to your view? Can you elegantly absorb and defuse an objection, or are you more likely to be upset, or rattled by someone who disagrees with you?
5. To what degree are you a good negotiator? Are you able to find workable solutions that form the basis of a good relationship, or are you likely to give too much away for nothing, or say "Take it or leave it"?
6. To what degree are you able to "close" a person to make a decision? Are you a good motivator, or have you never given this aspect of communication any serious thought?
7. To what degree are you able to maintain a positive mental attitude and good relationships with people, even when things are going badly? Do you keep your attitude positive during tough times, or do you tend to let bad situations negatively affect your language and your emotions?
Sales Training: The Power to Influence
To some degree, all organisations need to be skilful at either selling themselves or their products.
Being good at selling is not a natural talent. Sales skills must be learned and practised until they become second nature.
If you would like to improve your sales skills, take a look at our one-day Sales Training Course, and see how we can help you, to have the 'Power to Influence'.
Blogs by Email
Do you want to receive an email whenever we post a new blog? The blogs contain article 5-10 minutes long - ideal for reading during your coffee break!
Further Reading in Communication - Clear Communication
Looking for Communication Skills Training?
If you're looking to develop your Clear Communication Skills, you may find this Communication Skills Training Course beneficial:
Open Training Course Pricing and Availability
Next Open Course Starts in 9 days, Online - Teams, places available