How to Give Constructive Feedback
How to Give Constructive Feedback
Sometimes, you need to give people feedback on their performance. Some of that feedback will need to be negative feedback.
This happens whenever you perceive the other persons actions to be:
wrong
bad
below standard
immoral
inefficient or
ineffective.
From time to time, since nobody is perfect, we all need to hear negative feedback. The problem is that nobody likes to hear negative assessments of their performance.
What are the typical emotional responses people give upon hearing negative feedback, on what they have said or done?
Often their emotions are; resentment, anger, upset, denial, indignation, self-justification and evasion.
We have a problem! Our success demands that people accept negative feedback; but each time we try to give negative feedback, they regress into emotional states of denial, resentment, anger and self-justification.
So, we need to know how to deliver a negative feedback message in such a way that it is perceived, as corrective guidance, rather than a reprimand, rebuke, rejection, or failure.
How can we learn that difference? Study the following grid and think about its meaning. It is colour-coded, like a traffic light.
Green means go.
Red means NO go.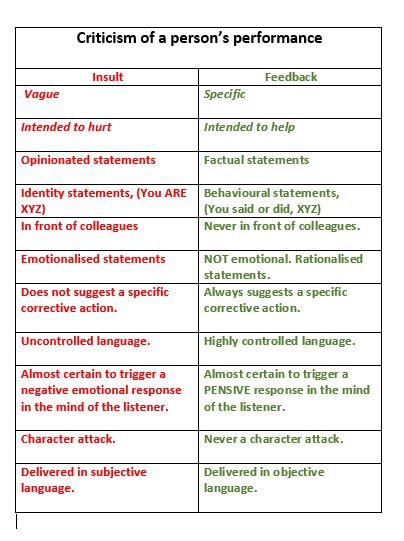 When you are in negative feedback situation, listen to the language you use.
Do not use language that is based on the red column.
Use language that is based on the green column. Modify your language and make it comply with the green feedback column.
Your aim is to word your message so that it is less likely to trigger a negative emotional response.
You want your message to be likely to create a pensive response.
Join me later today (5 May 2020), to discover how you can give feedback in this way. Our live Personal Development Webinar at 14:00 BST (UTC+1) is "Feedback: the breakfast of champions."
Each of the eight modules covers a different topic:
How your thoughts affect the result
Reduce fear and replace it with confidence
How to positively influence others
A five-part formula for success
Prioritisation: How to get the most from every day
Feedback: the breakfast of champions
A Healthy mind and healthy body
How to set and achieve your goals
Don't delay, register today!
Blogs by Email
Do you want to receive an email whenever we post a new blog? The blogs contain article 5-10 minutes long - ideal for reading during your coffee break!
Further Reading in Leadership and Management
Looking for Leadership and Management Training?
If you're looking to develop your Leadership and Management Skills, you may find this Leadership and Management Training Course beneficial:
Open Training Course Pricing and Availability
Next Open Course Starts in 5 days, Online - Teams, places available