How to Give Feedback
How to Communicate Feedback
Sometimes, you need to give people feedback on their performance - this will either be negative feedback or constructive feedback.
How to Give Negative Feedback
Nobody likes to hear negative assessments of their performance. Our success demands that people accept negative feedback; but sometimes negative feedback can provoke emotional states of denial, resentment, anger and self-justification.
Firstly, we need to know how to deliver a negative feedback message in such a way that it is perceived as corrective guidance, rather than a reprimand, rebuke, rejection, or failure. Do not use language that is based on the red column, instead use language that is based on the green column.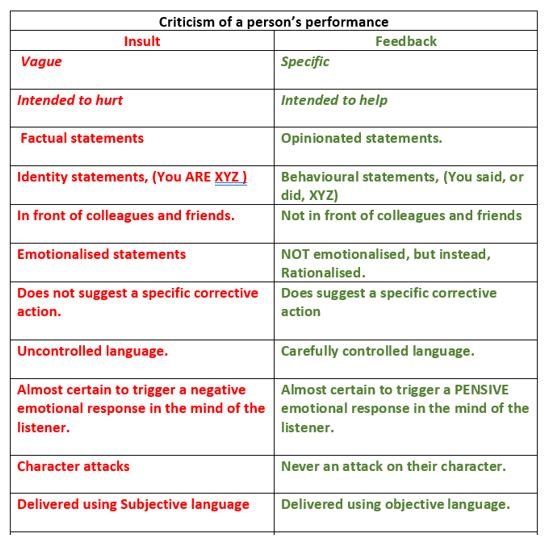 Your aim should be to word your message so that it is less likely to trigger a negative emotional response.
How to Give Positive Feedback
Most people are happy to receive positive feedback. However, it is worth remembering the following rules when giving positive feedback.
1. Get the timing right.
The general rule is to give the feedback as soon as practicable, after the event.
If someone does something worthy of praise, then immediately "tag it" with some nicely worded positive feedback.
But don't do it if you have any reason to believe that in doing so, you might create a negative emotional response in someone. For example, some people don't like being praised in public; they find it embarrassing. Whilst other people LOVE to be praised in public; it makes them feel important. So, take note of what you know about the person. Make the necessary adjustments in the timing of your positive feedback message.
2. Make the positive feedback very specific.
Feedback should not be generic praise. It should be very specific.
For example, don't say, "You did a great job". Say, "I really liked the design you created, especially that nice shade of green."
Don't say, "You look nice." Say, "Your tie really matches your suit."
Don't say, "You were terrific". Say, "You seemed to be very well prepared and confident".
3. Tell them why their action is beneficial.
This is an optional extra. You may add into your feedback, why their action was important or beneficial.
It may sound like this, "You were well prepared and confident, which is important because it gave our presentation a very professional air".
You might say, "I really liked the design you created, especially that particular shade of green. It is important that we have not only good content, but also good design".
4. Ask for more of the same.
It is very good practice to ask for more of the same. Remember that you should praise the behaviours that you want to see more of.
If they wash up after the meal, tag it with some positive feedback.
If they arrive early, then tag it with positive feedback.
For example: "You are ten minutes early! That gives us time to prepare. Thanks for coming early. Keep it up!"
Communication Skills Training
Our Communication Skills Training covers how to deliver constructive feedback and is ideal for everyone who is in a position to give feedback.
Blogs by Email
Do you want to receive an email whenever we post a new blog? The blogs contain article 5-10 minutes long - ideal for reading during your coffee break!
Further Reading in Communication - Clear Communication
Looking for Communication Skills Training?
If you're looking to develop your Clear Communication Skills, you may find this Communication Skills Training Course beneficial:
Open Training Course Pricing and Availability
Next Open Course Starts in 8 days, Manchester City, places available