Customer Service Training Availability, Pricing and Course Dates
If you have any questions, please phone us (020 3856 3037) or send us a message.
Bespoke Training (In-House or Live Online)
£2,150
+VAT per training day
(International Price Varies)
In-House training has been designed to provide a similar experience to our open courses, however we can tailor the content to fit your specific needs.
Plus, hotel accommodation for trainer if needed (Premier Inn type: not the Hilton!)
We are able to train in your timezone.
All our training includes:
A full day of quality training, delivered by an experienced trainer
Total of 6 CPD training hours (9am - 4.30pm), plus an additional 2-3 via post-course online independent learning.
Full digital interactive course notes
Training certificate
Access to additional free training material after the course via our post-course portal
3 months free telephone coaching: Whilst you are implementing what you have learned, if you need to, you can contact us for support and guidance
What is Customer Service Training?
Customer service training is essential because all organisations need to know how to keep customer loyalty.
Customers remain loyal only if they believe that organisations are ready, willing and able to render good service. Customers complain whenever they feel they have not received the full value that was promised, or if they feel they were let down, or they feel in any way mistreated.
When they call, customers are often in a negative emotional state, and your customer service staff must be able to do three things: quickly identify the facts, solve the problem efficiently and keep the customer satisfied and loyal to your organisation.
This customer service training course will teach how to achieve these goals.
Contact Us Today
If you want to know more about this course, or any other Management Training Courses, or their suitability for you or a colleague, call us on 020 3856 3037 or make an enquiry online.
Customer Reviews
The course content was excellent, thorough, informative, inspirational, enjoyable, practical and achievable. Personally I found the positive thinking elements less relevant, but I can see that it's helpful to recognise that can be an issue for o... [Read More] Michael Browning
The Art Fund
The course was practical and relevant to our environment at work. Effective use of role play and examples. Resulted in good team input and collective engagement. A great result for us. Trainer's presentation made good use of examples and was a g... [Read More] David Taylor
Greater Manchester Waste Disposal Authority
Customer Service Training Course Overview
We have divided the course into three parts: the excellent customer service process, customer service communication skills and customer service attitudes.
The customer service process is itself made up of: introduction, empathy, investigation, proposed solution, confirmation, close. You will learn the skills relating to each of these parts.
Communication skills consists of: words/ phrases we should use, words/ phrases we should never use, correct voice tones, the importance of good accurate notes.
Customer service attitudes: How attitudes can help or hinder customer service. How to keep a positive attitude, even on tough days.
When people finish this training, they are fully equipped to deliver excellent customer service. Which is good for you, good for them and good for the organisation.
Learning Outcomes:
Master the six steps of great Customer Service
Give a friendly greeting and introduction
Accurately analyse your customers' individual needs
Give a professional presentation of your product or service
Agree specific actions
Provide a prompt delivery of your product and service
Win more business by making a request for a referred lead
Customer Service Training Course Details
Morning Session
Introduction to Customer Service Training
Customer service is important because people respond emotionally to every aspect of your product or service. You need to be able to create a lasting positive impression in the mind of your customer, whilst at the same time, building your business.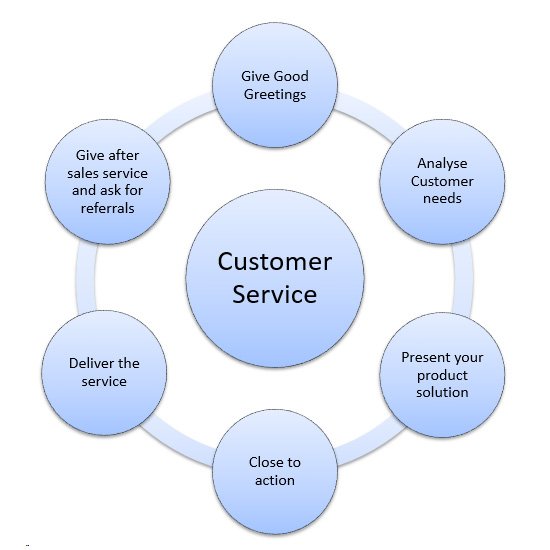 What is the customer service experience?
There are six parts to the customer service experience:
Greetings and introduction
Analysis of customer needs
Presentation of product and service
Close to action
Delivery of product and service
After sales service and request for referral
Greetings and introduction
First impressions do count. First impressions set the scene for the relationship.
Once a person has made up their mind about someone, then they tend to engage in a process of selective perception, whereby they will tend to gather supporting evidence to justify the original impression.
For instance, if on meeting someone, you form a bad first impression based on something they say, or do, then you tend to see other bad things and you downgrade any good things they may do.
If you form a good first impression, then you tend to see other good things they do and you excuse the bad things they may do.
People do "judge books by their covers"
People do make emotional judgements of others, based upon what they see and hear.
People will judge you by everything you say and everything you do, as well as everything you fail to say and everything you fail to do.
For instance:
When you smile, and say "good morning", that says one thing.
If you don't smile, and you fail to say "good morning", then that says another thing.
Elements of first impressions
What you should do in the first few minutes of meeting someone?
Visual - what they see
Sound - what they hear
Emotions - how they feel
Analysis and investigation of customer needs
When you meet someone your overarching principle is this:
How can your products and services be of genuine assistance to make this person's life better?
In order to help someone, you need to keep your eyes, ears, and mind open.
Ask them questions about what they have now.
Ask them questions about what they would like, or need in the future.
The difference between what the customer has now and what the customer would like in the future, is the way you can add value to the customer.
It is your opportunity to help them and your business, at the same time.
Success is essentially simple
To succeed you need to find ways to make your customers lives better.
You do that by finding ways you can add value to them.
You do that by providing them with your skills, knowledge, products and services.
Communication: The proper use of language
How can you gain a mutual understanding and a sense of cooperation? By your use of the right words.
Five polite phrases you need to use as a speech habit:
Yes, please.
No, thank you.
Would you mind if we ...?
Would you please ...?
Thank you very much, I appreciate it.
In addition, show genuine interest in anything of note.
Avoid the bad use of words
Any form of profane language.
Moaning, whining and complaining about anything.
Complaining to your customer about other parts of your business. The office staff, the management, etc. Anything which may create a negative thought in the mind of the customer.
For example, if the customer ever thinks:
They don't care about me.
How long is this going to take?
This person is rude!
Then your chances of pleasing your customer are gone.
Afternoon Session
Communication
Tones: Pace and intensity of the message
Speed: how much information can you give to someone before they become confused? It is an error to give too much information, too quickly.
Intensity of your own emotion
Any expression of annoyance, anger, frustration or bad mood will trigger a negative customer response in return.
Body language
Dress code: what you are wearing and how it looks.
Posture: how you stand, or sit.
Touch: Handshake
Touch: Any other form of touch, other than handshake
Hand and arm gestures
Eye contact
Facial expression
Proximity (personal space)
Body odour
Scent / breath. Be wary of: coffee, cigarettes, alcohol
Physical surroundings must create a positive emotion
Tools and equipment
Accessories and badges etc
Vehicle
Tools
Equipment
Accessories
Business cards
Paperwork and contracts
Others
Politeness, proper sense of humour and good sense of etiquette
Humour is a double edged sword:
Amusing with a nice sense of humour.
Silly and a bit of a clown, or a joker.
Timeliness and its effect on the mind of the others
If you are inexplicably late or slow, then it makes a big dent in the mind of your customer. You need to be on time, or at least keep them informed of any changes in your arrival time.
Time is precious.
Professionalism
What does the term professional mean to you?
What are the six key distinguishing characteristics that separate a professional attitude, from a non-professional attitude?
Caring
Helpful
Knowledgeable
Good listener
Friendly
Consistent
Ask for referrals
In order to build the business, we would like more customers. And we can get more customers by gaining referrals.
A referred lead is when someone recommends a product or service to a friend or a colleague, based upon a personal experience.
Remember this: Everyone knows someone who needs your products or service.
If you ask for referrals, then you may get one.
If you don't ask them, then you won't.
You need to find a way to gain more referrals.
Referrals should come at the successful completion of the task and when the customer is pleased with the service you have given.
Customer Service Training FAQs
How do I join a Corporate Coach Group course?
In order to attend this course, the very first thing is simply to decide to!
The second step is to pick the date, and location that you find the most convenient.
The final step is to click this link and reserve your place, or if you prefer, phone us, on 01452 856091.
Is this course offered in-house?
Yes. If you want to present this course to your colleagues in-house, then we are happy to come to you.
We can tailor the course content to meet the specific needs of your team. Click here for details.
How can I develop empathy in customer service?
Empathy is an ability to understand how other people feel, without having to agree with anything they say.
In order to develop empathy, drop the idea that you must agree with people. Tell yourself, "If I believed what they believed, then I too might feel that way".
Example: If the person feels they have not received fair treatment, (whether they have or not is a different question), then they would feel annoyed.
The unempathetic person usually lacks empathy because they think: "I disagree with you, because you are obviously wrong, stupid or dishonest". With that thought process, empathy is impossible.
Empathy is built upon temporarily accepting the other persons point of view and feeling the way they feel.
What are the top 3 qualities of customer service?
The top three qualities of customer service are:
A genuine desire to help others. All good customer service staff start with a keen desire to help others. The essence of customer service is helping customers to solve their problems.
A wealth of technical knowledge. Wanting to help is not enough. Customer service staff must have sufficient technical knowledge, (or at least be able to access that knowledge) which will solve the problems presented by the customer.
Excellent communication skills. In order to gain information from customers, and in order to explain information to them, customer service staff need to be excellent communicators. Both in spoken and written form.
What is the course training method? Is it interactive?
Yes. We have designed the training style to be highly interactive. We don't use a single method; we vary the style.
Sometimes you will be working introspectively, (for example, when you are doing a self-analysis exercise), then later, you will work in pairs.
Then later we will work as a whole class.
There is always lots of interaction.
So, you will never feel bored, and there is NO death by PowerPoint. All the way through the course, you will feel completely engaged and involved.
Many delegates tell us how the time seemed to fly by, (which is always a good sign).
You will find the course is well designed, easy to understand and apply in practice.
We have made sure that the training is relevant to real life, beneficial and crammed with useful knowledge. We are sure you will find this course interesting, well structured, practical and fun.
How do you handle angry customers?
To handle angry customers, use the six step method: Listen, empathise, question, answer, confirm, close.
Listen without interruption. Start to take a few written notes.
Empathise with their emotions. Let them know you understand how they FEEL.
Ask questions, so that you understand the facts, apart from their feelings.
Formulate a practical plan, that will best solve the customers problem.
Confirm their understanding of the plan and take steps to implement it.
Close the call. Finish your written notes and move on to the next caller.
What kinds of people attend this Customer Service course?
People who attend this course come from organisations that are experiencing a lot of change.
The delegates who attend this course all want to improve their ability to get the best performance from themselves and others.
Although the delegates who attend the course are all different, they all share a common goal, to learn and apply new skills.
Related Articles from our Communication - Clear Communication Blog
Six Step Formula for Investigative Interviews
7 February 2023
Managers are often required to conduct interviews to obtain information that may be needed as evidence in court. Therefore it is essential that interviews are professionally conducted.
Continue Reading >