Customer Service Training Course - One Day
Learn practical tools that you can use in real-life situations.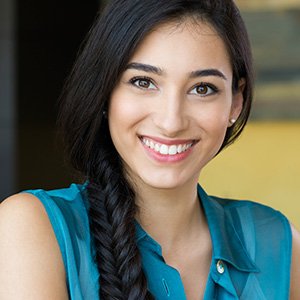 Master the six steps of great Customer Service
Give a friendly greeting and introduction
Accurately analyse your customers' individual needs
Give a professional presentation of your product or service
Agree specific actions
Provide a prompt delivery of your product and service
Win more business by making a request for a referred lead
Learn in a friendly and relaxed atmosphere with people who are facing similar situations as you.
The course content was exceptionally good. Very informative, lots of useful skills: right box, wrong box, success formulae, etc. The trainer's presentation was perfect!
Customer Reviews
Customer Service Training - One Day Course Overview
Day One - Morning
Give greetings and introduction
Analyse customers' individual needs
Present your product or service
Close to action
Deliver your product or service
Give after sales service and request a referral
Day One - Afternoon
First impressions do count
Your mission is to make your customer's life better
Communication: The proper use of language
How people react emotionally to you and your business
What does the term "professional" mean to you?
Get the best results by being good
Customer Service Training - Day One - AM
Introductions
Customer service is important because people respond emotionally to every aspect of your product or service. You need to be able to create a lasting positive impression in the mind of your customer, whilst at the same time, building your business.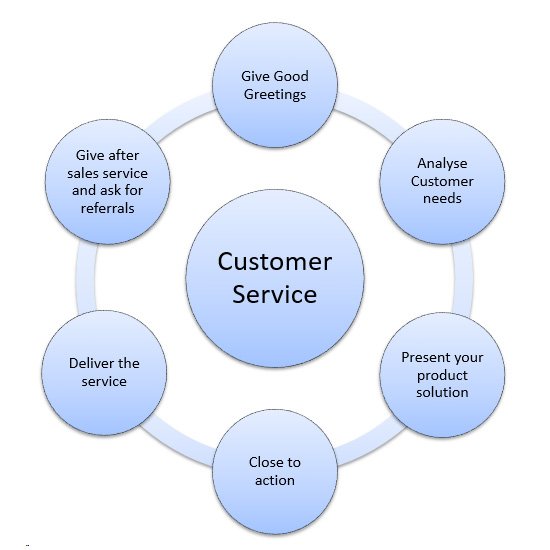 There are six parts to the customer service experience
Greetings and introduction
Analysis of customer needs
Presentation of product and service
Close to action
Delivery of product and service
After sales service and request for referral
Let us look at each in turn.
Greetings and introduction
First impressions do count.
First impressions set the scene for the relationship.
Once a person has made up his-her mind about someone, then he tends to engage in a process of selective perception whereby he will tend to gather supporting evidence to justify the original impression.
For instance, if on meeting someone, you form a BAD first impression, based on something bad they said, or did, then you tend to see other BAD things the other does and you downgrade the good things they may do.
If you form a good first impression, then you tend to see the good things the other does and you excuse the bad things they may do.
People do "judge books by their covers"
People do make emotional judgements of others, based upon what they see and hear.
People will judge you by everything you say and everything you do.
And everything you FAIL to say and everything you FAIL to do.
For instance:
If you smile, and say "good morning", then that says one thing.
If you don't smile, and if you fail to say "good morning", then that says another thing.
Elements of first impressions
What you should do in the first few minutes of meeting someone?
Visual - what they see
Sound - what they hear
Emotions - how they feel
Analysis and investigation of customer needs
When you meet someone your overarching principle is this:
How can your products and services be of genuine assistance to make this person's life better?
In order to help someone, you need to keep your eyes, ears, and mind open.
Ask them questions about what they have now.
Ask them questions about what they would like, or need in the future.
The difference between what the customer has now and what the customer would like in the future is the way you can add value to the customer.
It is your opportunity to help them (and your own business, at the same time).
Success is essentially simple
To succeed you need to find ways to make your customers lives better.
You do that by finding ways you can add value to them.
You do that by providing them with your skills, knowledge, products and services.
Communication: The proper use of language:
Question: How can you gain a mutual understanding and a sense of cooperation?
Your use of words. Good use of words
Five polite phrases you need to use as a speech habit:
Yes, please.
No, thank you.
Would you mind if we ...?
Would you please ...?
Thank you very much, I appreciate it.
In addition, show genuine interest in anything of note.
Bad use of words
Any form of profane language.
Moaning, whining and complaining about anything.
Complaining to your customer about other parts of your own business. (The office staff, the bosses, etc.).
Anything which may create a negative thought in the mind of the customer.
For example, if the customer ever thinks:
They don't care about me.
How long is this going to take?
This person is rude!
Then your chances of pleasing your customer are gone.
Customer Service Training - Day One - PM
Tones: Pace and intensity of the message
Speed: how much information can you give to someone before they become confused?
It is an error to give too much information to quickly.
Intensity of your own emotion
Any expression of annoyance, anger, frustration or bad mood will trigger a negative customer response in return.
Body language: Dress posture, appearance, image etc.
Dress code: what you are wearing and how it looks.
Posture: how you stand, or sit.
Touch: Handshake
Touch: Any other form of touch, other than handshake
Hand and arm gestures
Eye contact
Facial expression
Proximity (personal space)
Body odour
Scent / breath: be wary of: Coffee, Cigarettes, Alcohol
Physical surroundings must create a positive emotion.
Tools and equipment
Accessories and badges etc
Vehicle
Tools
Equipment
Accessories
Business cards
Paperwork and contracts
Others
Politeness, proper sense of humour and good sense of etiquette. Timelines
Humour is a double edged sword
Amusing with a nice sense of humour.
Silly and a bit of a clown, or a joker.
Timeliness and its effect on the mind of the other
If you are inexplicably late or slow, then it makes a big dent in the mind of your customer.
You need to be on time, or at least keep them informed of any changes in your ETA.
Time is precious.
Professionalism
What does the term professional mean to you?
What are the six key distinguishing characteristics that separate a professional attitude from a non-professional attitude?
Caring
Helpful
Knowledgeable
Good listener
Friendly
Consistent
Ask for referrals
In order to build the business, we would like more customers. And we can get more customers by gaining referrals.
A referred lead is when someone recommends a product or service to a friend or a colleague, based upon a personal experience.
Remember this: Everyone knows someone who needs your products or service.
If you ask them for referrals, then you may get one.
If you don't ask them, then you won't.
We need to figure out a way to gain more referrals
Referrals should come at the successful completion of the task and when the customer is pleased with the service you have given.
Summary and Action Plan
Training course content was excellent, very pertinent and relevant. I have had difficulties at work recently and I could relate the content to those issues and rather than avoid, I now have techniques to resolve conflict. The trainer was clear, concise and professional. The concise material was relevant and summarised well.
Customer Reviews
In-House Training Course Pricing and Proposal
This course is available from just £1,950 +VAT per day as a bespoke in-house group training course in the UK and worldwide.
It has been designed to provide a similar experience to our open courses, however we can tailor the content to fit your specific needs. In-House Group training costs from just £1,950 +VAT per day (international training price varies). Plus, hotel accommodation for trainer if necessary. (Premier Inn type: not the Hilton!)
This price includes:
Quality training delivered by an experienced trainer
Full days training
Full colour course handbook
Preparation work
Travel costs and time
Written action plan to take away
Access to our post course portal
Access to our on-line leadership and management decision matrix templates and tools
Plus three months FREE telephone coaching to answer any on-going questions
In-House Proposal Document
Download the in-house training proposal document
Contact Us Today
Please call us on +44 (0)20 3856 3037 to discuss your requirements for the in-house training course.
If you want to know more about any other Management Training Courses, or their suitability for you or a colleague, call us on +44 (0)20 3856 3037.
Express an Interest
X
If you feel you would like to attend but cannot yet commit to a secured booking, you can express your interest here.
Email your Manager
X
If you are reading this page with the intention of attending the course, then you may need to 'put forward a case' to a manager who makes the final decision.
So, you may find it beneficial to give your manager this document, which will give all the information needed to make the right decision.
To do this, please enter the manager's email address below and.. take me to your leader!



* Just so you know, we'll add your details to our records.
Extremely useful training for my own and team leaders usage. Was very inspired and motivated by Edison, felt that the success formula will be greatly used along with many other items. The trainer's presentation was very good. Clear, precise and full of information to ponder over and use.
Customer Reviews
Customer Service Training Course Summary
Customer service training is a recognition of the fact that customers respond both intellectually and emotionally to the people in your organisation.
If the customer's emotional response is positive, then that is good for your organisation.
If the customer's emotions are negative, then that is bad for your organisation.
What elements make a great customer service experience?
The purpose of this training day is to help your teams to improve the way they create positive emotions in the minds of your customers.
Customer Service Training Course Quiz
Take this course quiz to see where you are strong and where you are NOT so strong.
View this page on your computer to complete the quiz!