What is Handling Difficult People Training?
Sometimes you must handle people who you may find difficult; rude, aggressive, lazy or disruptive. They may be customers, colleagues or members of the public. You need to manage these people, but you may not know how.
Where can you learn to manage such difficult people?
Come on this terrific one-day training course.
Here, you will learn how to adapt your communication style and your emotional response. The information you learn on this course will empower you, by showing you how to find the right words, that will make you clear, rational, positive and professional.
You will learn how to resolve issues, quickly, calmly and without fuss.
When you finish this course, you will feel inspired.
Customer Reviews
The course was very relevant and practical, but also made me pause and reflect on approaches to life in general and not just working life. It also made me think more about the impact of my behaviour on others. I think that attending this course ... [Read More] Sivakumar Anandaciva
Foundation Trust Network NHS
The course content was strong, informative and understandable. Easy to take key points and transfer into working life. Makes you think of how to work more effectively and productively. The trainer's presentation was clear, captivating and intere... [Read More] Janine Sleath
International Greetings UK Ltd
Course Overview - Handling Difficult People Training
This course is in four parts:
Part one. Self-assessment of your own communication style. We want to know, how do we "come across" to others?
Part two. We focus on "difficult people"; those who disagree with everything, they are disruptive and strong. We will show you special techniques, to handle intelligent, articulate but difficult people.
Part three. We focus on a different kind of "difficult person"; those who behave badly: They swear, they break rules, they lose their temper, they bully, intimidate, they manipulate; they may be lazy. You will learn how to deal with this type of difficult person.
When you finish this session, you will be keen to try out your new skills, when you get home!
Part four, is a short session: Why it is important to finish every interaction on a positive note.
When you have mastered and apply the skills you learn on this course you will find, to your delight, that there are fewer difficult people in the world.
You will begin to wonder, where did they all go?
Learning Outcomes:
Handle those people that don't do the right thing.
Manage your emotions, so you stay in control.
Nip problems in the bud, so they don't get out of hand.
Learn when to compromise and when to stand firm.
Negotiate solutions, rather than argue about blame.
Boost your self-confidence and assertiveness skills.
Use positive feedback, as a way to change people.
Course Details - Handling Difficult People Training
Morning Session
Introduction to the training
The world is populated by people with a great diversity of character. Some character types, you find difficult to handle. But you need to handle them because they form part of your job.
So, we are here to answer a single question: "How can we get the best from ourselves and others?"
In order to get the best from difficult people, we must first learn how to get the best from ourselves.
This course is predominantly a personal development course designed to improve communication and confidence, so that we are empowered to positively affect others.
To deal with difficult people, what communication skills are needed?
There are many skills needed, but they can all be subsumed under a smaller number of main headings.
Clear thought
Accurate language
Rational approach
Positive emotions
Body language
Voice tones
The course is based on these six themes.
Self-assessment of your communication style
We begin the process by asking you to self-assess, and measure yourself against a set of key skills, that we need, in order to be effective. You score yourself out of 10 for each one. Assuming you are not perfect, you will not give yourself top marks for everything. That means your lower scores have identified areas for potential improvement.
What impression do you make?
We all make impressions on the minds of others. Others form a mental image of you based upon two things, their own preconceptions and your behaviour. Their response is governed by their impression of you.
You cannot change their preconceptions, but you CAN change your behaviour in ways that will trigger an adaptive response.
In order to make progress with people, you need to decide how you wish to be perceived by others, and then act accordingly.
So, we will ask you to tell us, how do you want to be perceived by others?
We will make a list of the attributes we need.
How to handle "Intellectually difficult people"
There are many people who are difficult because they are intellectual, argumentative, contradictory, and have strong opinions. They are confident, articulate, sometimes pushy. They upset people and create tension. They can be intimidating. They ruffle feathers. These are the people we will now focus upon. How to deal with intellectually difficult people.
Clarity of purpose
To achieve your purpose, you must first define it.
Your purpose is to gain the willing cooperation of the difficult person. That means you must find common ground between three sets:
What you want
What the other wants
What is reasonably / logically possible
Goal setting
In order to answer these three sets, you need to decide what you want, discover what they want and determine what is a rational way forward.
Develop your questioning skills
You need to discover what the other person wants. So, you need a formula for asking the right questions. We will give you an 8-step questioning formula which we will ask you to memorise and use.
Clarify ambiguities
Communication must be clear and distinct, with NO ambiguities or vagueness. Language is inherently slippery and difficult to pin down. But you must learn how to pin down exact meanings to words. Your words must be clearly understood by the other person, because you don't want to create misunderstandings.
Equally, you must fully understand, (not just hear) what the other person is trying to tell you. We will show you a special formula, (called C.G.4D) that will allow you to clearly define what is meant by what is said.
This single technique, (C.G.4D.) will improve your communication skills for the rest of your life.
How to transform negative to positive
You might think the other person is being negative. The other person would disagree with your assessment.
Nobody thinks they are negative. They regard their so called "negativity" as "realism".
They even say it, "I'm not being negative, I'm only being realistic!".
Difficult people have powerful intellects, but they are using it in reverse gear.
You need a technique that will transform their "NO can do" mind set, to a "Can do" mind set.
We will show you how to "flip the switch" in their head, from "problem creator" to "problem solver".
How to harness the power of positive suggestion
Humans are open to suggestion. And suggestion can be a better way to approach people than issuing instructions or orders.
We will show you how you can use words as a form of positive suggestion. Words paint "pictures in the mind". You need to use words that paint the right pictures.
We will show you how to use your language in persuasive ways.
When you learn this technique, you will find yourself using it all the time.
How to put your new skills into practice.
The Germans have a saying, "Übung macht den Meister" = Practice makes the master, Practice makes perfect! How will you put into practice what you have learned this morning?
Afternoon Session
How to handle difficult behaviour: Behaviour modification
This morning we talked abut how to handle people who are intellectually difficult.
This afternoon we shift our focus and discuss a more serious problem, how to handle people who behave badly. These situations are more explicit. They include behaviours such as lateness, physical bad habits, swearing, abusive words and behaviour. Or it may be laziness, or improper laxity or carelessness in the performance of their duties.
You might call this section, Performance management, or behaviour modification. Either way, it is not easy. To pull this off effectively, we all need training.
This afternoon is the training we need.
Four communication styles, but only one of them works
When faced with a difficult person, we all have four options of how to respond: With anger, with upset, by avoidance or by Reason.
Only reason works.
Most people try to use anger, upset and avoidance, even though we know they do not work.
What is a rational approach?
In order to present a rational approach, we need to learn about:
The importance of the self-concept
How to use Objective language
How to script your message
Focus on the future
How to gain commitment
Assertive Body language and voice tones
Finish on a positive
Tame the lion
The importance of the self-concept
The self-concept is the core of personality. The self-concept is the image the person has of himself/ herself. It is the internal identity that people give to themselves. If you attack a person's identity they will always respond negatively.
Therefore, never attack a person's identity. In dealing with others, Never use negative identity statements; Statements that contain the phrase, "You ARE …(Something)"
You are annoying. You are rude. etc
To protect their self-concept, use only objective language.
How to use Objective language
You need to learn the difference between objective, NON- emotionally charged language, and subjective, emotionally charged.When you are in a negatively charged situation, DON'T use emotionally charged language. Use only objective language.
You will learn how to describe your message in objective terms. This section is super important, and you will be fascinated by it, and you will immediately recognise its usefulness. You will also come to realise how many times people mess up by violating this rule.

How to script your message
Now you know the rules to play by, you can begin writing scripts that will allow you to positively affect negative people. We will work the material together and see how it works in practice. In this section, you will begin to master this material.
You will begin to wonder, "Why didn't they teach us this in school?"
(Because most teachers don't know this either!)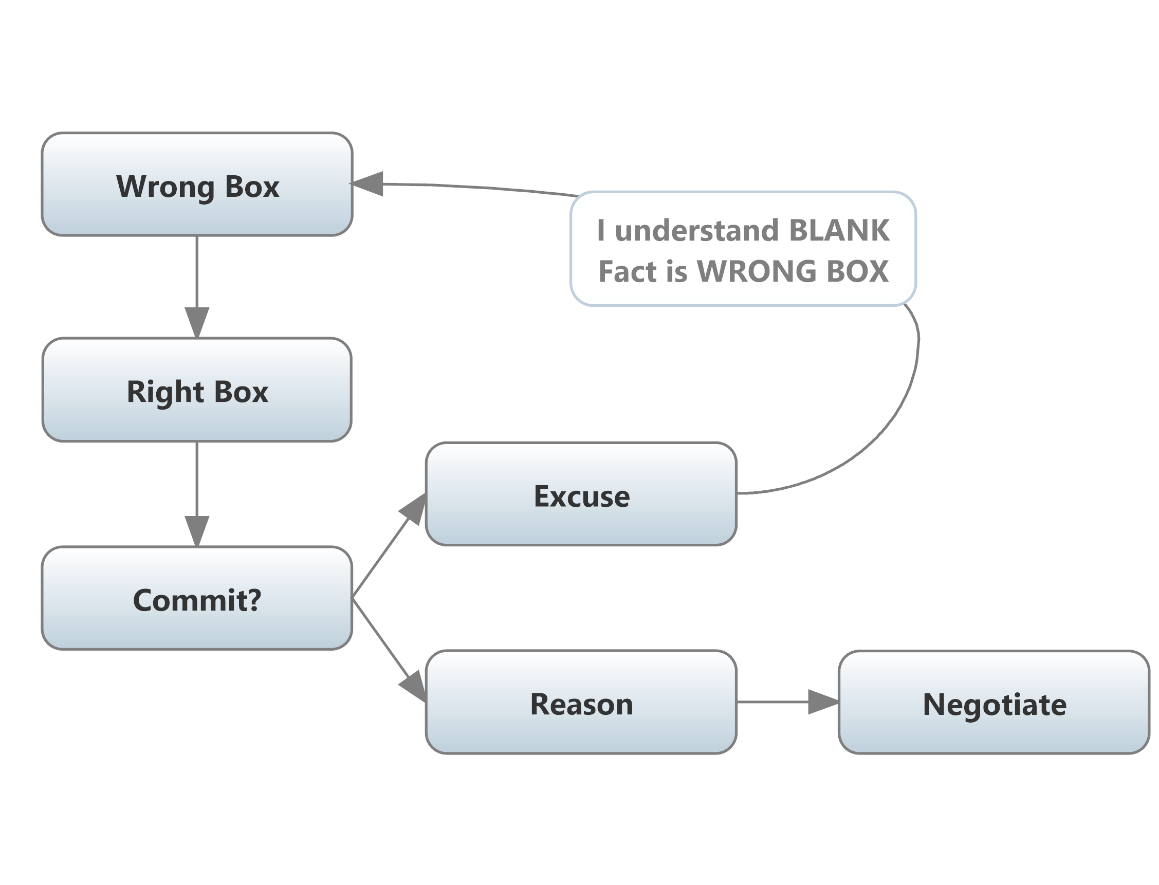 Focus on the future
Split time into two segments; the future and the past.
It is a mistake to argue for too long about the past. Why is that?
It is better to focus on the future. Why is that?
We will show you how to shift conversations "BACK to the FUTURE".
How to gain commitment
The aim of this communication is for you to forge a solution that lies on the common ground between:
What you want
What the other wants
What is organisationally possible
You will work with the difficult person and appeal to the rational side of their mind. Every sane person has a rational side to their mind, and your task is to find it and appeal to that rational part.
Nobody regards themselves to be unreasonable.
Make use of their desire to be a "Reasonable person".
Be assertive: Not aggressive nor passive
It is not enough to know what to say. You also have to say it in the right way.
Be assertive, NOT aggressive, NOT passive.
We will show you how.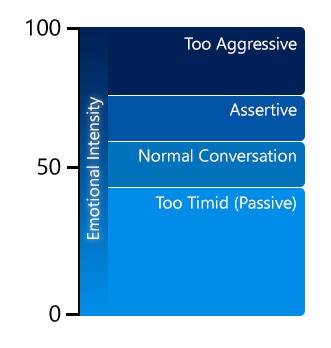 How to use body language
Body language is important: eye contact, body posture, facial expression, appearance, hand gestures. All these require your attention.
We will go through this list, step by step.
How to use voice tones
Voice tones are important too. Volume, pace, pitch, and intensity of emotion. We will go through each step and learn valuable lessons.
Always finish on a positive
We have spent the afternoon defusing the potentially explosive situation. We have taken out the negative, to leave the situation emotionally neutral.
But now we go one step beyond. We add in the positive emotions.
It is important to add into your mix positive emotions so that the last thing that happens before they leave you, is that you finish on an affirmative.
We will show you how you can always finish on an affirmative.
Tame the lion
You will discover that those people who seem to be ferocious lions, often feel they are misunderstood. From their perspective they are NOT difficult. They are passionate! And right!
If you speak to lions correctly you can win them over onto your side and in the future, they become your strongest ally.
I know this is true. I have seen it done. I have done it.
You can too - if you apply this material.
How will you apply the material in practice?
You have learned an amazing amount today. You need to digest this material and then commit to putting it into practice.
We will ask you, "What did you find most useful, and how will you use it?"
Related Articles from our Conflict Management and Handling Difficult People Blog
Dealing With Difficult Behaviour At Work
25 October 2019
Every organisation has people who are difficult to work with. Handling these people can be challenging, but taking the time to learn how to deal with difficult people is worthwhile and will make your working environment a better place for everyone.
Continue Reading >
FAQs
How do I join a Corporate Coach Group course?
The first step to benefiting from this personal development training is to DECIDE to come!
The second step is to pick the date, and location that you find the most convenient.
Third step is simply to register your name, or call us on 01452 856091, and we will help put you on the course.
Is this course offered in-house?
Yes. If you want us present this course in-house, then we are happy to come to your venue.
We can tailor the course content to meet the specific needs of your team. Click here for details.
Ten top tips to handle a difficult person at work
Top tips to handle a difficult person at work. Here are the top tips:
Don't let negative emotions (anger, upset) infect your language.
Use objective language, not subjective.
Name the unwanted behaviour.
Name a specific corrective action.
Ask for commitment to the corrective action.
Listen to their response and either negotiate or stand firm.
Do not give concessions to excuse givers.
Give concessions only to reason givers.
Don't argue over the past.
Keep a careful check on your body language.
How do you communicate with an unreasonable person?
Fundamentally, there are only three ways to deal with people,
Reasonably.
By force.
By Avoidance
Since you cannot use force, so you must use either reason or avoid them.
If the other people are acting irrationally, then avoid the person and wait for them to regain their sense of reason.
Then Negotiate with them Reasonably.
Reasonably or not at all.
What is the course training method? Is it interactive?
Yes, the training is highly interactive. We don't use a single method; we vary the style.
Sometimes you will be working introspectively, (for example, when are thinking about your own performance), then later you will work with another delegate in pairs, (or groups of three).
Then later we will work as a whole class.
There is always plenty of interaction.
There is never any "Death by PowerPoint". So, you won't feel bored, you will feel motivated. From beginning to end, you will be fully engaged and involved.
Many delegates tell us how the time seemed to fly by, (which is always a good sign).
You will see that the course content is well designed, easy to understand and apply in practice.
The training is applied to real-life situations; it is beneficial and packed with useful knowledge. We are confident you will find the course interesting, well structured, practical, and fun.
How do you stay calm when someone is provoking you?
You stay calm by being sure that you know the answer to this question:
Ultimately: Who is in control of your emotions?
Is the other person in control of you?
Or are YOU in control of you?
The correct answer is of course, YOU are in control of YOU.
Or at least, you should be.
Do not be a puppet of the environment.
We are all born as sovereigns over our own minds and emotions. Don't give the other person the control over your mind and emotions. Retain full control over your own emotions, simply by an act of will.
What kinds of people attend this Handling Difficult People course?
People who attend this course come from organisations that are experiencing a lot of change.
The other delegates who come to this training, all need to know how to get the best performance from themselves and others.
The delegates are all different types of personalities, but you will soon discover that although we are all different, we all share a desire to learn and apply new skills.
What are the open course timings?
The training timings are as follows.
0900 Start
1100 Tea break, fifteen minutes.
1300 Lunch, thirty minutes.
1500 Tea Break, fifteen minutes.
1630 Finish
If you arrive earlier than 0900, there is coffee / tea waiting for you.
In-House Training Course Pricing and Proposal
This course is also available from just £1,950 +VAT per day as a bespoke in-house group training course in the UK and worldwide.
It has been designed to provide a similar experience to our open courses, however we can tailor the content to fit your specific needs. In-House Group training costs from just £1,950 +VAT per day (international training price varies). Plus, hotel accommodation for trainer if necessary. (Premier Inn type: not the Hilton!)
This price includes:
Quality training delivered by an experienced trainer
Full days training
Full colour course handbook
Preparation work
Travel costs and time
Written action plan to take away
Access to our post course portal
Access to our on-line leadership and management decision matrix templates and tools
Plus three months FREE telephone coaching to answer any on-going questions
Contact Us Today
Please call us on +44 (0)20 3856 3037 to discuss your requirements for the in-house training course.
If you want to know more about any other Management Training Courses, or their suitability for you or a colleague, call us on +44 (0)20 3856 3037.