How to Deal With Difficult Employees
How to Deal With Difficult Employees
There are many ways in which employees could be perceived as "difficult".
Some "difficult people" are valuable assets, because they disagree with the current plan. They cause us to question and justify our current practices, which may be to our long-term advantage.
Other "difficult people" are costly liabilities because they fail to do what they should do, and they do things they should NOT do.
The first thing to determine about the difficult employee is, which type are we dealing with?
The asset, because they offer rational justifications for their behaviour
The liability, because they offer no rational justifications, only excuses or emotional outbursts.
Remember that our overarching principle in dealing with people is that we must "treat all people and all problems according to the principles of reason".
If the person can provide a set of good reasons, then it is important to listen to them carefully and give them due consideration. If the person is able to give good reasons for their behaviour, then we should find a compromise. We might even realise that their alternative has more merit than our existing view and that we may benefit by moving to accommodate their view. This is how evolutionary progress is achieved, by incorporating beneficial "mutant ideas", into the existing scheme of things.
On the other hand, if the person cannot provide a set of good reasons, which logically justifies their behaviour, but instead offers only emotions and excuses, then it is important not to compromise on our standards. Instead we must insist on the maintenance of the current standard and implementation of the current plan.
The method of dealing with difficult people may be described by the following steps: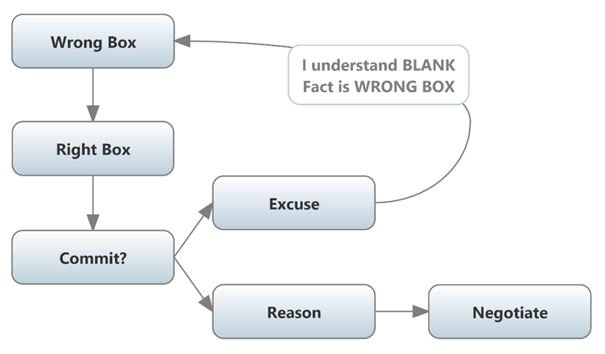 1. Name the "wrong behaviour".
We start by naming the specific wrong behaviour in objective terms, together with the negative consequences that flow from this behaviour, by reference to which we define it as being wrong. Wrong behaviour is "wrong" because it generates destructive consequences.
2. Name the "right behaviour".
Which is a statement of the corrective action, together with the positive consequences which flow from it. Right behaviour is "right" because it generates long term beneficial consequences.
3. Ask for commitment to the right behaviour.
Ask the other to make the shift from the "wrong" to the "right" behaviour.
4. Listen to their response.
If they say yes to the request for the corrective action, say "thank you". The conflict is resolved. If they don't or won't commit to the corrective action, determine whether or not they have good reasons.
If the person has good reasons for their "wrong" behaviour or view, then take them into account and modify your request.
If they do NOT offer good reasons, and offer only emotionally charged excuses for their behaviour, then do NOT give any ground and instead, reaffirm your "right box request" for the corrective behaviour.
5. Only respond positively to three things.
These things should be responded to positively:
Commitment to corrective actions.
Good reasons why not.
Alternative suggestions for right box compromise solutions that we can live with.
Never give concessions to people who offer only emotional outbursts or non-rational excuses for their behaviour. If we give concessions to people who offer only excuses for wrong behaviour, or emotional outbursts when challenged on their bad behaviour, then we set the conditions for more bad behaviour and emotional outbursts.
6. Thanks and appreciation for corrective action.
Always immediately thank and appreciate any movement towards the corrective action.
Any movement on their part towards acceptance of the "right box request" should be immediately noted and verbally appreciated.
Handling Difficult People Training Course
This Handling Difficult People Training Course will show you how to deal with the most difficult people in a clear, rational and professional way.
Blogs by Email
Do you want to receive an email whenever we post a new blog? The blogs contain article 5-10 minutes long - ideal for reading during your coffee break!
Further Reading in Conflict Management and Handling Difficult People
Looking for Conflict Management Training?
If you're looking to develop your Conflict Management and Handling Difficult People Skills, you may find this Conflict Management Training Course beneficial:
Open Training Course Pricing and Availability
Next Open Course Starts in 8 days, Manchester City, places available