Goal Setting, Communication and Conflict Training Availability, Pricing and Course Dates
If you have any questions, please phone us (020 3856 3037) or send us a message.
Live Online Virtual Training
Open Course (Face-to-Face)
£475
+VAT per delegate
(Early Bird Offers Available)
Delivered at venues around the UK
Open Course Timings are: 9am - 4.30pm
If you arrive earlier than 9am, there is coffee / tea waiting for you.
Bespoke Training (In-House or Live Online)
£2,000
+VAT per training day
(International Price Varies)
In-House training has been designed to provide a similar experience to our open courses, however we can tailor the content to fit your specific needs.
Plus, hotel accommodation for trainer if needed (Premier Inn type: not the Hilton!)
We are able to train in your timezone.
All our training includes:
A full day of quality training, delivered by an experienced trainer
Total of 6 CPD training hours (9am - 4.30pm), plus an additional 2-3 via post-course online independent learning.
Full digital interactive course notes
Training certificate
Access to additional free training material after the course via our post-course portal
3 months free telephone coaching: Whilst you are implementing what you have learned, if you need to, you can contact us for support and guidance
What is goal setting, communication and conflict management training?
Goal setting is important because you are paid relative to your ability to achieve goals. The more you achieve, the more valuable you become.
Communication is important because, to achieve goals, you need to gain the cooperation of other people, and the only way to do that, is to communicate effectively: be clear, rational, persuasive and positive.
Conflict management skills are important because sometimes, people do wrong things, and you need to resolve conflict based upon poor behaviour. If you mismanage conflict, it can escalate. If you manage conflict well, then you can quickly get back on track towards the achievement of your goals.
If you want to improve your ability to set and achieve goals, communicate with more clarity and precision, and effectively handle conflict, then you will find this course of huge benefit. This training has been designed to empower you.
Contact Us Today
If you want to know more about this course, or any other Management Training Courses, or their suitability for you or a colleague, call us on 020 3856 3037 or make an enquiry online.
Customer Reviews
I have really enjoyed this course and been inspired to improve my thought process in my daily work routine. There were several key points which will help me in the future. The trainer was very clear and well spoken, easy to listen to and made th... [Read More] Clare Smith
International Greetings (UK) Ltd
I thought the content was very good, with a lot of it relevant to my working environment and in some areas personal. I found the split between the organisational and emotional aspects worked well. I felt the Time Management Matrix, Priority Orde... [Read More] Oliver Crampton
DB Wood
Goal Setting, Communication and Conflict Training Course Overview
This course is split into two sessions. The morning session is centred on the word clarity, and the afternoon is centred on the word conflict.
Clarity means: Clear goals. Clear communication.
Conflict means: Rational. Objective.
The purpose of this course is to eliminate any errors and build upon your strengths.
So we start the training with an introduction into the three major themes of the course: goals, communication, conflict. We show you the basic models and we ask you to score yourself on your current abilities in these areas.
Once we know your priorities, we will work through the course material in a systematic and interactive way.
Learning Outcomes:
How to develop a goal focused mindset
How to communicate your goals with more clarity and mutual understanding
How to give constructive feedback using accurate language
Develop the art of critical thinking and intelligent questioning
Know when to compromise and when to stand your ground
How to distinguish reasons from excuses and have a different policy for each
How to inspire a positive attitude in others
Goal Setting, Communication and Conflict Training Course Details
Day 1 - Morning
Our purpose is to get the best from ourselves and others
You need to get the best from others, but to do that, you must first get the best from yourself.
Therefore, this course is predominantly about personal development training.
Why is goal setting important?
Goal setting is important because the first step to achieving a goal is to set it.
Your organisation exists to achieve goals. The organisational goals are long range and broad, and these are divided into subset-goals, which are shorter range and more specific.
It is important to know how to set specific goals and how to communicate them to everyone who needs to know.
What is the difference between a wish and a goal?
We explore the difference between a wish and a goal.
We are interested in goals, not wishes. You can wish for anything. But goal setting is a more rigorous process.
We will ask you to make clear the distinction between wishes and goals.
What is the Universal Goal we all share?
We can all share the same goal, that is, "To add value to others". Your organisation succeeds when it adds value to the marketplace: to its customers, shareholders, employees and community. If it doesn't add value, it fails.
In a similar way, each one of us has to add value to other people, to our friends, colleagues, customers and family. We will discuss what happens if you do not add value to others and what happens if you detract value from others?
How to set and achieve goals, using 8 Part SMART.
The major model of the first session is the goal setting formula itself.
Our model is an advanced version of the standard, five-part model called SMART (Specific, Measurable, Achievable, Realistic, and Time-bound.)
We believe this model to be insufficient because, ironically, it is not specific enough. It is too abstract.
We will give you the fully updated and improved version called 8 Part SMART, which has the advantage of being more practicable and more easily turned into a series of eight questions, which you will learn and use every day.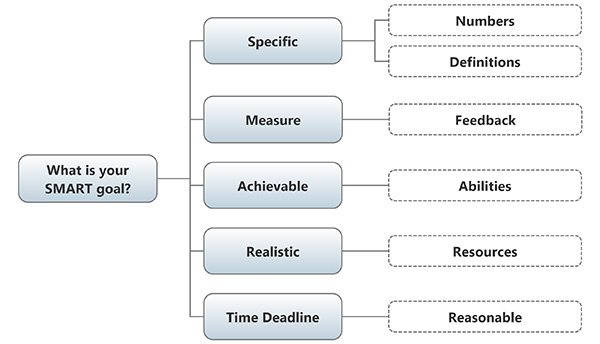 Many different uses of the 8 Part SMART Targets
The 8-part SMART model can be used in multiple ways, including to help you set your own goals, and to help you set and agree goals for other people. We will examine how versatile and useful this model is.
How to define your exact meaning (communication skills)
Now you have goals, you must communicate them with absolute clarity. It is important to be able to express yourself, to make your meaning clearly understood. Many people have trouble conveying their exact meaning; they are often unclear, vague and unconvincing.
We will show you terrific ways to make your exact meaning crystal clear.
When you finish this session, you will know how to make people understand exactly what you mean.
How to discover their exact meaning
Once you understand how to make yourself clear, you can use the same principles to extract the other person's exact meaning.
How to use affirmative language
We want you to make a distinction between two types of language: affirmative and negative.
Affirmative tells people what IS. Negative tells people what IS NOT.
It is not enough to tell people what you are not going to do, and why.
We need to tell people what we are going to do, and how.
We will practice turning negative statements into affirmative statements.
How to handle a cynical person
Not only is there negative language, you also have to deal with negative people.
We will discuss how you can use your new communication skills to transform a negative personality type (the cynic), into a positive personality type (a critical thinker).
When you learn this technique, you will be pleased you came on the course.
How to use power of positive suggestions
The final point of the morning is a fascinating discussion about the power of suggestion. Everyone is influenced by suggestion. For instance, if several people say to Bob, "Bob, you don't look very well today", poor Bob will begin to feel sick. We are influenced by advertisers, media, politicians and friends. These suggestions are usually subliminal, and we are not aware of them.
But from now on, you will learn to make conscious use of the power of positive suggestion, by ensuring that you use words in ways that deliver ONLY the messages you intend.
Day 1 - Afternoon
Why conflict management is important
Conflict management is important because conflict is inevitable, since not everyone shares the same standards of behaviour.
It is important to manage conflicts well, because a badly managed conflict can quickly degenerate into a major row, and relationships can be destroyed beyond repair. If you manage conflicts well, then issues are quickly resolved, and normal service can be resumed.
Four ways people try to handle conflict
In essence there are four ways to handle conflict, but only one of them works. The way that works is by reason. We need a rational approach to conflict management.
The three ways that don't work, are:
Getting angry and aggressive.
Getting upset and tearful.
Evading conflict and running away.
We will show you what it means to apply, a rational approach to conflict management.
What is a rational approach to conflict management?
A rational approach to conflict, is one based upon a logical evaluation of all the available facts, a mutual commitment to finding a negotiated answer, and the proper professional use of language.
What is a person's self-image?
We discuss how important it is not to attack another's self-image (their character, identity, ego). If you criticise a person's character, you will trigger a negative emotional response.
We will show you how to distinguish character assassination statements, from behavioural statements. We ask you to never use character assassination statements.
How to script your message?
We discuss the details of language. You will learn to distinguish between two types of language: objective and subjective.
We explain why, during conflict, you should NOT use subjective language. You should restrict yourself to objective language only.
We show how to use the correct language and you will practice describing events in objective terms.
What is the difference between a reason and an excuse?
When people are asked why they do things, some people will give reasons, others will offer only excuses.
We will distinguish between what constitutes a reason, and what constitutes an excuse. This is a vital distinction because you should only give concessions to those who give reasons.
We explore what would happen if you gave concessions to excuse givers.
How to properly use body language
It is not enough to use the right words; you must also use the right body language. Body language is how you use your face, eyes, posture, arm and hand gestures. We will show you what to do and what you must never do.
How to properly use voice tones
How you sound is as important as what you say. Your voice tones make a huge difference to the final outcome. We will discuss volume, pace, pitch and intensity.
Assertive but never aggressive
Your goal is to be assertive, but never aggressive, or passive. We will talk about each type and learn its exact identity.
Optional role play practice
You will have the option to practice your new skills with one of the five role-play scenarios. You do not have to take part in the role-play, you can just prepare your scripts as if you were facing a real-life situation. Then you can either join in, or learn by watching others. It's up to you.
Finish on a positive note
As we come to the end of the day, we note that every communication should finish on a positive. People remember the last thing they heard (the recency effect), so it is important to ensure that the last thing they hear from you, is positive.
The importance of praise
Whenever a person does something good, or even stops doing something bad, you should immediately appreciate that fact. Not because you are happy with them, but because it is good tactics to do so. The lack of appreciation is a negative.
Appreciation, praise and thanks are all examples of social motivators. We will learn about social motivators and how you might use them to encourage people to give you their best performance.
Goal Setting, Communication and Conflict Training FAQs
How do I join a Corporate Coach Group course?
To join a Corporate Coach Course, the first thing to do is simply to decide to come.
The second step is to pick the date, and location that you find the most convenient.
Third step is simply to register your name, or call us on 01452 856091, and we will help put you on the course.
Is this course offered in-house?
Yes. We will come to you if you want us to present to your team in-house.
We will set-up in your training room and run the programme with version of the course that can be tailored to your specific needs and context. Click here for details.
What are smarter goals?
Smarter goal setting is an expanded version of the five-part SMART target model you may already know: Specific, Measurable, Achievable, Realistic, Timed.
Smarter goals are an elaborated version of the same model, that extends your understanding and makes the above model more practical.
It turns the above list into eight questions, and we call it 8 Part SMART.
The 8 Part SMART model is a powerful tool.
What are key goals?
Your key goal depends upon your industry, but generally, we all share the same goal. Our goal is to "Add value to the marketplace" (eg other people).
We must all find ways to add value to others. If you don't add value to others, then they won't add value to you. If things are not going well for you, then find ways to add more value, to more people.
What is the course training method? Is it interactive?
Yes. We have designed the training style to be highly interactive. Throughout the day, we vary the training style.
Sometimes you will be working introspectively, (for example, when you are scoring your own performance), then later, you will work in pairs.
Then later, you will work in bigger groups.
There is always lots of interaction.
There is never any "Death by PowerPoint". So, you won't feel bored, you will feel motivated. From start to finish, you will feel fully engaged and involved.
We are often told by delegates that the course seemed to fly by, which is always a great sign!
You will find the course is well designed, easy to understand and apply in practice.
We have made this course very practical, beneficial and crammed with useful knowledge. We are sure you will find this course interesting, well structured, practical and fun.
What is the first step in the goal setting process?
The first step in the goal setting process, is to decide in general terms what you want. Write it down in a single sentence.
Then specify the exact meaning of the sentence in three ways:
Describe the goal numerically.
Describe the goal by writing a detailed description.
Describe the goal by means of a visual image.
You must know exactly what your goal looks like and sounds like, and ideally you should be able to measure it, in objective (mathematical) terms.
What kinds of people attend this Goal Setting, Communication and Conflict course?
The people that attend this course, are likely to come from organisations that are going through a lot of change.
The other delegates who come to this training, all need to know how to get the best performance from themselves and others.
The delegates are all different types of personalities, but you will soon discover that although we are all different, we all share a desire to learn and apply new skills.
What are the open course timings?
The training timings are as follows.
0900 Start
1100 Tea break, fifteen minutes.
1300 Lunch, thirty minutes.
1500 Tea Break, fifteen minutes.
1630 Finish
If you arrive earlier than 0900, there is coffee / tea waiting for you.
Related Articles from our Goal Setting Blog
When to Use the P.D.C.A. Model
9 August 2022
Do you use the PDCA continuous improvement model? PDCA helps you achieve your goals in a logical, systematic way. This blog explains when and how to use the PDCA model to its best advantage.
Continue Reading >