Problem Solving Skills
Problem Solving Skills
Problem solving is the ultimate skill, because the prosperity of any population depends on the ability to solve, and profit from, their problems.
Problem solving can sometimes be a function of an individual mind working alone, or it can be the fruits of multiple minds working in combination.
Problem solving can occur in a momentary flash of inspiration, or it may be an evolution of ideas, made over many years of effort.
Problem solving may be a step by step, structured logical process, or it may be as a free association of creative minds.
We would all benefit if we could develop problem solving skills.
Since problem solving is a process of thought and experience, let us take thought and experience as the starting point of our discussion.
Please take a look at this diagram below.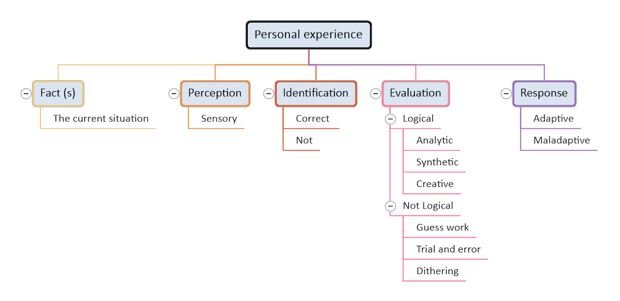 Experience is not one thing. Experience is a continuous flow of consciousness which has the following parts. Facts. Perception. Identification. Evaluation. Response.
1. Facts
Facts, independent of the observer. Facts irrespective of what you want, like, dislike or know about.
Facts are facts. They are an objective absolute. They are what they are, whether you like them or not.
2. Sensory perception
For you to know about the facts, they must impinge on your sense organs in some way. You must gather the sensory evidence for the facts.
3. Identification
Now you must correctly identify the nature of the situation which you have perceived. If you misidentify the facts, then you will mess up. You must be sure to correctly identify the exact nature of what you have seen.
4. Evaluation
Now you have correctly identified the facts, you must now evaluate the facts. You can evaluate facts according to two basic alternatives: logical evaluation, or illogical.
Logical evaluations may be of three types: analytic, synthetic or creative.
It is recommended that you strive to make a logical evaluation of all the available facts.
5. Response
As a result of your logical evaluation of the facts, you will make a response. Your response may be of two types.
Adaptive: where the response is appropriate and progressive.
Mal-adaptive: where the response is inappropriate and regressive.
Whatever your response, it becomes a new fact, to be taken into account in the next run through the same five link chain of your experience.
Problem Solving Questions
1. What are the facts of the case?
2. How do we know? What is our evidence?
3. What is the nature of the thing we are dealing with?
4. What do these facts mean to us?
5. What should be our adaptive response?
Blogs by Email
Do you want to receive an email whenever we post a new blog? The blogs contain article 5-10 minutes long - ideal for reading during your coffee break!
Further Reading in Personal Effectiveness
Looking for Personal Development Training?
If you're looking to develop your Personal Effectiveness Skills, you may find this Personal Development Training Course beneficial:
Open Training Course Pricing and Availability
Next Open Course Starts in 5 days, Online - Teams, places available