Problem Solving Training Availability, Pricing and Course Dates
If you have any questions, please phone us (020 3856 3037) or send us a message.
Bespoke Training (In-House or Live Online)
£2,150
+VAT per training day
(International Price Varies)
In-House training has been designed to provide a similar experience to our open courses, however we can tailor the content to fit your specific needs.
Plus, travel and hotel accommodation for trainer if needed (Premier Inn type: not the Hilton!)
We are able to train in your timezone.
All our training includes:
A full day of quality training, delivered by an experienced trainer
Total of 6 CPD training hours (9am - 4.30pm), plus an additional 2-3 via post-course online independent learning.
Full digital interactive course notes
Training certificate
Access to additional free training material after the course via our post-course portal
3 months free telephone coaching: Whilst you are implementing what you have learned, if you need to, you can contact us for support and guidance
What is Problem Solving Training?
Problem Solving training is designed to help people identify causes and implement solutions to problems. It is also designed to encourage problem solving by problem prevention, on the premise that prevention is better than cure.
Problem solving techniques fall into two major categories: Analytical and Creative.
Analytical thinking is based upon breaking big problems down into their component parts and solving them step by step. Analytical thinking is scientific, logical and methodical.
Creative thinking is based upon solving problems by looking at things in a different way, or by redefining the terms by which the problem is perceived in order to arrive at an innovative, or imaginative solution to the problem.
Both types of problem solving are learnable. This course teaches both.
Contact Us Today
If you want to know more about this course, or any other Management Training Courses, or their suitability for you or a colleague, call us on 020 3856 3037 or make an enquiry online.
Customer Reviews
This course was very good and organized. Easy to follow and enjoyable. I learnt many things which I can't wait to apply. The trainer's presentation was fantastic. Memory-aided techniques using diagrams, highlighting and bulleted point key words ... [Read More] Misba Beg
(Private)
Very interesting and inspiring. I found understanding how to identify cynic and critic and how to transform conversations and how to keep self positive, most beneficial. The course was very beneficial and will stick in my mind. The trainer was ... [Read More] Jacqui Gooch
Victory Housing Trust
Problem Solving Training Course Overview
We start the course by defining the term "problem", as the difference between the current state, and the desired state. Problem solving is the act of making your current state match your desired state.
The first and most important step in problem solving, is framing the problem. In health care they say, "Proper diagnosis is the first step to the cure".
Then we focus on analytical problem-solving methods, such as problem-cause-solution mapping. Problem-implication-countermeasure analysis. We work examples and learn by experience.
In the afternoon, we change to Creative problem solving techniques. Sometimes this is called, thinking outside the box. This type of problem solving is about changing the way you perceive things, to change the nature of the problem. We show many examples of where, problems were transformed into opportunities. We show examples of how problems were solved by improvisation and creative thinking. We give opportunities to practice.
When people finish this course, they feel empowered because they know they have gained many tools, with which to solve their problems.
This course gives people confidence and courage.
Learning Outcomes:
Learn how to solve your problems quickly
Pre-empt problems: Solve problems before they can occur
Break problems down into their components parts
Problem – cause – solutions, mapping
Problem – implication – countermeasures, mapping
Creative problem solving: Using the imagination to solve problems
The mastermind principle. Make use of many minds
Problem Solving Training Course Details
Morning Session
Definition: What is meant by the word problem?
A problem is defined as, "the difference between the desired state and the current state".
You have a problem every time there is a difference between your current state, and your desired state. The bigger the gap, the bigger the problem.
What is Problem Solving training?
Problem Solving training is training designed to help you identify, define and then solve problems.
This training will help you close the gap between your actual state and your desired state.
How to correctly frame the Problem
In order to frame a problem, you must know two things: The facts of the current situation, and a clear description of the target state, ie what you want it to become.
If you frame the problem incorrectly, then everything will be endlessly confusing.
However, if you frame the question correctly, then everything will quickly fall into place.
Two types of problem-solving methods
There are two categories of problem-solving methods. Analytical and creative.
We need to be good at both types, so we will study both. We will start with analytical problem solving, which is the most commonly used.
Analytical problem-solving methods
Analysis is the art of breaking wholes into their constituent parts, and understanding internal structure and organisation.
Analysis is the most common form of problem solving.
There are two types of analytical problem-solving methods we cover on this course:
Problem cause solution and
Problem implication countermeasure.
Problem cause solution mapping
Problem cause solution mapping is the best way to break problems down into their component parts and taking each part, one at a time, in a systematic manner.
Of course, each part may itself become the subject of further analysis, and broken down into its own subset parts. In this way a large problem is reduced and made more manageable.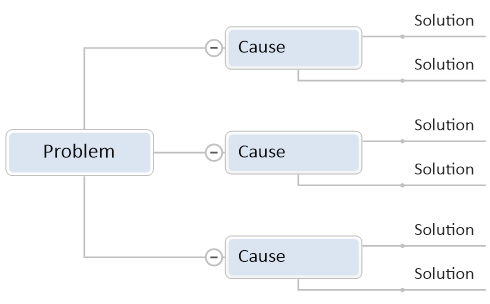 All problems have multiple causes
There is a common fallacy that we want to warn you about, called "The single cause fallacy".
It is tempting to try to blame a problem on a single cause, and thus oversimplify the analysis and fail to see the big picture.
We will demonstrate that there are always at least four causes to any problem, and usually more.
The four causes are: Material, Final, Efficient, Formal causes. You will learn about these and more.
Afternoon Session
Problem implication countermeasure mapping
The second type of analytical problem-solving method is problem implication and countermeasure. This method differs from the previous one by travelling forwards in time, to identify implications, instead of backwards in time to identify causes.
Problems are like weeds; one weed has the potential to spawn many more.
One problem has the potential to spawn many more. We need to nip problems in the bud and eradicate their offspring.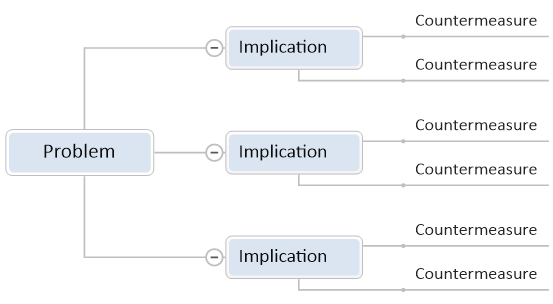 Problem solving questions
Problems are solved by asking and answering the right questions. We will formulate a set of universal problem-solving questions, that we can use in any situation to initiate the correct sequence of actions.
Creative problem-solving methods
Creative problem solving is the second major category of problem solving and it is totally different to analytics. Creative problem solving may involve imagination and inventiveness to redefine the problems parameters. You may change the way you look at things and solve the problem at a single stroke, by approaching it differently.
Thinking outside the box / Lateral thinking
This form of problem solving was exemplified by Walt Disney, Edward de Bono, and NASA. We will study examples so that we might learn their secrets.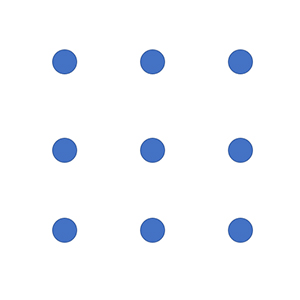 Re-framing problems into opportunities
There are many occasions when the problem can be recast as an opportunity. A situation which, on first sight, seems to be a problem, upon reflection, may be transformed into a profitable enterprise. We study examples of this and learn more secrets.
Become a professional problem solver
We close by observing that those who prosper in life are not those who have no problems, but rather, those who solve problems.
Success and money tend to gravitate to problem solvers.
So, let us all commit to becoming professional problem solvers and make the future better.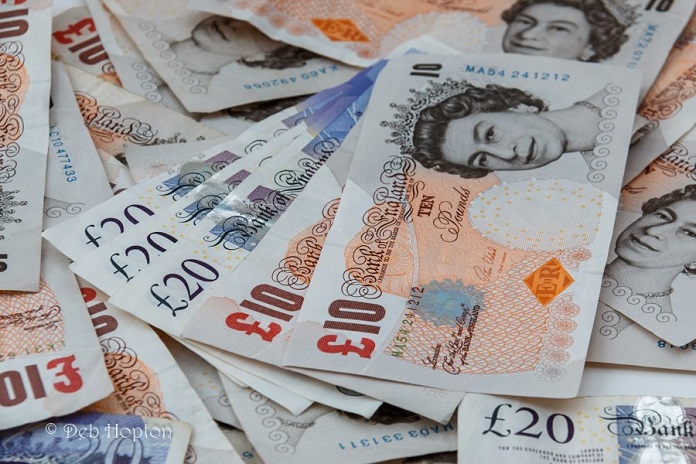 Action planning and close
You review your notes and pick out the most important points.
You commit to implementing what you have learned.
Problem Solving Training FAQs
How do I join a Corporate Coach Group course?
In order to attend this course, the very first thing is simply to decide to!
The second step is to select the date, and the venue that are most convenient.
The third step is to follow this link to reserve your seat or phone us on 01452 856091.
Is this course offered in-house?
Yes. We will come to you if you want us to present to your team in-house.
We can tailor the course content to meet the specific needs of your team. Click here for details.
How do you improve your problem solving skills?
You can best improve your problem solving skills by attending this problem solving course. There you will learn the three most important things about problem solving:
Must be properly defined.
May be solved by analytical thinking, or
By creative thinking.
In order to master problems, we must improve the above three skills.
What are the problem solving steps?
The steps are:
Get the facts.
Identify and define the nature of the problem.
Do a problem-cause analysis. All problems have multiple causes which must be identified.
Do a problem-implication analysis. All current problems contain the seeds of multiple additional problems, which must be pre-empted, and countermeasures put in place.
Think creatively. Some problems are only problems if perceived in a certain way. Check to see if your problem might, in fact, be an opportunity, if only it was seen from a different angle.
Use the information gathered in the earlier steps, to formulate a plan.
Implement the plan and immediately return to step one and repeat the cycle.
What is the course training method? Is it interactive?
Yes. We have designed the training style to be highly interactive. Throughout the day, we vary the training style.
Sometimes you will be working alone, preparing your own opinions, (for example, when are thinking about your own performance), then later, you will work in pairs.
Then later, we work together in groups.
There is always plenty of interaction.
There is never any "Death by PowerPoint". So, you won't feel bored, you will feel motivated. All the way through the course, you will feel completely engaged and involved.
Many delegates tell us how the time seemed to fly by, (which is always a good sign).
You will find the course is well designed, easy to understand and apply in practice.
We have made this course very practical, beneficial and crammed with useful knowledge. We are confident you will find the course interesting, well structured, practical, and fun.
How do you identify a problem in the workplace?
You identify workplace problems by keeping all your senses open to the feedback results, your recent actions have produced. Keeping all your senses open means: look, listen, feel, (smell and taste?) what is going on around you. Compare what you are currently experiencing, to your desired state.
We define a problem as the difference between the desired state and the actual state. The degree of your problem is the degree to which your desired state and your current state do not coincide.
Therefore, identifying problems requires that you know two things, what you want, and what your current state actually is. Keep your eyes and ears open.
What kinds of people attend this Problem Solving course?
The people that attend this course, are likely to come from organisations that are going through a lot of change.
The delegates who attend this course all want to improve their ability to get the best performance from themselves and others.
Delegates are of all personality types, and you will discover that, although we are all different, we have a lot in common with others.
Related Articles from our Decision Making and Problem Solving Blog
Unlocking the Power of First Principles
13 June 2023
When supporting our opinions, we often turn to facts or fundamental principles. However, one of these approaches emerges as significantly more impactful. We explore why this is important.
Continue Reading >