More Haste, Less Speed
More Haste, Less Speed
These days, everyone is in such a hurry. There seems to be so much to do, and so little time in which to do it.
So there is a natural tendency to want to do things quickly; to speed up. The idea is always: 'Do it faster!'
And it is also true that there is a certain impressiveness to doing things at a high speed. If someone is proficient and skilled at doing something, then they are able to do it faster than the novice. So there is a certain sense that "high speed of performance" indicates a "high proficiency".
That thought leads to an error. We get the wrong-headed idea that doing something fast means we are good. So we see the weird spectacle of idiot Boy Racers, speeding around town centres, at warp speed, erroneously thinking that: Fast driving equals Good driving.
Of course, all good drivers are able to drive fast. But NOT all fast drivers, "drive good".
This irrational desire to do things quickly, leads us to make rookie mistakes. Because as the speed increases, the quality decreases, and errors start to appear in the performance.
Those errors have to be corrected, and the corrections themselves, take valuable time. So the sequence for many people looks like this:
They do it fast, in the hope of finishing quickly. As a result of doing it fast, they make more mistakes that need to be corrected. They then have to rework the mistakes and they end up taking more time than they would have, had they instead, done it right first time.
Do it right first time
It is strange but true, that going slower can speed up your performance. Going slower speeds up your performance because, by going slower, you stop making silly mistakes. So you save immense amounts of time by not having to mop-up after mess-ups.
Here is the rule given to me by my teacher; "Slow down to the point where you stop making mistakes." Slow down until you stop making mistakes, and you will go faster.
There is another subtler reason why this is good advice.
Each time you do anything, you lay down a neural pathway in your brain. Whenever you do anything, that requires a neural pathway to be activated.
If you do it wrong, you lay down a new neural pathway for a wrong action.
If you do it right, you lay down a new neural pathway for a right action.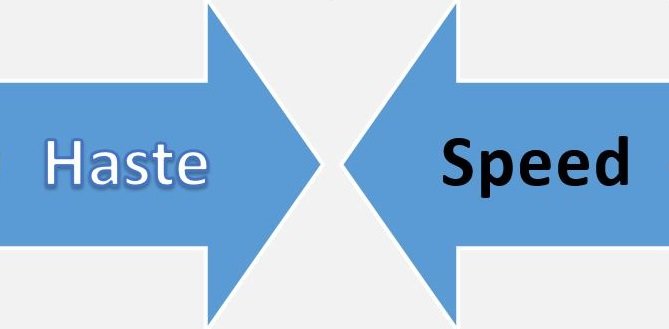 If you keep doing it wrong because you are going too fast, then you tend to lay down multiple pathways, in the mind, only one of which is correct.
Therefore, the more errors you make, the chances of you repeating another error, increases.
If you slow down and do only correct actions, then you will lay down and reinforce only correct neural pathways. The wrong pathways will fade away.
So, by slowing down, you will get it right first time and then, over time, the correct performance will itself become automatized, and you will slowly speed up. So there will be a wonderful combination of "high speed" and "correct performance".
But that speedy, correct performance takes time to develop. You must not rush the process by trying to go too fast, too soon.
Concentrate on correct performance, first, and let the speed come naturally, over time. Don't push for speed.
Push for perfect performance, even at the expense of speed.
You will be repaid for your carefulness by the elimination of reworking errors.
Think it over and I think you will agree that it is better to...
Slow down until you stop making mistakes.
Do it right first time!
Blogs by Email
Do you want to receive an email whenever we post a new blog? The blogs contain article 5-10 minutes long - ideal for reading during your coffee break!
Further Reading in Personal Effectiveness