Emotional Resilience and Positive Mental Attitude Training Availability, Pricing and Course Dates
If you have any questions, please phone us (020 3856 3037) or send us a message.
Bespoke Training (In-House or Live Online)
£2,150
+VAT per training day
(International Price Varies)
In-House training has been designed to provide a similar experience to our open courses, however we can tailor the content to fit your specific needs.
Plus, hotel accommodation for trainer if needed (Premier Inn type: not the Hilton!)
We are able to train in your timezone.
All our training includes:
A full day of quality training, delivered by an experienced trainer
Total of 6 CPD training hours (9am - 4.30pm), plus an additional 2-3 via post-course online independent learning.
Full digital interactive course notes
Training certificate
Access to additional free training material after the course via our post-course portal
3 months free telephone coaching: Whilst you are implementing what you have learned, if you need to, you can contact us for support and guidance
What is a Positive Mental Attitude?
Emotional resilience is the capacity to endure and recover from challenges and adversities. At work, negative events are an unavoidable aspect of life and some people struggle to cope with them. This can lead to feelings of stress and pessimism, which negatively impacts their sense of well-being and their productivity. The purpose of resilience training is to change perspectives and equip people with the skills to effectively handle stress.
Having a positive mental attitude is more than just avoiding negative emotions; it encompasses cultivating positive emotions like optimism, self-confidence, and motivation. When people share a positive outlook, they are better equipped to overcome challenges and achieve valuable goals.
Contact Us Today
If you want to know more about this course, or any other Management Training Courses, or their suitability for you or a colleague, call us on 020 3856 3037 or make an enquiry online.
Customer Reviews
4.9
/5
Our Emotional Resilience and Positive Mental Attitude Course is rated based on

520

reviews.
More Customer Reviews >
Some really useful tools and thought-provoking exercises. The training workbook will be great to use for reflection. Great to know about the website and free website tools. The presentation had a good balance of instructive and interactive. Exce... [Read More] Margie Berrow
NIHR National Institute for Health Research
This course was very good and organized. Easy to follow and enjoyable. I learnt many things which I can't wait to apply. The trainer's presentation was fantastic. Memory-aided techniques using diagrams, highlighting and bulleted point key words ... [Read More] Misba Beg
(Private)
Emotional Resilience and Positive Mental Attitude Training Course Overview
The training begins with the concept of the Self-Fulfilling Prophecy, which teaches that thoughts, influence results. This is because our thoughts shape our emotions, and our emotions influence our actions and results. To improve our emotions and actions, the training focuses on transforming our thinking patterns.
The course offers a step-by-step guide on overcoming negative emotions such as fear, anger, upset, anxiety, and lack of confidence and replacing them with optimism, motivation, achievement, and energy.
It covers topics such as the self-fulfilling prophecy, good habits for energy and mental health, the connection between thoughts and emotions, overcoming negative emotions, fostering positive emotions, enhancing emotional management, reframing negative events, giving and taking constructive criticism, and putting theory into practice.
Additionally, the course teaches people how to "reframe" setbacks and transform them into opportunities for growth and improvement, thereby building more emotional resilience.
Learning Outcomes:
Understand the self-fulfilling prophecy: Impact of thoughts, emotions, and beliefs on life.
Build good habits: Importance for energy and mental health.
Understand the connection between thoughts and emotions: Power of the mind.
Overcoming negative emotions: Path to emotional mastery.
Fostering positive emotions: Mindfulness and planning.
Ask leading questions: Enhancing emotional management.
Reframing negative events: Building emotional resilience.
Emotional Resilience and Positive Mental Attitude Training Course Details
Day 1 - Morning
The Self-Fulfilling Prophecy: A Powerful Concept.
The self-fulfilling prophecy highlights the immense impact our thoughts, emotions, and beliefs have on our lives. To improve our experiences, we must begin by altering our thoughts and beliefs. This simple yet impactful idea holds the key to unlocking positive change and personal growth.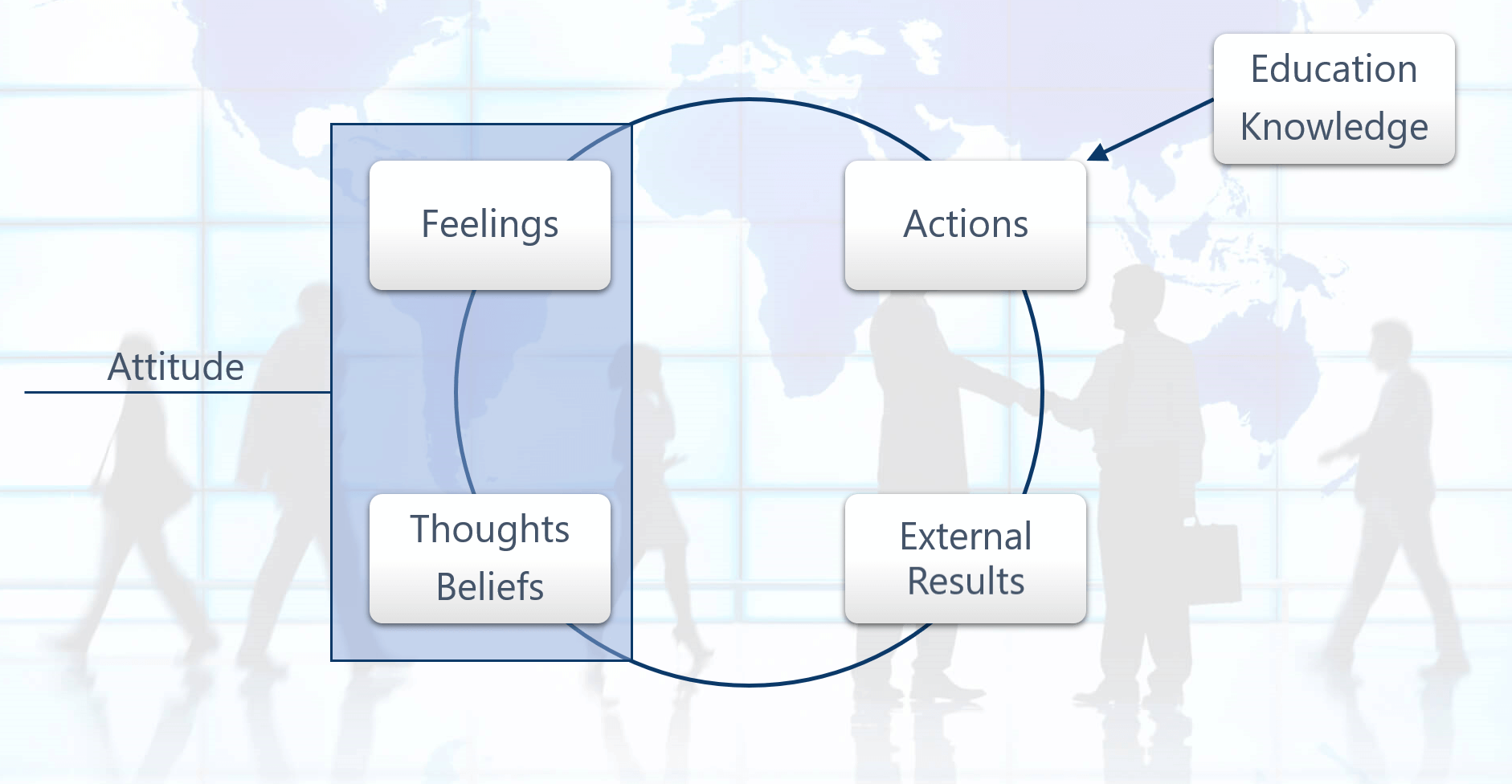 The Importance of Good Habits for Energy and Mental Health.
Good habits play a critical role in fostering energy and mental well-being. Energy is a fundamental driver of progress and growth, and it is sustained through healthy habits. Unfortunately, many people struggle with unhealthy habits that drain their energy and negatively impact their mental health. To enhance our overall well-being, it's essential to adopt positive habits that boost our energy levels and improve how we feel.
The Connection Between Thoughts and Emotions: The Power of Your Mind.
The human experience is an interplay between mind and body, making it crucial to focus on developing the mind. Emotions are profoundly linked to the dominating thoughts and beliefs that occupy the mind. Negative thoughts and beliefs lead to negative emotions, while positive thoughts and beliefs bring about positive emotions. By transforming your thoughts, you can greatly impact your emotions and overall well-being.
Overcoming Negative Emotions: The Key to Emotional Mastery.
Negative emotions stem from negative thoughts and beliefs that often have roots in imagination and memory, rather than in reality. By learning to identify and eliminate these negative thought patterns, we can greatly reduce our negative emotions. The goal is to retain only rational fears grounded in reality, and not in imagination, leading to a significant reduction of negative emotions by two thirds. This approach is a crucial step towards mastering our emotions and fostering inner peace and stability.
Day 1 - Afternoon
Fostering Positive Emotions: The Power of Mindfulness and Planning.
Positive emotions are a direct result of positive thoughts and beliefs about the future and our ability to handle it. By consciously directing our thoughts and conversations towards a better future, based on specific goals and practical plans, we can deliberately cultivate positive emotions. The key is to continuously revisit and improve upon these plans, incorporating mindfulness and a proactive approach, leading to a life filled with positive energy and purpose.
Enhancing Emotional Management with Leading Questions.
Leading questions are a powerful tool for influencing emotions, as they prompt positive and future-focused responses. By mastering the technique of asking leading questions, we can be a source of strength for others, guiding them towards a positive outlook and reinforcing their emotional resilience. Through this technique, we can actively contribute to improving the mental well-being of those around us.
How to reframe negative events into positive.
Shakespeare wrote, "There is nothing either good or bad, but thinking makes it so".
Reframing negative events into positive perspectives is a powerful tool for enhancing emotional resilience. By recognizing that our interpretation of events shapes our emotions, we can train ourselves to view challenges as opportunities for growth and development. This shift in mindset can help us maintain a positive outlook and find meaning in even the most difficult experiences. By learning to reframe negative events, we can build a stronger, more resilient emotional foundation.
How to Give and take Constructive criticism
In order to be successful and grow, it is important to effectively receive and give criticism. Criticism is a tool for improvement, not an attack on character. By learning to give and receive criticism in a constructive manner, we can transform negative experiences into opportunities for growth and development. The key is to view criticism as valuable information, rather than taking it personally and becoming defensive. This requires openness, a growth mindset, and the ability to separate oneself from one's work or actions.
How to put theory into practice.
In this last section, we delve into the practical application of the theories on emotional resilience and maintaining a positive mental attitude. By incorporating these concepts into our daily lives, we can work towards creating a bright and ever-evolving future.
Emotional Resilience and Positive Mental Attitude Training FAQs
How do I join a Corporate Coach Group course?
The first step to benefiting from this personal development training is to DECIDE to come!
Second step is to choose which date, and venue are best for you.
The final step is to click this link and reserve your place, or if you prefer, phone us, on 01452 856091.
Is this course offered in-house?
Yes. If you want us present this course in-house, then we are happy to come to your venue.
We can tailor the course content to meet the specific needs of your team. Click here for details.
Why is it important to have a positive mental attitude?
It is important to have a positive mental attitude because your attitude affects your actions, and your actions affect your final results. So, your attitude affects your results.
Attitude > Actions > Results.
Experience tells us that negative attitudes tend to produce negative results
Positive attitudes tend to create positive results.
If you want better results, then one way to get them, is to create and sustain a positive mental attitude.&nbspThat is why positive attitude is important.
You will discover how to create and sustain a positive mental attitude on this course.
How do you stay positive and motivated?
You stay positive and motivated by doing the following things, simultaneously:
Keep your mind on the goal.
Talk about how you can make your goals a reality.
Build detailed plans to describe how you will achieve your goal.
Stay away from those people who tend to drag you down, emotionally.
Limit your exposure to the 24-hour MSM, negative news industry.
Look after your physical body, so that you develop a high level of vitality and energy.
Make your physical environment conducive to positive feelings.
Hang around with other positive people.
What is the course training method? Is it interactive?
Yes. We have designed the training style to be highly interactive. Throughout the day, we vary the training style.
Sometimes you are working independently, (for example, when are thinking about your own performance), then later you will work with another delegate in pairs, (or groups of three).
Then later we will work as a whole class.
There is always plenty of interaction.
There is never any "Death by PowerPoint". So, you won't feel bored, you will feel motivated. From beginning to end, you will be fully engaged and involved.
Our delegates tell us that "the time flew-by", which we take to be a good sign.
You will find the course is well designed, easy to understand and apply in practice.
We have made this course very practical, beneficial and crammed with useful knowledge. You can be assured that you will find this course, interesting, well structured, practical and fun.
How do I motivate myself in the morning?
First thing to do is: go to bed earlier.
Motivation is a form of mental energy, and if you have no energy because you are not getting enough sleep, then you won't feel motivated.
Second thing is before you go to bed, write a list of three things you want to achieve the next day. Memorise the list and go to sleep with that list in mind.
When you wake up your brain and your body will be primed, and you will jump out of bed and hit the ground running.
What kinds of people attend this Emotional Resilience and Positive Mental Attitude course?
People who attend this training usually come from organisations that are experiencing a lot of change.
The other delegates who come to this training, all need to know how to get the best performance from themselves and others.
Although the delegates who attend the course are all different, they all share a common goal, to learn and apply new skills.
Related Articles from our Positive Thinking Blog
Reducing Fear and Replacing It With Confidence
18 April 2023
Don't let fear stop you from achieving your goals, find out how to replace it with confidence. You are invited to join our free webinar to learn how to achieve this.
Continue Reading >