Improve Productivity Training
Improve Productivity Training
Your chances for a better future depends upon your productivity.
Productive people are more successful.
It is important to know, that nobody is paid for effort. You are paid for the productivity you can squeeze from that effort.
It is possible to exert a lot of effort, to be really busy all day, and not produce any favourable results.
Sadly, it is possible to have 'busy but NON-productive days'.
So, it is important to distinguish between Busy-work and Productive work.
We can define "Busy" as a measure of the VOLUME of your work.
We can define "Productive" as a measure of the VALUE of your work.
Look at the opposing diagonals on the following diagram.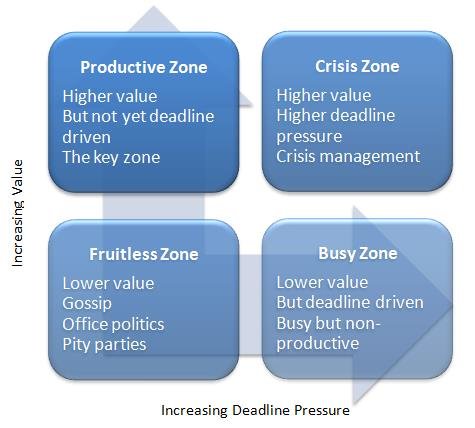 Productive work is high value, not-late work
Busy work is lower value, non-productive work.
The point is to avoid busy work and get into the high-value Productive Zone.
Productivity training is about increasing your productivity by eliminating BUSY-WORK and replacing is with value-added PRODUCTIVE work.
It is important to become more productive by developing the P List skills.
The P-list are those skills related to Improved productivity; and interestingly, they all begin with the letter P:
Profit- Make sure that your organisation is profiting from your effort.
Purposefulness - Your purpose is the main reason for your organisations existence.
Planning - Write the plan that will achieve your purpose.
Productive effort - is the implementation of the plan.
Persistence - Persistence is the act of keeping on.
Prioritisation - Putting things into the right order.
Protocols - Protocols are written documents that standardise procedures.
Preparation - making ready before the event.
Progressive thinking - is the act of always looking forwards.
Prevention of avoidable error - the elimination of self-induced failure.
Proper decision making methods - picking the best option from many options.
Problem /cause /solution analysis - is the act of tracing causes and coming up with solutions.
Problem /implication /countermeasure analysis - predicting and stopping painful consequences.
Personal initiative - action on your own volition.
Positive mental attitude - taking charge of your own mind and conversation.
Political awareness - is the art of gaining the willing cooperation of others.
Philosophy of continuous improvement - is the act of never being completely satisfied with your current condition.
Get the most value from every hour at work.
Productivity Training Course
If you are interested in developing the productivity of you team, by implementing the P list activities, please take a look at our one-day practical Productivity Training Course.
Blogs by Email
Do you want to receive an email whenever we post a new blog? The blogs contain article 5-10 minutes long - ideal for reading during your coffee break!
Further Reading in Time Management