How to Manage a Crisis
How to Manage a Crisis
In order to manage a crisis the most important thing is to do prioritise tasks into the right order.
Every task can be judged against two fundamental criteria:
The value of the task. (Its importance).
The time deadline pressure. (Its urgency).
We can subdivide both categories into:
Value (Importance).
1. Extremely valuable
2. Highly valuable
3. Quite important
4. Not important.
Deadline pressure (Urgency)
1. Extremely urgent
2. Very urgent
3. Quite urgent
4. Not urgent.
You prioritise your tasks by comparing each of them against the two criteria of "value" and "deadline pressure", using the word descriptions above.
Then you assign a number to each task according to the grid below.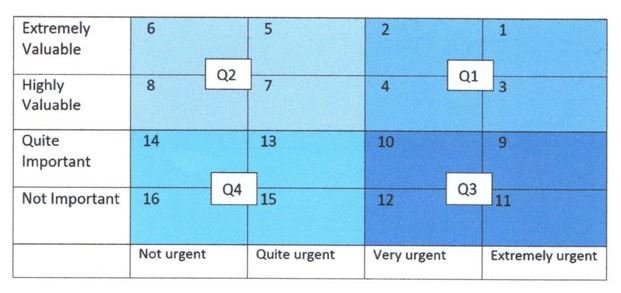 Simply by plotting the tasks onto the grid, the most logical order will make itself apparent.
If circumstance allow, you should do the tasks in the order given by the grid.
What is the standard of value?
You need to be fully conscious about what index you are using to determine "value".
When you are judging value, you can be standing in one of three positions:
What is valuable for yourself (self interest)?
What is valuable for others (selflessness - altruistic)?
What is valuable for the system as a whole (social - systems thinking)?
In any decision-making situation, you should consciously decide, from which base you are making the decision.
Sometimes it is okay to be selfish. Other times, it is NOT okay.
Theory vs practice.
In practice you will not be able to do things exactly in the order indicated by the theory, because you may not have the resources, the people, or the money to do them.
The above grid serves to give you an idealised plan, which you should use to guide your thinking.
In every case, you use the "ideal" as a your best "guide to intelligent action".
Corporate Coach have developed a fantastic Prioritisation App, which is based on the above method.
To manage your time by prioritising your tasks, please take advantage of our Prioritisation App.
Blogs by Email
Do you want to receive an email whenever we post a new blog? The blogs contain article 5-10 minutes long - ideal for reading during your coffee break!
Further Reading in Leadership and Management
Looking for Leadership and Management Training?
If you're looking to develop your Leadership and Management Skills, you may find this Leadership and Management Training Course beneficial:
Open Training Course Pricing and Availability
Next Open Course Starts in 9 days, Online - Teams, places available