Goal Setting for Better Motivation
Goal Setting for Better Motivation
Goal setting creates better motivation.
Motivation is important because it is what makes people take action. So, it is important that you understand motivation.
The easiest way to understand motivation is by a simple metaphor. Motivation is like the elastic band in this picture.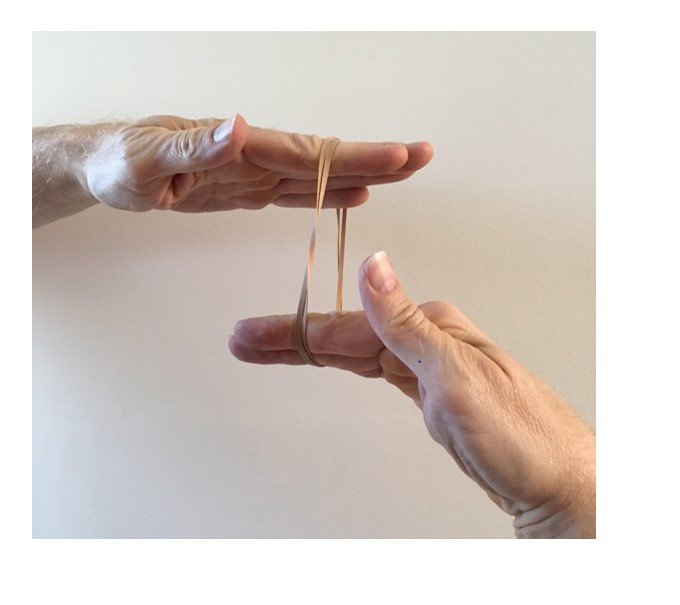 The upper hand represents your goal. The situation you want to have in the future.
The lower hand represents your current situation. The situation you actually have, right now.
The elastic band creates a motivational force.
Can you Feel the Force?
The force provided by the elastic band represents the motivational tension that exists in your mind when there is a big gap between what you have and what you want.
Motivation is the force that wants to close the gap between the two states.
Motivation will cause you to act to close the gap between "what you want" and "what you have." But only IF you keep the upper hand still.
If you keep the upper hand still and keep your mind fixed on the goal, then it will draw the upper hand UP towards the desired state.
As you approach the desired goal state, the tension decreases.
As your current state and the goal state meet, the motivation is lessened until it reaches zero.
Correct method for motivation.
Have a look at what you have right now (that is the lower hand).
Decide what you would like to have in the future. Write it down and visualise it. Talk to yourself about your goals. Make them ambitious enough to really stretch your mental elastic without snapping it.
Keep the goal in mind and don't let it waver or decrease. Keep the goal in your mental sights and allow the resulting tension to motivate you to start lifting your current situation, closer and closer to your goals.
When you have achieved the goal, do it again by stretching your sights higher, and re-creating a tension. By this method, your life is a continuous process of stretching and reaching higher and higher to the top. (The top of what, is up to you to decide).
So when you are in a meeting, pick up an elastic band and stretch it between two hands.
Feel the force.
Hold the top steady and let the lower hand be pulled higher.
This is the motivational power of goal setting.
Warning
There are two other ways to reduce the tension caused by the gap between "what you want" and "what you have got now". These two ways are commonly used by many people, but they are NOT conducive to building a successful career or life.
Fake method 1
Drop the level of the goal. Lower your expectations. Don't ask of yourself anything great. This is the equivalent of hardly stretching the elastic band. That has the effect of reducing the tension, but it also eliminates any chance of great success, since if you don't ask, you don't get.
Fake Method 2
Refuse to set a goal at all. Simply stay as you are and don't attempt to stretch yourself. Go back to bed. Put the telly on and set no goals at all. Then there is no tension. Which is nice. But you will never achieve anything of value.
If you want to achieve something of value, then purposefully create a tension in your mind by setting a goal that will stretch you, to achieve at a higher level.
That is the motivational power of goal setting.
Goal Setting Training
If you really want to learn some new techniques that will improve your ability to get the best from yourself and others, then please check out our informative and inspiring one-day Goal Setting training course.
Blogs by Email
Do you want to receive an email whenever we post a new blog? The blogs contain article 5-10 minutes long - ideal for reading during your coffee break!
Further Reading in Motivation
Looking for Leadership and Management Training?
If you're looking to develop your Motivation Skills, you may find this Leadership and Management Training Course beneficial:
Open Training Course Pricing and Availability
Next Open Course Starts in 4 days, Online - Teams, places available