Giving Effective Feedback
Giving Effective Feedback
Feedback is the communication of information, relating to a person's recent actions to a specific goal. Giving staff effective feedback is the key to personal and professional development. Feedback can improve motivation by acknowledging effort and results. Effective, consistent feedback by managers can also enhance employee performance and increase efficiency.
This diagram illustrates why feedback is an important concept in professional communication: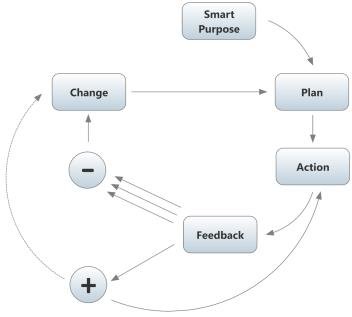 Forms of Feedback
There are three types of feedback:
Constructive criticism.
Destructive criticism.
Appreciation and praise.
1. Constructive Criticism
Everyone needs, at sometime, to receive constructive criticism.
Therefore, managers should know how to communicate criticism in a constructive manner, which will inspire and give confidence to the receiver.
Criticism should focus on the performance issue and not the person.
Make the feedback objective and specific and ask for their commitment to change.
Failure to give constructive criticism is a common communication error and some managers resort to giving destructive criticism.
2. Destructive Criticism
It is easy for negative feedback to deteriorate into destructive criticism. Destructive criticism leads to bad feelings, broken relationships and a reduction in performance.
Managers should learn the difference between constructive and destructive criticism and to perfect their communication skills in order to communicate in a constructive and confident manner.
3. Positive feedback
Managers must give proper appreciation, praise and thanks for a job well done. By acknowledging effort and results, staff motivation is increased.
Always remember the power of a few kind words.
Remember that the lack of appreciation is sometimes the cause of a conflict.
Communication Skills Training
If you would like to know more about how to communicate in order to inspire the best performance in others, take a look at this one-day Communication Skills Training Course.
Blogs by Email
Do you want to receive an email whenever we post a new blog? The blogs contain article 5-10 minutes long - ideal for reading during your coffee break!
Further Reading in Coaching, Mentoring and Developing Staff
Looking for Leadership and Management Training?
If you're looking to develop your Coaching, Mentoring and Developing Staff Skills, you may find this Leadership and Management Training Course beneficial:
Open Training Course Pricing and Availability
Next Open Course Starts in 8 days, Manchester City, places available