Coaching Skills Training
Coaching Skills Training
As a leader, manager and coach; how can you get the best performance from yourself and others?
You need to be able to get the best performance from yourself and others.
If you cannot get the best performance from yourself and others, then your chances of success drastically diminish.
If you CAN get the best performance from yourself and others then your chances of success dramatically improve.
In order to get the best performance from yourself and others, you need to develop yourself in three areas of coaching skills. These coaching skills relate to:
Continuous improvement.
Continuous learning (and teaching).
Continuous motivation of yourself and others.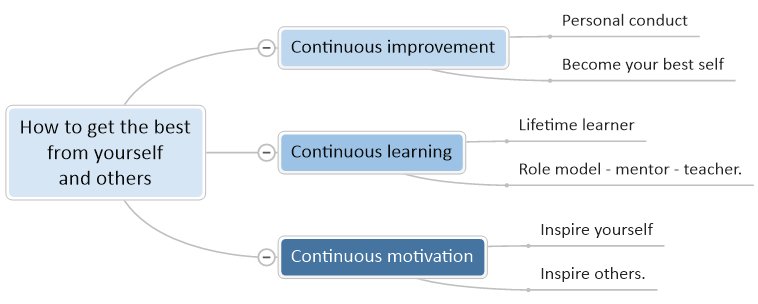 Let us look at each in turn.
1. Continuous improvement
Continuous improvement is based on the idea that, no matter what is the current situation, improvement is always possible.
If things are NOT going very well, then improvement is certainly possible.
If things ARE going really well, then improvement is still possible.
Continuous improvement represents the idea that nothing is ever really finished.
No matter how good you are, you could and should, be trying to get a bit better.
Continuous improvement gives you the motivation to look for different ways and better ways of doing things.
The concept of continuous improvement is crucial to your success:
Continuous improvement suggests two things:
A personal code of conduct and
A commitment to become your Best Self.
Your Personal code of conduct
The best way to lead others is by example.
If you want to have people think of you as a leader, then you must first demonstrate that you are worthy of that title.
You cannot demand respect. But you can EARN it. You can earn respect by acting the part of a leader.
This implies that you live according to a "personal code of conduct" that elevates your actions to a higher level. If you want to lead others, then you need to live with a conscious attempt to "up your game"; in terms of your thoughts, language, actions and your reactions.
Train yourself to become your best self.
If you continually try, then every month you could be better than the month before. If you would like to lead the field, then you need to train yourself to become progressively better. You train yourself to be the best possible "You" that you can be.
That leads us to the concept of continuous learning.
Part 2. Continuous learning
If you want to achieve any goal, the chances are that you will need to increase your stock of skills, knowledge and information. You need to know more than you do now.
Be a lifetime learner.
Many people stop studying. They finish their formal education and cease all studies. Leaders lead by continually updating and improving their skills and knowledge base. This is done by purposeful observation, and reading and ongoing study, drill and practice.
Your aim is to become a role model - a mentor - a teacher.
You need to get the best performance from other members of the team; that means you need to be the role model; the mentor; the teacher.
A role model is the person who demonstrates the qualities that are needed.
A mentor is the person who acts to guide and instruct the others in proper form and technique.
A teacher is the person who can pass-on knowledge and information and skills to others in the team.
Part 3. Continuous Motivation
Motivation is the willingness to take action. You need to develop motivation in others. But before you can do that, you must first be able to motivate and inspire yourself.
Inspire yourself. Manage your own mind. Motivation is a state of mind that can be cultivated.
Inspire others. Once you know the principles of self-motivation, you can easily apply them to other people to motivate them.
Summary
You need to improve yourself in the following areas of coaching:
Define and live up to your own personal Code of conduct.
Be your best self. Apply continuous improvement to yourself.
Become a lifetime learner. Leaders are readers.
Role model. Demonstrate what is required.
Mentor: Show others the way.
Teach. Transfer your knowledge and skills.
Inspire and motivate yourself. Be always optimistic.
Inspire and motivate others. Inspire confidence and optimism in others.
Blogs by Email
Do you want to receive an email whenever we post a new blog? The blogs contain article 5-10 minutes long - ideal for reading during your coffee break!
Further Reading in Coaching, Mentoring and Developing Staff
Looking for Leadership and Management Training?
If you're looking to develop your Coaching, Mentoring and Developing Staff Skills, you may find this Leadership and Management Training Course beneficial:
Open Training Course Pricing and Availability
Next Open Course Starts in 17 days, London - Central, places available