A New Vision for Britain
A New Vision for Britain
Theresa May's Conservative conference speech heralded a new vision for Britain.
She sounded bullish and confident as she outlined her new vision with the words "A truly global Britain is possible, and it is in sight."
This new vision will require a radical change in thinking.
For forty years, we have assumed that our future would be within European Union constraints, but now that is no longer the case.
Many people don't like the idea of making this change, and they are fighting it.
May said,
"Even now, democratically-elected politicians say that the referendum isn't valid, that we need to have a second vote.
Others say they don't like the result, and they'll challenge any attempt to leave the European Union through the courts.
But come on. The referendum result was clear. It was legitimate.
Brexit means Brexit - and we're going to make a success of it."
Change of Attitude
To achieve success means we will all have to undergo a change of attitudes and a change of plans.
May said "(Brexit) was the biggest vote for change this country has ever known"
Brexit means CHANGE.
And in order to manage change, we may need to change our mind set.
We need to be comfortable - no, MOTIVATED - by the prospect of change.
We need to alter our attitudes to CHANGE, because all improvement implies CHANGE.
Most people want things to get better, but for nothing to change.
People want everything to stay the same, but get better.
In order to make The NEW Vision for Britain a brilliant success, we need to develop our change management skills.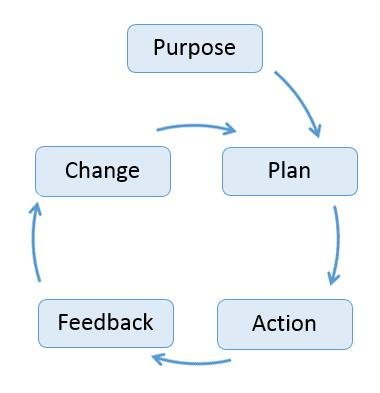 Developing Change Management Skills
Change management skills are as follows.
Recognition of the fact that: Change is inevitable. Change is the only constant.
Given a constantly changing environment, how can we get the best results?
Take back control. Make Goal-directed purposeful changes.
The first step to change management is deciding "What is the target, the goal?"
The second step to change management is deciding, "What is the plan?"
The third step to change management is managing the negative emotions that change often induces in many people. Emotions of fear, uncertainty and anxiousness.
The next step is: Replace the negative emotions with positive emotions of excitement and confidence.
The next step is to observe the results of your actions, and use this information as feedback.
The next step is to become comfortable with making continuous adaptive changes based upon the changing context, the feedback and the goal.
We need to be happy to live in a constantly changing environment.
Make change your best friend.
If you would like to train yourself or your team on how to manage change and get the best from the New Vision, please take a look at our one-day in-house Change Management Training Course.
Change Management Questionnaire
Some people take change in their stride without breaking a sweat, others have more trouble. Take our free Change Management questionnaire to see how well you are set up to deal with the pressure of change.
Blogs by Email
Do you want to receive an email whenever we post a new blog? The blogs contain article 5-10 minutes long - ideal for reading during your coffee break!
Further Reading in Change Management
Looking for Change Management Training?
If you're looking to develop your Change Management Skills, you may find this Change Management Training Course beneficial:
Open Training Course Pricing and Availability
In-House Course Available Call us on 020 3856 3037 to discuss your requirements or