What is Team Development Training?
Team building training is designed to improve the performance of the team, by giving you a plan that describes successful team action.
The teams that consistently win, are not lucky. Success has definite causes; and Failure will come to any team that violates the rules of successful action.
So, to avoid failure and gain success, we need to learn and apply the rules that govern successful team action.
That is the purpose of this training.
Customer Reviews
The course contained good, useful content. Simple to follow and understand. Easily adaptable to most professional situations. The trainer's presentation was very professional. Impressingly enthusiastic throughout.
Laura Van Wyk
Neptune
I must admit I was somewhat cynical at first "why do I need this, done things like this before." It was soon evident that I was picking up new ideas. Since the course I have been re-reading the notes as I want to retain as much as possible of wh... [Read More] James Burns
G.R. Lane Health Products
Course Overview - Team Building Training - Team Development
The course is split into four sections.
Introduction and self-analysis
Clarity of purpose; goal setting. Clear communication
Planning; Prioritisation and Prevention of error
Team spirit. Working in willing cooperation
In part one, we will present the fact that all winning teams share certain identifiable qualities. We will present these qualities in the form of a logical framework, which describes all successful teams.
We then ask you to assess yourself, (and the team) against this framework and to score yourself out of 10 for each of its elements. Then we will discover where your team is strong, and where it is not so strong.
Then we go through the material step at a time, emphasising the areas which are causing your team the most trouble. Our primary purpose is to eliminate errors and replace them with winning success formulas.
Learning Outcomes:
Get the best performance from yourself and the rest of the team
Set and achieve ambitious goals
Improve the clarity of all communications
Prevent avoidable errors by proper planning, prioritisation and preparation
Create and sustain a positive mental attitude
Use "Feedback Loops" to continually improve everything you do
Create a culture that embraces change and innovation
Course Details - Team Building Training - Team Development
Morning Session
Introduction
How do you get the best productivity from yourself and others?
To become more productive, we must adopt a particular set of skills and avoid some common errors.
Develop six key productivity skills sets
All highly productive teams share the same six qualities. It is these six qualities that cause them to be more productive.
What are the six sets of productive teams?
What is Goal Focus?
The ability to specify what you want, and what your customers want
If you know exactly what your clients want, and if you know what you want, then you have the right conditions for a successful, mutually beneficial relationship.
Success means the achievement of goals, and therefore goal setting is number 1 on the list of skills.
Communication Skills
Communication is the art of transferring information and emotions from one mind to another
Your communications need to be clear, persuasive, friendly and optimistic.
Be very cautious of the opposite communication style: Beware of too many communications that are imprecise, vague, unfriendly or negative and cynical.
Planning
Planning is the art of making ready before the event.
Too many people do not plan ahead. So they spend their time mopping up trying to correct an error that they caused by an earlier lack of planning. Consequently, they spend their time in "crisis mode", trying to fix things that should not have happened in the first place.
Planning and Productivity are like twins that you always find together.
Performance management
It is inevitable that sometimes, a conflict will occur in the team
At that point, the team must manage the conflict in an objective, rational and professional manner. Too many teams do the opposite; by allowing conflict situations to degenerate into a subjective, emotional, unprofessional, stand-up row.
High performing teams do not waste their time and energy in fighting each other.
Instead, they work to create and sustain positive emotions.
Self-Motivation
Each member needs to work on his or her attitude so that they come to work in the right frame of mind
That means learning how to manage their own emotions and directing them towards the positive. We will show you how to do that.
Inspiration
Now you know how to manage your own emotions; you can use that knowledge to affect the emotions of others, (colleagues, customers and suppliers) so that they feel positive emotions about you and your organisation. We will show you how to do that, too.
Set and communicate Specific Goals
Use the 8 Part SMART to set and communicate goals.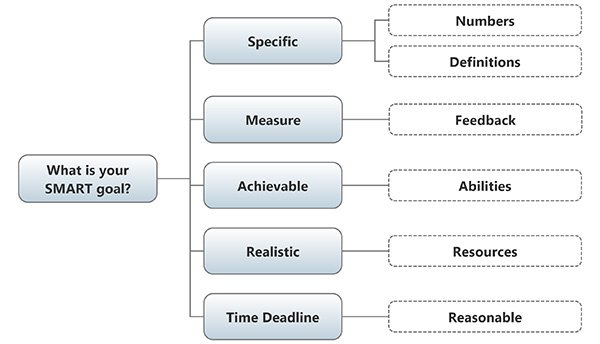 Planning
Make your time more productive by planning according to this grid:
Many people are often engaged in Crisis Management
Others occupy themselves with Busy-Work (They are busy but nonproductive)
Some people waste their time in useless, Fruitless activity
High performing people spend the majority of their time the Productive zone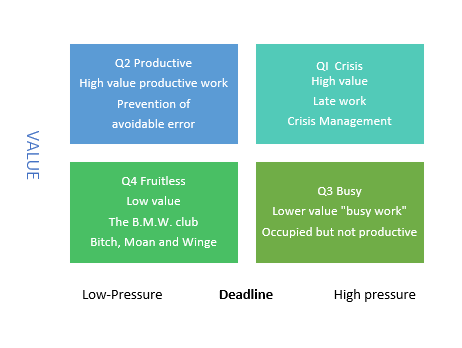 Afternoon Session
What is the "Productive Zone"?
We need to understand and the full meaning of the "Productive Zone".
We need days that you spend in the Productive Zone, not the "busy" or "crisis management" or "fruitless" zones.
Let us show you more on how you can do that.
The role of Success Cycles
All success cycles look about the same, and they all involve the concept of "feedback".
Feedback is information that tells you whether your current actions are taking you closer to your goals or further away.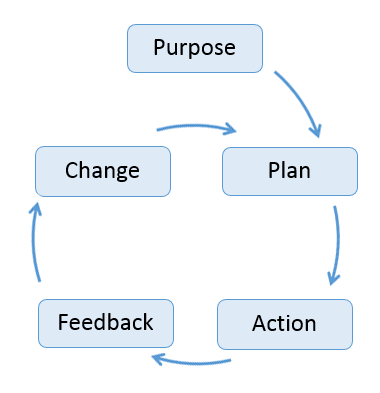 What is a Feedback Loop?
Use "Feedback Loops" to continually improve everything you do.
Feedback comes in two varieties: Positive feedback and negative feedback.
How to give negative feedback, in a positive way.
This is where much time is wasted. We spend too much time in fruitless conflicts, which are mismanaged and end up in upset, emotional turmoil. We need to know how to manage negative feedback, conflict situations in an objective, professional and timely manner.
Also: Remember to give positive feedback whenever someone deserves it.
How to inspire others and yourself
As we have just noted, all conversations have an emotional impact.
People react positively or negatively to what is said to them.
So it is vital that every conversation in the office be geared towards generating positive emotions, such as confidence, motivation, commitment and team working.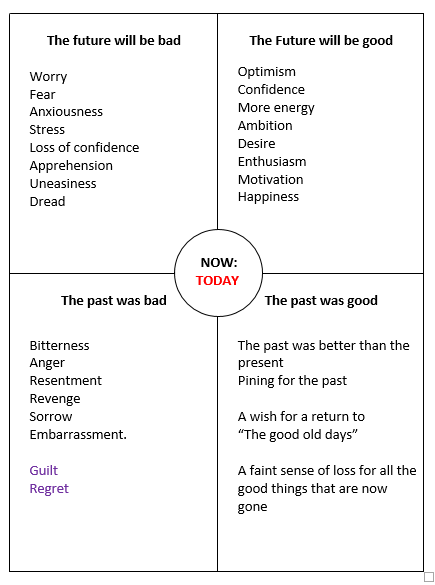 Conversation Control
It is vital to cut out the conversations that are geared towards generating negative emotions such as anger, upset, anxiety and frustration.
We call this Conversation control.
Notes and exercises on conversation control.
The emotional consequences of the talks follow this same pattern:
Conversations about a bad possible future will tend to provoke fear in the mind of the listener.
Conversations about past bad situations will tend to produce anger and upset in the mind of the listener.
The conversation about how the past was better than the present day will tend to provoke a slight feeling of discontentedness.
And conversations about how the present moment and the future will be good, will tend to inspire feelings of optimism, confidence and motivation in the mind of the listeners.
There are three ways to think about conversation control
Managing the content of what YOU say to other people.
Managing the content of conversations, that you allow other people to have with you.
Monitoring and controlling the content of the conversations that other people have amongst themselves.
Exercises and practice
Summary of the training
Final action plans
FAQs
How do I join a Corporate Coach Group course?
To join a Corporate Coach Course, the first thing to do is simply to decide to come.
The second step is to select the date, and the venue that are most convenient.
The third step is to follow this link to reserve your seat or phone us on 01452 856091.
Is this course offered in-house?
Yes. We will come to you if you want us to present to your team in-house.
We will set-up in your training room and run the programme with version of the course that can be tailored to your specific needs and context. Click here for details.
What is the key to developing a good team?
There is NOT one single key: but two keys:
To communicate the goal, in such a way that everyone understands exactly what the goal is
Ensure that everyone in the team personally benefits by the achievement of the goal
To communicate the goal, in such a way that everyone understands exactly what the goal is
A team is defined as "a group of people who work together, to achieve a common goal". The team exists to achieve its goals. If there is confusion about what the goal is, then the team fragments. The first rule of effective team building is to clearly communicate the goal.
Ensure that everyone in the team personally benefits by the achievement of the goal
People are motivated by benefits. If there is no benefit to doing something, then most people won't expend the effort. If you want to motivate the team to achieve a goal, you need to set up some kind of compensation scheme that delivers benefits to the people who make it happen. The more the team delivers, the more they are rewarded.
Don't expect people to work for nothing.
Don't expect people to work out of a pure sense of duty.
If you fail to reward them for the good work they have done, they won't work hard for long.
If you reward teams for good work, they will work hard and long.
What are the 3 most important roles of a leader?
The three most important roles of a leader are:
To communicate a clear goal
To create a plan capable of achieving the goal
To motivate and inspire people to believe in success
To communicate a clear goal. The first role of a leader is set the terms of the goal. The team exists to achieve goals, and therefore the first and most important role of the leader is to set the goal.
To create a plan capable of achieving the goal. A goal without a plan capable of achieving it is a delusion. A goal WITH a plan capable of achieving it is a powerful combination. Good leaders are good planners. You need at least two plans: A strategic plan and many tactical plans. Strategic plans are broad-brush and long-range plans. Tactical plans are detailed and short range.
To motivate and inspire people to believe in success. Having a goal and a plan that nobody believes in, would not be much use to anyone. Leaders need to encourage others to joint them in their mission. Leaders must be orators. They must develop the language of leadership. Inspiring, visionary, engaging, optimistic and confident. Leaders must arouse emotion. This is the most difficult and rare skill of leadership, and it is one you should develop.
What is the course training method? Is it interactive?
Yes. We have made sure that your course is highly interactive. Throughout the day, we vary the training style.
Sometimes you will be working introspectively, (for example, when you are scoring your own performance), then later you will work with another delegate in pairs, (or groups of three).
Then later we will work as a whole class.
There is always lots of interaction.
So, at no point in the training will you feel bored, (no "death by PowerPoint"). From start to finish, you will feel fully engaged and involved.
We are often told by delegates that the course seemed to fly by, which is always a great sign!
Delegates tell us the content is well designed, simple to understand and use.
We have made sure that the training is relevant to real life, beneficial and crammed with useful knowledge. You can be assured that you will find this course, interesting, well structured, practical and fun.
What should new team leaders do first?
The first things a team leader should do are:
Learn the "set-up": Get to know who is who? And what is what?
Find out exactly what the goal is
Find out exactly what the current plan is
Without making any waves, integrate yourself into the current setup
Then, when you feel you know the score, look for ways to IMPROVE the current system
When you find such an opportunity, then take it - Improve the current setup
Ultimately your job is "to improve the system". If you do that for the rest of your career, then your future prosperity will be assured.
What kinds of people attend this Team Building - Team Development course?
The people that attend this course, are likely to come from organisations that are going through a lot of change.
The delegates who attend this course, are all coming because they want to know, How to get the best performance from themselves and others.
Delegates are of all personality types, and you will discover that, although we are all different, we have a lot in common with others.
In-House Training Course Pricing and Proposal
This course is available from just £1,950 +VAT per day as a bespoke in-house group training course in the UK and worldwide.
It has been designed to provide a similar experience to our open courses, however we can tailor the content to fit your specific needs. In-House Group training costs from just £1,950 +VAT per day (international training price varies). Plus, hotel accommodation for trainer if necessary. (Premier Inn type: not the Hilton!)
This price includes:
Quality training delivered by an experienced trainer
Full days training
Full colour course handbook
Preparation work
Travel costs and time
Written action plan to take away
Access to our post course portal
Access to our on-line leadership and management decision matrix templates and tools
Plus three months FREE telephone coaching to answer any on-going questions
Contact Us Today
Please call us on +44 (0)20 3856 3037 to discuss your requirements for the in-house training course.
If you want to know more about any other Management Training Courses, or their suitability for you or a colleague, call us on +44 (0)20 3856 3037.
Related Articles from our Teamwork Blog
Team Problem Solving
29 August 2017
It is a fact that the most profitable ideas are usually the fruits of more than one brain. These ideas are usually the fruits of many minds working in harmony, to solve a shared problem. The best way to achieve this is using the Mastermind method.
Continue Reading >