Negotiation Skills Training Course
- One Day
Learn practical tools that you can use in real-life situations.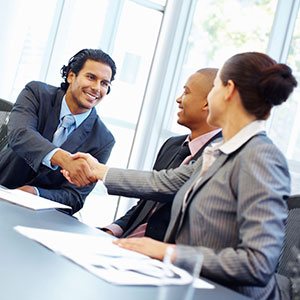 How to negotiate mutually beneficial solutions
Don't give concessions, instead trade them
Prepare your negotiation strategy in advance
How to avoid giving away too much for free
Perfect your communication style
How to manage emotions
Learn about the "Games negotiators play"
Learn proven techniques from expert trainers
Learn in a friendly and relaxed atmosphere with people who are facing similar situations as you.
The course contained some very interesting concepts, of which I can apply immediately to my role and that of my team. A lot of information in the two days so I will definitely review the handbook to ensure I put as much into practice as possible. Chris was extremely engaging and knowledgeable, his style and humour made the delivery interesting with some excellent examples of methods in practice.
Customer Reviews
Make an Enquiry
X
If you feel you would like to attend but cannot yet commit to a secured booking, you can express your interest here.
Email this page to your Manager
X
If you are reading this page with the intention of attending the course, then you may need to 'put forward a case' to a manager who makes the final decision.
So, you may find it beneficial to give your manager this webpage, which will give all the information needed to make the right decision.
To do this, please enter the manager's email address below and.. take me to your leader!



* Just so you know, we'll add your details to our records.
Negotiation Skills Training
Negotiation is the art of gaining an agreement that balances three conflicting needs: 1. Your needs; 2. The other persons needs; and 3. What is logically possible. Negotiations can be complex and so you need to be highly skilled. This informative course will develop your skills.
Negotiation Skills Training - Course Overview
The purpose of the training is to initiate a process of continuous improvement, by means of achieving a shared understanding of the correct principles of negotiation.
This course would assist your teams with their negotiations:
To gain a fuller understanding of the principles of effective negotiation, (what effective negotiation is and what it is not)
What preparation they should do, in order to maximise their chances of a gaining the best possible result
To emphasise the process of effective communication: the proper use of words, voice tones and body language
How to project personal confidence and professionalism
Increase their ability to develop leverage; to maximise their perceived power
How to manage emotions, both their own emotions and those of the other party
How to create excellence, across the whole team
This is a brief overview of the content covered in the one-day course
For a more in-depth course outline click:
Morning -
What is negotiation?
Why negotiation is a vital skill?
The twelve tools of effective negotiation:
Memorise the five-part negotiation process
Decide your ideal outcome
Organise your priorities
What are your bargaining chips?
Decide your negotiation strategy
Afternoon -
Maintain a professional communication style
Beware of giving away too much
Know how to say No
Trade concessions never give them away
Negotiation is often an evolutionary process
Watch out for these "game plays"
Keep accurate written notes
Exercises and practice
Summary action planning
The course was beneficial in learning the correct words/format of putting things in a more positive way. I now know I'm more confident to handle my team, again in a more positive way. The trainer is very good at what he does and kept us participating and engaged at all times, which can be hard and which I found very inspiring.
Customer Reviews
In-House Training Course Pricing and Proposal
This course is available from just £1,950 +VAT per day as a bespoke in-house group training course in the UK and worldwide.
It has been designed to provide a similar experience to our open courses, however we can tailor the content to fit your specific needs. In-House Group training costs from just £1,950 +VAT per day (international training price varies). Plus, hotel accommodation for trainer if necessary. (Premier Inn type: not the Hilton!)
This price includes:
Quality training delivered by an experienced trainer
Full days training
Full colour course handbook
Preparation work
Travel costs and time
Written action plan to take away
Access to our post course portal
Access to our on-line leadership and management decision matrix templates and tools
Plus three months FREE telephone coaching to answer any on-going questions
Contact Us Today
Please call us on +44 (0)20 3856 3037 to discuss your requirements for the in-house training course.
If you want to know more about any other Management Training Courses, or their suitability for you or a colleague, call us on +44 (0)20 3856 3037.
I found pretty much all of the content very useful. It made me think about things in a different way. Hopefully will return to this material and use it to keep thinking positively about all the forthcoming challenges. Chris presented very well, both clearly and confidently.
Customer Reviews