Negotiation Skills Training Course
- One Day
Learn practical tools that you can use in real-life situations.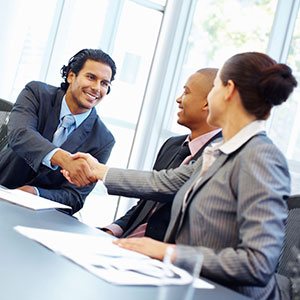 How to negotiate mutually beneficial solutions
Don't give concessions, instead trade them
Prepare your negotiation strategy in advance
How to avoid giving away too much for free
Perfect your communication style
How to manage emotions
Learn about the "Games negotiators play"
Learn proven techniques from expert trainers
Learn in a friendly and relaxed atmosphere with people who are facing similar situations as you.
The course content was excellent, all of it was relevant and appropriate to the situations and exchanges I have. Really feel I have learnt some techniques today which will transform future interactions/interviews.
Customer Reviews
Make an Enquiry
X
If you feel you would like to attend but cannot yet commit to a secured booking, you can express your interest here.
Negotiation Skills Training
Negotiation is the art of gaining an agreement that balances three conflicting needs: 1. Your needs; 2. The other persons needs; and 3. What is logically possible. Negotiations can be complex and so you need to be highly skilled. This informative course will develop your skills.
Negotiation Skills Training - Course Overview
Negotiation is the business of finding a solution, to protect your interests yet satisfying the other person's requirements. You may be negotiating with your customers or your trading partners, alternatively you could be negotiating in conflict situations within your organisation.
The art of negotiation is trading concessions. It is important not to give away too much, without receiving something in return. All parties involved in the negotiation should be seen to gain a benefit.
On this one-day in-house Negotiation Skills training course, we cover how to plan your negotiation strategy, organising your priorities in order of importance, deciding on your bargaining chips and what your ideal outcome would be. We examine how to communicate effectively and professionally during the negotiation process and how to say 'no' firmly and politely when you have reached your bottom line.
This is a brief overview of the content covered in the one-day course
For a more in-depth course outline click:
Morning -
What is negotiation?
Why negotiation is a vital skill?
The twelve tools of effective negotiation:
Memorise the five-part negotiation process
Decide your ideal outcome
Organise your priorities
What are your bargaining chips?
Decide your negotiation strategy
Afternoon -
Maintain a professional communication style
Beware of giving away too much
Know how to say No
Trade concessions never give them away
Negotiation is often an evolutionary process
Watch out for these "game plays"
Keep accurate written notes
Exercises and practice
Summary action planning
The course content was very informative and detailed, relatable and useful. Easy to understand and absorb the information as well as enjoyable and entertaining. Will certainly be implementing the methods/rules learnt today in my working and personal environment. The trainer was professional, enthusiastic and understandable. His method of training allowed me to remember/absorb all the details.
Customer Reviews
In-House Training Course Pricing and Proposal
This course is available from just £1,950 +VAT per day as a bespoke in-house group training course in the UK and worldwide.
It has been designed to provide a similar experience to our open courses, however we can tailor the content to fit your specific needs. In-House Group training costs from just £1,950 +VAT per day (international training price varies). Plus, hotel accommodation for trainer if necessary. (Premier Inn type: not the Hilton!)
This price includes:
Quality training delivered by an experienced trainer
Full days training
Full colour course handbook
Preparation work
Travel costs and time
Written action plan to take away
Access to our post course portal
Access to our on-line leadership and management decision matrix templates and tools
Plus three months FREE telephone coaching to answer any on-going questions
Contact Us Today
Please call us on +44 (0)20 3856 3037 to discuss your requirements for the in-house training course.
If you want to know more about any other Management Training Courses, or their suitability for you or a colleague, call us on +44 (0)20 3856 3037.
Course content was informative with interesting ideas which I will be able to take forward in both my personal life and work place. The trainer's presentation was good, clear and to the point. Notes taken were relevant and easy to understand.
Customer Reviews