Negotiation Skills Training Course - One Day
Learn practical tools that you can use in real-life situations.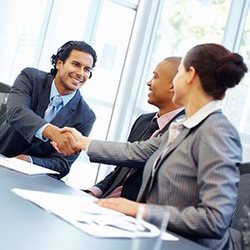 Get the best possible result from negotiations
Avoid the perils of a badly managed negotiation
Prepare your Negotiable Variables
Decide your negotiation strategy in advance
Don't give away too much in return for too little
Manage the emotions; yours and theirs
The "Games negotiators play"
Learn in a friendly and relaxed atmosphere with people who are facing similar situations as you.
About this Negotiation Skills Training Course
Negotiation skills are very important because an organisation has to trade successfully with its partners.
These skills are a specialised form of communication that endeavours to find a mutually beneficial long term solution.
Negotiation skills training will enable your team to agree the best results possible from any negotiation situation.
Negotiation is a combination of skills that include good preparation, excellent communication and emotional management.
A successful outcome depends on knowing and applying the principles of proper negotiation.
If the negotiation is NOT well prepared, then it will be "messy" and you will NOT get the best result possible.
If the negotiation is prepared, then it will be very successful and you will get the best result possible.
There was a lot of content to cover, but I felt that the timings were correct and the content was correct. I learnt a lot about myself! The trainer presented the course very well presented with some delegate interaction with I enjoyed very much.
Customer Reviews
Negotiation Skills Training - One Day Course Overview
Day One - Morning
What is unique about negotiation communication
Why negotiation is a vital skill
The ten tools of negotiation
Decide what you want
Prepare your Negotiable Variables
Decide your negotiation strategy in advance
Don't give away too much in return for too little
Manage the emotions; yours and theirs
Day One - Afternoon
Keep an eye on your emotional states
Trade concessions, don't give them away
Maintain your integrity
Once agreed stick to the agreement
Watch for bargaining activity before deadlines
Be wary of tough talk
The games that some negotiators play
Record and prepare in writing
Available Dates and Locations
In-House Course Available Call us on +44 020 3856 3008 to discuss your requirements or
Please note all our training courses include optional three months FREE telephone coaching to answer any on-going questions.
Course Timings: Start 09:00 - Finish 16:30. Lunch at 13:00, Tea Breaks at 11:00 and 15:00.
6 trainer-led hours, additional 2-3 via post-course portal independent learning
Our Open Training Courses run in: London, Manchester, Birmingham, Bristol, Maidstone, Kent, Glasgow, Scotland, Leeds, Gloucestershire.
In-house courses can be run in the UK or worldwide to suit you.
There was lots to take in, but very interesting and relevant. Made me think carefully about my future actions to improve my business acumen. Trainer's Presentation was animated and friendly, but kept on point despite my interruptions! Very knowledgeable.
Customer Reviews
Negotiation Skills Training Course Content
Negotiation Skills Training - Day One - AM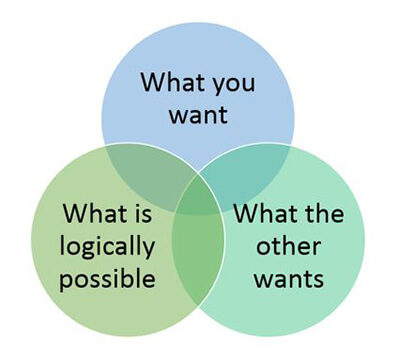 Negotiation skills are a specialised form of thought and communication.
There are specific circumstances where you are likely to need negotiation skills:
With friends and colleagues
With buyers and sellers
In conflict situations
In any negotiation, there are three realms to consider.
The solutions that you would prefer.
The solutions that the other person would prefer.
The solutions that are logically possible.
The intersection of these three fields, (i.e. all the solutions that are mutually desirable and that are also logically possible), we will call The Optimum Zone.
Negotiation is a specialised form of thought and communication
It creates long term, mutually beneficial agreements.
Negotiation is a process by which all parties should achieve a benefit.
What is negotiation NOT?
Negotiation is not the act of appeasement and surrender: Negotiation is not the act of continuing to give multiple concessions to the other person until he-she is happy and has everything he-she wants.
Negotiation is about trading concessions, not giving them away
Negotiation is not the act of mental intransigence:
Negotiation is not the act of saying "Take it or leave it".
The Ten Tools of Negotiation given in the order of their appearance on success formula
Here are the ten commandments of negotiation
If you want to improve your negotiation skills, memorise and apply this list of ten principles.
1. Be clear what you want
Write it down your desired outcome from this negotiation
Write down your "At least list". The at least list is the minimum level that you can accept as a good result.
Know too, what you do not want. Recognise and identify what is not good enough for you.
Knowing what you want is the critical step. Be specific.
Know why you want it.
2. Think Win /Win
Therefore, if the final agreement is to be sustainable, then, there has to be genuine value for both parties.
Both parties must win something from the negotiation.
This has become known as a Win / Win solution.
3. Always prepare for each negotiation.
Prepare your entry and exit points.
Prepare a list of negotiable variables. A negotiable variable is a factor that you can add into the equation or one that you can remove in order make your proposition more attractive to the other person without damaging your own self-interest. The ideal is to have negotiable variables that are perceived as high value to the other person but they are of low cost to you, to provide.
4. Don't automatically agree to their first proposal
I.e. develop a tendency to say "no" to their first proposal.
Saying "Yes" to their opening proposal may leave you open to You Lose/ They Win solution.
Having a framework really boosts confidence in this area, especially if you are new to leadership. I found the conflict management especially beneficial. The trainer was brilliant, friendly and engaging, with boundless enthusiasm. You know, from his presentation, that he knows what he is talking about.
Customer Reviews
Negotiation Skills Training - Day One - PM
5. Maintain your good business ethics and moral principles
Be professional. Be aware of your principles of good practice. You are at work to ADD value. The proper principles here are Productivity and Trade.
Give only "Something for something". Not something for nothing.
Other principles of business:
Honesty: honesty is not only a moral virtue, it is also good business! Never cheat anyone.
Reliability. Promise only what you can deliver. Don't fail to deliver on your promises. Deliver on all your promises.
Profit. Don't give things away. Your role is that of a profitable trader. And both parties can profit from the trade.
6. Watch for bargaining activity just before a deadline
Deadlines can produce extra leverage, which can be used to gain a concession. So be emotionally prepared to use this fact, or resist it.
7. Avoid trying to "drive a hard bargain" by unnecessary tough talk
Tough aggressive talking is not good practice; aggressive talking may be seen, by the other side, as a signs of stupidity, crassness, and intransigence.
"Tough talk" in the sense of needless aggressiveness is bad.
Take a tough position but keep your communication style professional and relaxed.
8. Learn the details of compromise
Always maintain respect for the other person's identity as you question his proposition.
To compromise your values, standards or ethical principles is no good. You should not do it.
To compromise on issues of price and negotiable variables is good. You should do it.
Once agreed, stick to the agreement
9. Once agreed, stick to the agreement
If the other person wants to change the package, that is fine, but only if the terms change too.
Use the magic phrase, "Yes. I can do that for you…… but only if….. "
Ensure you have a list of your negotiable variables.
10. Keep your own emotional state
Stay relaxed, focused and adaptable.
Don't go into a negotiation in a bad mood.
Don't go into a negotiation situation in a tired state.
Common tactics of negotiators
During a negotiation, you are likely to hear the other side use some of the following tactics, in order to gain a free concession from your side.
You may want to think about the following tactics, in order to decide:
Whether you are able to utilise any of these tactics in your own proposition, to your own advantage.
If you are on the receiving-end of any of these tactics, then what will be your response?
Here are the negotiation tactics you need to prepare for:
The claim that their first offer is also their final offer.
They suggest that you "split the difference".
To appeal to Need.
To appeal to your "better nature"
Appeal to anger
Appeal to friendship
Appeal to a higher authority
Appeal for a "loss leader"
Compromise
When to compromise and when to not to
Compromise is the act of finding the middle- ground between two opposing points of view, in the hope of finding the "Happy medium" that is acceptable to both parties.
It can be a useful and valid method of handling conflict situations or solving dilemmas.
BUT..
It can also be a terrible mistake that will cost you all your credibility as a decision maker!
Example of a "no compromise" Identity situation and negotiation.
Develop excellent communication skills
The channels of communication:
The words and phrases, vocabulary and verbal content.
The voice tones: confident assertive, or not.
Body language: appropriate and effective or not.
Pleasantly surprised, having been on many courses over the years, there was much new information on this course, which was great. The trainer's presentation was enjoyable and he was knowledgeable.
Customer Reviews
The Course Training Method
The training method follows this general pattern - the training is very interactive and interesting:
The trainer gives a clear explanation of the point in question with specific examples.
Then, the delegates practice by doing an exercise with each other.
The delegates practice by doing an exercise with the trainer.
All points are supported with full written notes to take away.
Delegates are asked to write down an associated action, for each point made.
(At the end of the day, we have about twenty such actions, from which the delegates choose six which are the most personally meaningful).
Note: we do not believe in placing people in any situation of embarrassment by demanding that they 'perform' in front of the whole group. So you can relax: come on this course and be at ease; ready to learn new skills!
In-House Training Course Pricing and Proposal
This course is also available from just £1,950 +VAT per day as a bespoke in-house group training course in the UK and worldwide.
It has been designed to provide a similar experience to our open courses, however we can tailor the content to fit your specific needs. In-House Group training costs from just £1,950 +VAT per day for up to 20 delegates (international training price varies).
This price includes:
Full days training
Full course training manual
Personal written action plans
Access to the post course portal
Three months free telephone coaching
Plus, hotel accommodation for trainer if necessary. (Premier Inn type: not the Hilton!)
Contact Us Today
Please call us on +44 020 3856 3008 to discuss your requirements for the in-house training course.
If you want to know more about any other Management Training Courses, or their suitability for you or a colleague, call us on +44 020 3856 3008.
Email your Manager
If you are reading this page with the intention of attending the course, then you may need to 'put forward a case' to a manager who makes the final decision.
So, you may find it beneficial to give your manager this document, which will give all the information needed to make the right decision.
To do this, please enter the manager's email address below and.. take me to your leader!



* Just so you know, we'll add your details to our records.
Other Popular Courses
You may be interested in one of our other popular courses: