Make an Enquiry
X
If you feel you would like to attend but cannot yet commit to a secured booking, you can express your interest here.
Negotiation Skills Training Course Outline
Negotiation is the art of gaining an agreement that balances three conflicting needs: 1. Your needs; 2. The other persons needs; and 3. What is logically possible. Negotiations can be complex and so you need to be highly skilled. This informative course will develop your skills.
I found this a very well-structured day and enjoyed the difficult topics covered. Making use of examples made the course content active and lively. The trainer's presentation was well prepared, fun and not boring. Conveyed the message across in a good and active manner.
Customer Reviews
Negotiation Skills Training - Morning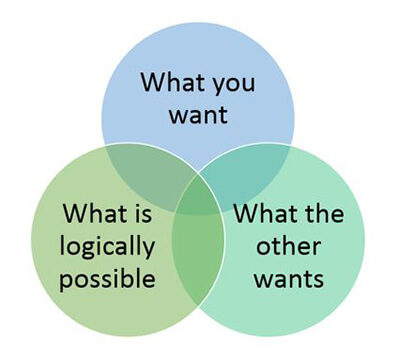 Negotiation is a set of skills that will allow you to find mutually beneficial solutions that protect your interests, while satisfying the other persons needs / wants.
There are specific circumstances where you are likely to need negotiation skills:
With friends and colleagues
With buyers and sellers
In conflict situations
In any negotiation, there are three realms to consider:
The solutions that you would prefer.
The solutions that the other person would prefer.
The solutions that are logically possible.
The intersection of these three fields, (i.e. all the solutions that are mutually desirable and that are also logically possible), we will call 'The Optimum Zone'.
Negotiation is a process that creates long term, mutually beneficial solutions.
Negotiation is a process by which all parties should achieve a benefit.
What negotiation is NOT
Negotiation is not the act of appeasement and surrender: Negotiation is not the act of continuing to give multiple concessions to the other person until he-she is happy and has everything he-she wants.
And negotiation is not simply saying, "Here is my offer, take it or leave it!"
Negotiation is the application of the following twelve skills.
The twelve skills of effective negotiation.
1. Learn the five-part negotiation process
The negotiation process is a five-part circular model, that looks like this: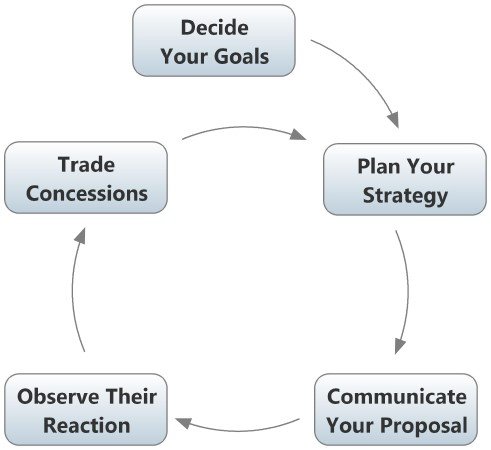 2. Decide your ideal outcome
Before the negotiation you should map out your ideal solution.
What do you want?
What do you need?
What do you not want?
In addition, you should make some intelligent assumptions about what the other party wants, needs and does not want.
3. Organise your priorities
Not all your desires have the same importance.
What are your priorities?
In addition, you should think about what the other person's priorities may be.
4. What are your bargaining chips?
What concessions are you willing and able to make?
In what order should you make them?
Identify your bargaining chips.
In addition, you might think about what the other persons bargaining chips may be.
5. Decide your negotiation strategy
Use the above information to plan out your negotiation strategy.
In addition, you may try to predict what the other sides negotiation strategy might be.
Negotiation Skills Training - Afternoon
6. Professional communication style
Your communication style should be based on three principles
Absolute clarity in your use of language
Professional conduct
Positive intent
We will investigate how to communicate properly.
7. Be wary of giving away too much
It is vital that you don't give away too much simply to gain their "goodwill".
Offering "Goodwill concessions" will cause you to give away too much for nothing in return.
Be wary of giving away too much
8. Know how to say No
All negotiators must be willing to say No, in a polite manner.
We will discuss how to politely say, No.
9. Trade concessions, don't give them away
Negotiation is about trading concessions in order to find a mutually beneficial solution. It is not about giving ground until the other person is happy.
10. Negotiation is an evolutionary process
Negotiation takes place in a series of small adaptations and modifications to your proposals until you find a combination that both can live with and benefit from.
11. Watch out for these eight "Game plays"
You need to know the game plays that some negotiators will try to use on you. You need to be ready to counter them.
12. Keep accurate written notes
Don't trust your memory. Take accurate contemporaneous written notes.
Exercises and practice
Let us practice the skills and learn the lessons.
Summary action planning
I found the course very useful in terms of being a personal yardstick to measure my personal and professional development with. Lots of very new theories and formulae to assist with problem solving which will be useful too. The course was delivered by a very experienced trainer who had a wonderfully calm, yet humorous manner.
Customer Reviews