New Skills for New Managers
New Skills for New Managers
New managers often need some support to learn new skills.
The new skills they need are certain PEOPLE SKILLS relating to managing the performance of people.
New managers are often promoted primarily on the strength of their technical ability and knowledge. The new manager is usually experienced and knowledgeable in the technical aspects of the job. So, when the organisation grows and the department gets bigger, the natural thing to happen is that the person with the most knowledge and experience is promoted to team leader, manager role.
Suppose that Sam has the most knowledge and experience, therefore we would promote Sam to team leader, manager.
But just because Sam has the most knowledge does not necessarily mean that Sam possesses great leadership and management skills, does it?
Therefore, it is important that we support Sam and the other team leader-managers to develop new skills relating to their ability to manage and motivate the team.
What are the new skills that leader managers need to better manage and lead the team
We have built this leadership and management model.
Please take a look at the following model.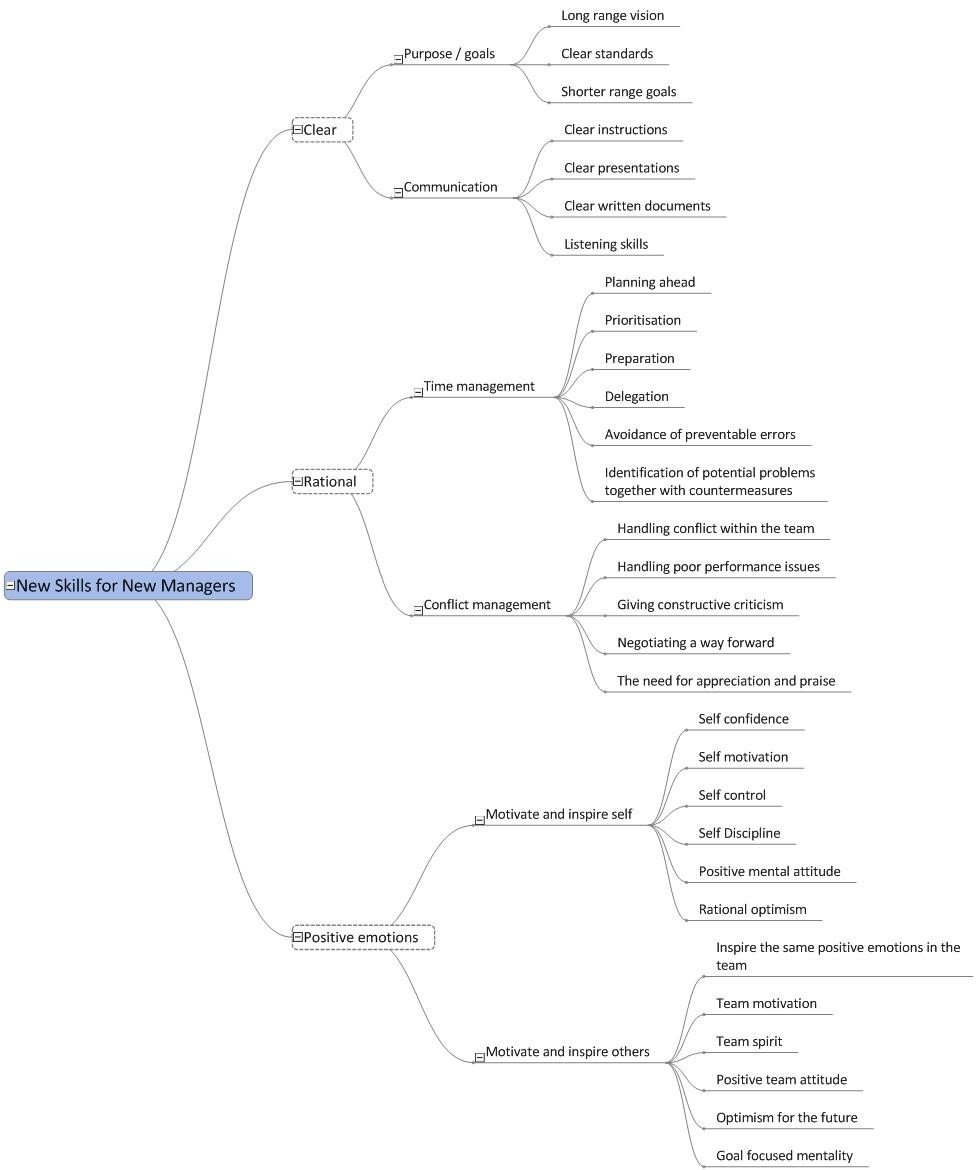 New Skills for New Managers
There are six major sets of skills for new managers:
New Skills relating to clarity of goals.
Skills relating to clarity of communications.
Skills relating to the ability to plan ahead, prioritise and delegate: Time management skills.
Skills relating to the ability to handle conflict situations.
New skills relating to the ability to manage your own emotions.
New skills relating to the ability to manage the emotions of others.
Then each of the above six skill sets breaks down into the following sub-subsets skills.
1. Clear Purpose / goals break down into subset skills
Long range vision: meaning the identification of where you want to be in the future.
Clear standards: meaning, figuring out what behaviors are acceptable and which ones are not acceptable on a day to day basis.
Shorter range goals: The long range vision requires the achievement of short range goals. What are the short range goals that have to be hit?
2 New manager skills relating to Clear Communication
Clear instructions. Ambiguous, poorly worded instructions will be the cause of costly errors. All instructions must have one, and only one, possible meaning; not multiple meanings. Instructions that can be misunderstood, will be misunderstood, by someone. And that misunderstanding will be the cause of conflict, cost and errors.
The proper use of language is everything to the leader managers.
Clear presentations: Team meetings, team briefings, one on one conversations should be done in a clear and systematic manner, so that the information is communicated efficiently and without error.
Clear written documents. Written messages should be accurate brief and clear.
Listening skills: The managers need to be able to listen and take-in information as well as they do give information.
3. New skills relating to Rational Planner; Time management
Time management: Time management is the measure of the value of your work done, per hour.
Planning ahead: means looking ahead and acting now; so that you are ready now, well in advance, for the future events that are coming up.
Prioritization: since you cannot do everything at the same time, you need to arrange things into their proper logical sequence.
Preparation: practicing and perfecting so that you are ready to give your best, on the day.
Delegation: You cannot and should not try to do it all yourself. You need to delegate; allocating the right work to the proper person.
Avoidance of preventable errors: Building fail-safe systems.
Identification of potential problems together with countermeasures: Scanning the future for things that could go wrong, and making sure that you solve the problem before it even happens.
4. New skills relating to Conflict management
Handling conflict within the team: Managing team members who have fallen out with each other, or with yourself.
Handling poor performance issues: managing people when their performance does not meet your expectations and requirements.
Giving constructive criticism: how to give someone constructive criticism, (not destructive criticism) of their work. How to correctly word your message so as to limit the possibility of damage to the others motivation and confidence.
Negotiating: Meaning, finding a way forward; agreeing a corrective action. How to keep the conversation focused on the future, not dwell too long on what has already happened.
The need for appreciation and praise: Using kind words of praise and appreciation to motivate others to make a change.
5. New skills relating to developing your own, personal, positive emotions
Motivate and inspire yourself: If you cannot even motivate yourself, then how could you be able to motivate others? You need to work on yourself before you can work on others.
Self confidence. The lack of Self confidence is a common problem for many new managers. You need ways to "brew your own" self confidence, sufficient to give you strength to lead the team.
Self motivation: Self motivation is important because the team leader role tends to attract negative pressure that can drain your motivation, over time. The manager must know special techniques to self motivate.
Self control: Again, self control is important because the team leader manager must be a role model. The manager must be able to control his emotions, his language and his bad habits. (Her emotions, her language, her bad habits).
6. New skills relating to motivating and inspiring others
Now the new manager can manage their own emotions, they are in a position to manage other people's emotions.
Inspire the same positive emotions in the team.
Team motivation: motivate with the positive motivators such as ambition, praise and reward. Don't motivate through negative motivators such as fear, anger and threats.
Team spirit: work to build the team into, what we call, a "cooperative union".
Positive team attitude: Positive attitude based on progressive action towards a shared purpose.
Optimism for the future: The shared purpose is possible, believable and we will achieve our goals.
Goal focused mentality: The purpose of the team is to achieve its shared goals.
Please look at the model and use it as a basis for a conversation intended to identify the training needs for yourself or your new managers.
When you have identified your needs please would you call us to discuss the future training plans?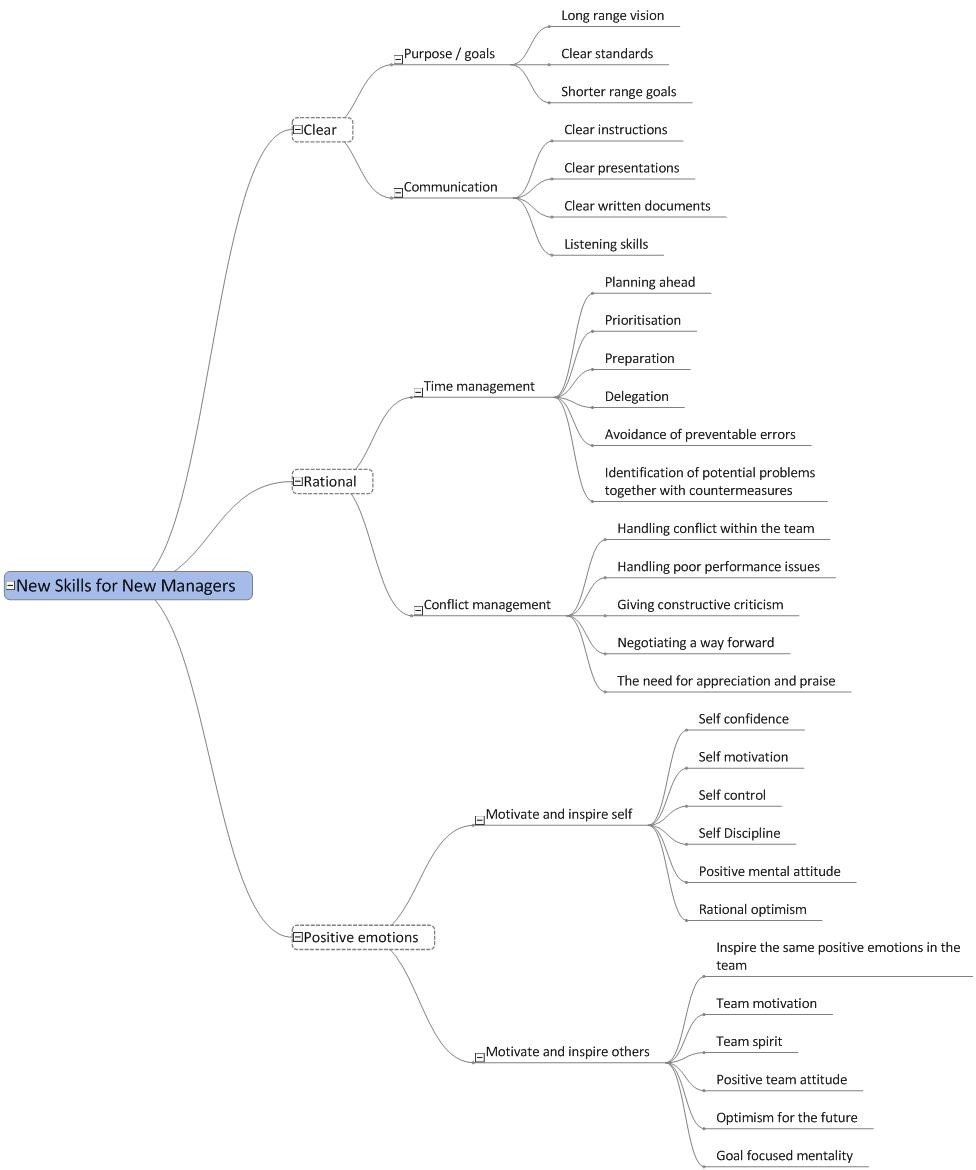 Blogs by Email
Do you want to receive an email whenever we post a new blog? The blogs contain article 5-10 minutes long - ideal for reading during your coffee break!
Further Reading in General Development