How to Improve your Listening Skills
How to Improve Your Listening Skills
Your listening skills are important to you because listening serves two helpful functions.
1. Listening is one of the primary methods you have for gathering information; (the other one being through observation.)
2. Listening is an excellent social skill. Listening is one of the main ways to build better relationships with other people.
How to improve your listening skills in relation to gathering information
If you are listening to improve your capacity to gather information, then here are the steps.
1. Focus your mind without distraction.
Some people don't listen well because they are too easily distracted. They are distracted by their own thoughts and they are distracted by the environment.
Don't allow your own thoughts to distract your attention from the speaker. Look at the speakers mouth move, as they speak, and pay close attention to the content of their message.
Don't allow yourself to be distracted by the things in the immediate environment. If you are in a public place, don't look at passers-by. Don't look at the TV that is playing in the corner. Instead, look only at your speaker and pay attention.
2. Actively try to memorise their message
Many people forget most of what they hear. There is no point talking to people and then not remembering anything of what they said.
For example, how many times have you been introduced to somebody, they give you their name, and you promptly forget it. Then, two minutes later, you are embarrassed because you realise you have no idea what their name is, yet they have remembered yours!
How many times have you been asked to do something, you promise that you will do it, and then you forget to do it.
Or how many times have you sat in a class, or a meeting, and when you leave, you cannot remember anything that went on?
Why does that happen?
Partly because you were mentally distracted; and partly because you were not actively trying to memorise what the person said.
In order to do anything, you must:
Have an intention do it, and
Expend some energy in order to do it. (Since every action requires the expenditure of some energy).
So, if you want to memorise anything, then you need to:
Form a definite intention to do it.
Expend some energy to do it.
Form a definite intention to memorise the information. And you form the definite intention BEFORE you hear the name. You need to say to yourself: "I will memorise this person's name!" BEFORE you hear their name.
Then when you hear their name you have to put some effort and energy into the act of memorising the name. You need to work the name into your memory by an active process of thought.
If you are lazy in listening, then you will not remember what you heard.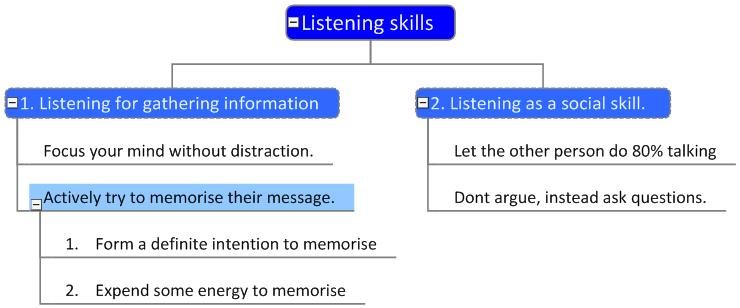 Listening is active. Or at least, effective listening is active.
Pay attention, decide to memorise what you hear and exert effort to memorise.
You can memorise by forming mental images of what you hear.
You can memorise by asking questions.
You can memorise by taking written notes.
Whichever way you do it, you need to exert some conscious effort.
Now let us turn our minds to the second theme:
Listening in order to develop better relationships with people
Listening is a great way to build relationships because most people are more interested in their own opinion than in your opinion.
Therefore, if you want to be attractive to others one of the best ways to do that is to listen to what they have to say, without too much interruption and without too much argumentation.
When I say listen without too much argumentation that does not mean that you have to agree with everything the other person says, it just means that you don't have to make an issue of it.
Assuming your context is a social context, even if you disagree with the person that does not mean you have to correct him when he says something with which you disagree.
If you are in a social setting, then all you have to do is ask more questions about why he holds those views, and what is his evidence?
Let the other person do 80% of the talking, and you will find that you will gain the reputation for being a good conversationalist; which is interesting because you didn't say much. You mostly listened.
Good listeners are good conversationalists.
So next time you are in a social setting, try talking less, and instead encourage the other person to talk more.
Ask questions, pay attention, don't get distracted, memorise what they said, smile a bit and soon you will have a reputation for being a pleasant person to talk to.
Blogs by Email
Do you want to receive an email whenever we post a new blog? The blogs contain article 5-10 minutes long - ideal for reading during your coffee break!
Further Reading in Communication - Listening Skills