How to be a More Confident Communicator
Be a More Confident Communicator
Here are some tips on how to come across as being more confident. Confidence is two things:
Confidence is an emotion.
Confidence is a communication style.
It is perfectly possible to communicate in a confident manner, without necessarily having the emotion present inside you. Lots of people do that.
They don't feel nearly as confident as they appear. They have mastered the art of looking and sounding confident, even when, on the inside, they lack confidence.
Elvis Presley was like that.
Winston Churchill was a bit like that.
Franky Howard (if you remember him) was like that.
So if you don't feel an over-abundance of personal confidence when you stand up to make your presentation, worry not! You are in great company.
The interesting thing is that, with practice, you can appear to be confident, even if you don't have any. Here is how:
1. Stand up straight, don't slouch
Confident people stand tall.
So don't cower in the corner.
Stand using a straight spine.
2. Move a little
People who are fearful, freeze themselves to the spot and don't move. They look like a rabbit that is caught in the headlights of a car.
People who are confident move around and gesticulate a little. They express themselves with a wave of the hand or an arm movement.
If you want to study the effective use of confident body language, watch the cast of "Friends". Notice how HUGE all the cast make their body language. If you watch Joey, Ross, Rachel, Monica and Chandler they all use unbelievably huge amounts of body language. This gives them their expressiveness and contributes to their great performance.
People who lack confidence shut-down their body language and barely move except to quiver their bottom lip.
So if you want to seem confident: animate your message with movement.
3. Speak louder. Speak slower. Speak at the lower end of your voice range
Again if you listen to confident speakers, they possess three common traits.
They speak slowly; they speak slightly louder than the normal, and they have deeper, more resonant voice tones.
For example, think of Morgan Freeman, the actor. Notice how he uses his voice to his advantage.
Lower.
Deeper.
Louder than the average.
Compare that to a nervous person who does the opposite. A nervous person tends to rush through his message, with a thin, shrill voice.
It lacks power.
It lacks poise.
It lacks confidence.
If you want to seem confident; speak slower; speak louder; and speak with a deeper voice tone.
Let us now look at confidence through the other lens: Confidence as an emotion.
Confidence is an emotion that is based on certainty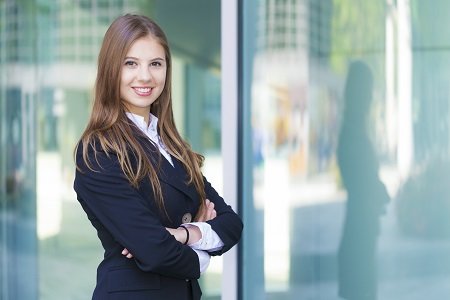 If you are certain that you do know what you are doing, then you will feel confident.
To the degree that you lack certainty that you know what you are doing, then you will lack confidence.
So if you want to be confident, then you need to earn it, by becoming good at what you do.
Know your stuff.
Prepare your material.
Practice until you are perfect.
If you are sure that you know what you are doing, then confidence will exude from you.
If you are unsure of what you are doing, then confidence will exclude you.
So if you want true confidence then you have to pay the price in study. Confidence comes from competence.
For Greater Confidence
If you want to be and appear confident:
Know your stuff.
Speak up.
Stand up straight.
Animate
Do you psych yourself up - or out? Questionnaire
Try our fun confidence quiz to see if you are helping yourself to win, or to lose.
Blogs by Email
Do you want to receive an email whenever we post a new blog? The blogs contain article 5-10 minutes long - ideal for reading during your coffee break!
Further Reading in Personal Development
Looking for Personal Development Training?
If you're looking to develop your Personal Development Skills, you may find this Personal Development Training Course beneficial:
Open Training Course Pricing and Availability
Next Open Course Starts in 9 days, Online - Teams, places available