Feedback is the Breakfast of Champions
Feedback is the Breakfast of Champions
The American author Ken Blanchard came up with the cheesiest of all management slogans:
"Feedback is the breakfast of champions."
Cheesy, but true. The reason "feedback is the breakfast of champions" is that "winning" is not the result of a single, superhuman, supreme effort.
Instead, winning is the cumulative result of many efforts, over many months. And many of the efforts were abortive; ie the efforts failed to hit their intended target.
For example, if you are an archer, firing arrows at a target, then you are aiming to hit the bulls eye. The first attempt, you don't even hit the target. Nor the second: Perhaps you do, on the third. But you hit only the outer edges of the target.
In a similar way, your brain is always striving to hit certain targets. And your brain would like to hit the bulls eye, but usually, it cannot.
Your brain is a goal striving mechanism. Its ultimate goal is to; "Live long and prosper". In order to live long and prosper, each day, it takes certain actions.
Some actions work to take you closer to your goals.
Other actions don't take you any closer to your goals.
Still other actions are counter-productive; meaning, they take you further away from your goals.
These three types of results represent the feedback on your current actions:
making progress,
not making any progress, and
going backwards
Feedback is information that relates the results of your current actions to your goals. There are three types. Making progress. Not making progress. Re-gress.
Feedback information is vital to your brain
If you don't know, or don't care, which actions are taking you closer to prosperity, which ones are not taking you to prosperity, and which actions are taking you towards misery, then, you will not know what actions to practice, which not to practice, and which ones to steer clear of.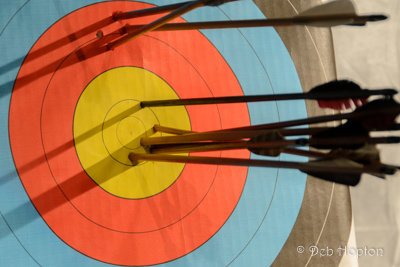 A man who does not bother to check his feedback is like a blind-folded archer, firing off arrows at random in all directions and hoping that he might hit three consecutive bull's eyes and beat Robin Hood for the title of champion.
But you need to know that the Robin Hoods of this world all hone their archery skills with hours, days, weeks, months and years of practice. They observed carefully which actions took them closer to the bull's eye; which did not; and which took them further away.
The real Robin Hood, used his feedback results to improve his performance, every year.
As a result of his diligent efforts, he became leader of the slightly suspect Merry Men of Sherwood Forest; he won the hand of the Fair Maid Marion, he was the first one allowed to wear green tights in a public place, he defeated the very shirty Sheriff of Nottingham, he was acknowledged by Richard the Lionheart as a true hero, and he was made the Earl of Huntingdon.
All this could happen to you too, if only you would remember that; Feedback is the breakfast of champions. Cheesy, but true.
Blogs by Email
Do you want to receive an email whenever we post a new blog? The blogs contain article 5-10 minutes long - ideal for reading during your coffee break!
Further Reading in Communication - Clear Communication