Make an Enquiry
X
If you feel you would like to attend but cannot yet commit to a secured booking, you can express your interest here.
Email this page to your Manager
X
If you are reading this page with the intention of attending the course, then you may need to 'put forward a case' to a manager who makes the final decision.
So, you may find it beneficial to give your manager this webpage, which will give all the information needed to make the right decision.
To do this, please enter the manager's email address below and.. take me to your leader!



* Just so you know, we'll add your details to our records.
Train the Trainer Course Outline
Give your trainers the skills they need to deliver the best possible training for your organisation. This course will show you how to properly prepare your training material and communicate your message clearly, using mnemonics and visual aids to help with memory. Learn why you should break down your training into manageable chunks and sum-up.
Available as an In-House Course
The content was very useful and relevant and included a lot of interactive elements to keep you interested and focused. I like the idea of the summary points and quotes at the back of the manual, that we wrote down each day. Alison delivered the course to perfection. I have never been in a course led by someone so engaging and with such presence, without being domineering or intimidating
Customer Reviews
Train the Trainer - Morning
Training others is a high level communication skill.
The job of the trainer is to help the learners achieve the three levels of learning.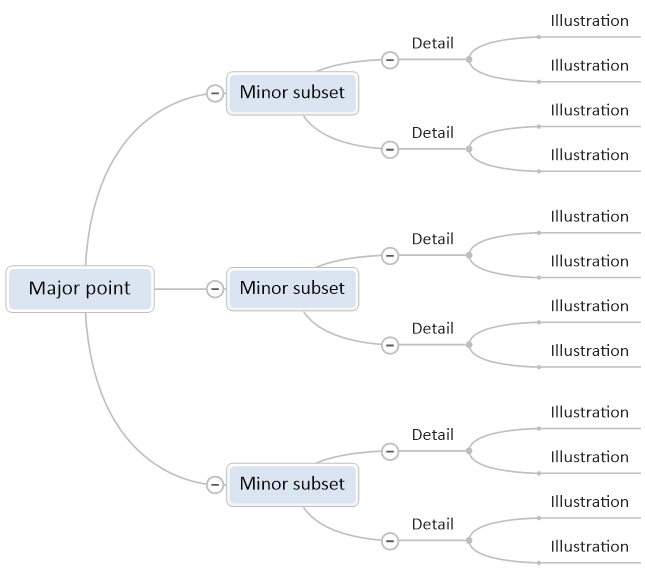 Three levels of learning - As a trainer you have to be successful in all three areas. You need to make your message:
Relevant – relevance gives the team motivation to pay attention
Memorable- memorable makes the message stick in the mind
Understandable- makes the material usable
How to make your message understandable:
Structure your message like a tree
Define all your key terms
Make the links between ideas obvious
How to make your presentations interesting
Illustrate each key point with examples – give concrete examples from real life
Involve your audience – If you don't involve them they will drift off
Give the audience things to do to work the material
How to make your presentation relevant
Link the information to your listener's context
Answer their question - so what?
Three trainer skills:
Verbal clarity - specific notes and examples- Your language is crucial to your success.
Logical structure - order your material- Your training material needs to be sorted into sets.
Proper pacing - adjust the style: slow down and give sufficient time for your message to be assimilated. Pacing must be perfect.
Train the Trainer - Afternoon
The Magnificent Seven Training Techniques
1. Preview and review: Let people know the structure before they get into the details.
2. Mental association: Memory is often the art of associating what you need to remember to what you already know.
3. Visual support: Most people are visual animals and need to "see it" to "understand it".
4. Physical involvement: Some people are active learners and need to get to grips with it, in order to understand it.
5. Chunking-down: Everything can be seen as an elaboration of a simpler form. Sometimes it is useful to show the simpler form before you show them the elaboration.
6. Summing-up: Periodically sum up what you have covered so far.
7. Repetition: They must hear it more than once. Repetition is the mother of learning.
Distinguish between Understanding v memory v application:
They need to take all three steps. They must understand and learn and use your material.
Understanding - The act of grasping the meaning
Learn - Storing desired information in the memory
Application - Using the new information in 'real life'
Put this theory into your practice:
Select a sample of your material
Demonstrate example
Feedback from colleagues
Summary and action plan
The course contained concise, relevant content. Lots of tangible 'real' life scenarios, a good balance of teacher to pupil talk vs pupil activity to retain interest. The trainer's presentation was entertaining, informative, well prepared, no question dodged!
Customer Reviews