Train the Trainer Training Availability, Pricing and Course Dates
If you have any questions, please phone us (020 3856 3037) or send us a message.
Open Course (Face-to-Face)
£350
+VAT per delegate
(Early Bird Offers Available)
Delivered at venues around the UK
Open Course Timings are: 9am - 4.30pm
If you arrive earlier than 9am, there is coffee / tea waiting for you.
Bespoke Training (In-House or Live Online)
£1,950
+VAT per training day
(International Price Varies)
In-House training has been designed to provide a similar experience to our open courses, however we can tailor the content to fit your specific needs.
Plus, hotel accommodation for trainer if needed (Premier Inn type: not the Hilton!)
We are able to train in your timezone.
All our training includes:
A full day of quality training, delivered by an experienced trainer
Total of 6 CPD training hours (9am - 4.30pm), plus an additional 2-3 via post-course online independent learning.
Full digital interactive course notes
Training certificate
Access to additional free training material after the course via our post-course portal
3 months free telephone coaching: Whilst you are implementing what you have learned, if you need to, you can contact us for support and guidance
What is the Train the Trainer course?
This Train the Trainer course improves people's ability to impart their knowledge, understanding and enthusiasm into the minds of others.
Successful training is the result of applying the proper principles of communication, motivation, teaching and learning.
This unique Train the Trainer course helps people to organise their material and communicate it in a manner which empowers and motivates their listeners, to want to listen and to be able to understand, memorise and implement the information being taught.
Contact Us Today
If you want to know more about this course, or any other Management Training Courses, or their suitability for you or a colleague, call us on 020 3856 3037 or make an enquiry online.
Customer Reviews
I found this course beneficial to know how to successfully conduct an investigation into issues. The tools will enable me to find the correct, factual information. The trainer's presentation was very good, light-hearted and easy to understand. H... [Read More] Lynsey Hanley
Quantum Care
I have really enjoyed this course and been inspired to improve my thought process in my daily work routine. There were several key points which will help me in the future. The trainer was very clear and well spoken, easy to listen to and made th... [Read More] Clare Smith
International Greetings (UK) Ltd
Train the Trainer Course Overview
This course combines five themes.
Expert knowledge: Trainers cannot train what they do not know. Some trainers train simply by asking their delegates to express their opinions, which the trainer then writes on a flip chart. This is NOT real training. This is more akin to chairing a meeting. The first obligation of professional trainers is to ensure they really know their stuff. But then they also need…..
Understanding of how human memory works. Excellent trainers know how human memory works. Memory thrives on narrative structure, imagination, association, visualisation, repetition and interest. Consequently, trainers should use these same qualities in their training.
Understanding how human reason works. It is not enough to tell people what 'it' is. They want to know why it is, how it is, and what it is for? Excellent trainers always appeal to the inquisitive intelligence of their audience. Human reason works best with clear definitions, definite purpose, causes and effects, logical structure and specific examples. Consequently, excellent trainers use the same qualities in their training.
Understanding how to motivate an audience. Excellent trainers know how to motivate, by making their material both relevant and important to their audience. The best trainers link their training to the self-interest of their listeners. They frame their information to make it meaningful, relevant and important to each individual member of their audience.
Understanding the proper principles of human communication. Excellent trainers are also excellent communicators. They understand the power of words to create clear understanding, vivid images, strong feelings, and positive reactions. Excellent trainers also understand how to use voice tones, body language, and visual aids to assist in the delivery of their message.
This course is a masterclass in how to implement these five themes into your training.
Learning Outcomes:
Get the best possible result from all training situations
Organise, arrange and prepare your training materials
Improve your personal communication and your use of visual aids
Help people to understand and therefore, use your material
Involve all the senses to pique, gain and keep their interest
Use special techniques to enhance your communication skills
Use mnemonics to help their memory of your message
Train the Trainer Course Details
Morning Session
Introduction
Training others is a high-level communication skill.
The job of the trainer is to help learners achieve the three levels of learning. As a trainer you have to be successful in all three areas. You need to make your message:
Relevant: gives the team motivation to pay attention.
Memorable: makes the message stick in the mind.
Understandable: makes the material usable.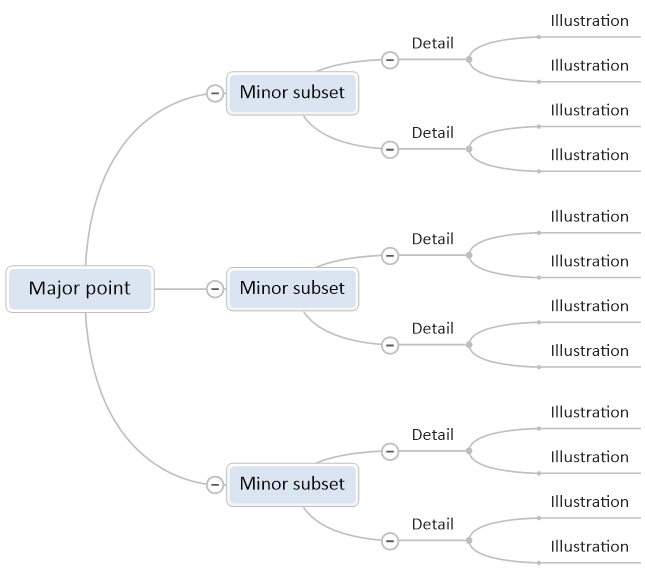 How to make your message understandable
Structure your message like a tree
Define all your key terms
Make the links between ideas obvious
How to make your presentations interesting
Illustrate each key point with real life examples.
Involve your audience – if you don't involve them they will drift off.
Give the audience tasks to work the material.
How to make your presentation relevant
Link the information to your listener's context.
Answer their question - so what?
Three trainer skills
Verbal clarity - specific notes and examples. Your language is crucial to your success
Logical structure - order your material. Your training material needs to be sorted into sets
Proper pacing - adjust the style: slow down and give sufficient time for your message to be assimilated. Pacing must be perfect
Afternoon Session
The Magnificent Seven Training Techniques
1. Preview and review: Let people know the structure before they get the details.
2. Mental association: Memory is often the art of associating what you need to remember to what you already know.
3. Visual support: Most people are visual creatures and need to see it to understand it.
4. Physical involvement: Some people are active learners and need to get to grips with it, in order to understand it.
5. Chunking-down: Everything can be seen as an elaboration of a simpler form. Sometimes it is useful to show the simpler form before you show them the elaboration.
6. Summing-up: Periodically sum up what you have covered so far.
7. Repetition: They must hear it more than once. Repetition is the mother of learning.
Distinguish between Understanding v memory v application
They need to take all three steps. They must understand and learn and use your material.
Understanding - The act of grasping the meaning
Learn - Storing desired information in the memory
Application - Using the new information in 'real life'

Put this theory into your practice
Select a sample of your material
Demonstrate example
Feedback from colleagues
Train the Trainer FAQs
How do I join a Corporate Coach Group course?
To join a Corporate Coach Course, the first thing to do is simply to decide to come.
The second step is to pick the date, and location that you find the most convenient.
The final step is to click this link and reserve your place, or if you prefer, phone us, on 01452 856091.
Is this course offered in-house?
Yes. If you want us present this course in-house, then we are happy to come to your venue.
We can tailor the course content to meet the specific needs of your team. Click here for details.
What skills do you need to be a trainer?
Trainers need skills relating to the:
Principles of memory.
Principles of teaching.
Principles of motivation.
Principles of communication.
How people memorise things, or fail to, and therefore how trainers should teach.
How to motivate an audience, and therefore how to effectively communicate, both in the spoken and written form.
These four themes are interrelated, and trainers need to understand each theme and how to apply the principles to their own training style. If you want to know how, please attend our course.
How do I make my training interesting?
You will make training interesting if you:
Link your information to the personal self-interest of your learners. You must make your lesson relevant and important to your listeners. Don't think that your own enthusiasm is enough to impress others to listen to you. Nobody will listen to something that appears to be irrelevant to them.
Structure your information so that it comes to your listener as a comprehensible narrative. Bad trainers simply spew out information, in random order. That is akin to throwing a box of jigsaw puzzle pieces over the heads of your audience - they get all the information, but it is in a disjointed and incomprehensible format.
Your task as a trainer is to give the right information, in the right order, at the right pace. If you don't do that, your audience will switch off.
What is the course training method? Is it interactive?
Yes. We have designed the training style to be highly interactive. We don't use a single method; we vary the style.
Sometimes you are working independently, (for example, when you are scoring your own performance), then later, you will work in pairs.
Then later, we work together in groups.
There is always plenty of interaction.
There is never any "Death by PowerPoint". So, you won't feel bored, you will feel motivated. All the way through the course, you will feel completely engaged and involved.
We are often told by delegates that the course seemed to fly by, which is always a great sign!
You will find the course is well designed, easy to understand and apply in practice.
We have made this course very practical, beneficial and crammed with useful knowledge. You can be assured that you will find this course, interesting, well structured, practical and fun.
How do I make training memorable?
You make your training memorable by embedding a multitude of memory techniques into your presentation. Memory techniques such as:
Imagery. Make your material visual.
Coherence. Remember that an incoherent, self-contradictory message is impossible to understand, and therefore the mind expels it from memory. Therefore, make your message form a single, comprehensible narrative that has its own internal consistency.
Association. Associate your information to itself and to the lives of your listeners.
Repetition. Don't be afraid to repeat yourself. Repeat yourself to make the message stick.
Humour. Everyone likes to be enterTRAINED.
What kinds of people attend this Train the Trainer course?
The people that attend this course, are likely to come from organisations that are going through a lot of change.
The delegates who attend this course all want to improve their ability to get the best performance from themselves and others.
Delegates are of all personality types, and you will discover that, although we are all different, we have a lot in common with others.
What are the open course timings?
The training timings are as follows.
0900 Start
1100 Tea break, fifteen minutes.
1300 Lunch, thirty minutes.
1500 Tea Break, fifteen minutes.
1630 Finish
If you arrive earlier than 0900, there is coffee / tea waiting for you.
Related Articles from our Personal Development Blog
Why It is Good to be Ambitious
5 October 2021
When people are ambitious, they have positive goals, something to plan for and something to work towards. Planning towards a better future helps people feel stronger and more optimistic.
Continue Reading >