Make an Enquiry
X
If you feel you would like to attend but cannot yet commit to a secured booking, you can express your interest here.
Supervisor Management Skills Training Course Outline
This practical, two-day supervisor training will empower your staff by helping them to master the six major supervisory skills. Achieving targets. Clear communication. Prioritisation. Delegation. Conflict management. Motivation. By the end of this course your supervisors will know, WHAT to do, WHY it is important, and exactly HOW to do it.
The course content was very clear, explained well and addressed the areas that I hoped it would. Gave time management a structure which will enable me to move into the 'box'. The trainer's presentation was clear, well controlled. Helpful to get us all to be involved and explain ideas to each other.
Customer Reviews
Supervisor Management Skills Training - Day One - Morning
Definition: What is Supervisor Management Training?
This training is intended to teach the essential skills needed to succeed in the role of supervisor. It is based upon developing six key skills:
Establish and communicate precise targets
Communicate clearly, persuasively and professionally
Manage disagreements and handle difficult personalities
Manage time: Prioritise, organise and delegate
Create and sustain a positive work atmosphere
Inspire others to give their best performance
What is the supervisor's most important skill?
The first skill to master, is to establish and communicate realistic targets, since the team exists to achieve its targets.
We will learn the correct way to set specific, realistic and valuable targets.
Effective communication skills for supervisors
An effective communication is one that is clear, persuasive and professional.
How to effectively communicate information without any loss of meaning.
How to avoid vague, ambiguous communication.
Use affirmative language by stating what it is you DO want.
Speak about the CAN-DO portion of the job.
Don't let people talk for too long about the NO-CAN-DO portion of the job.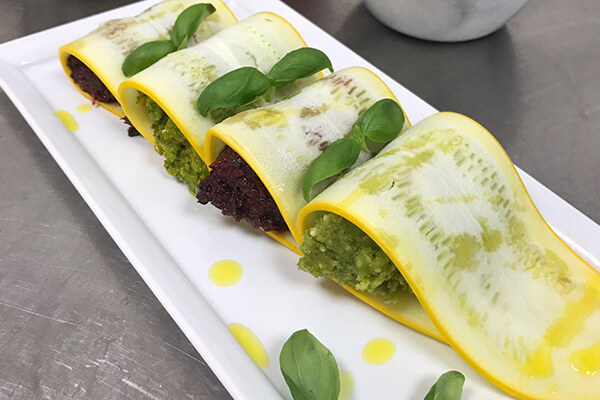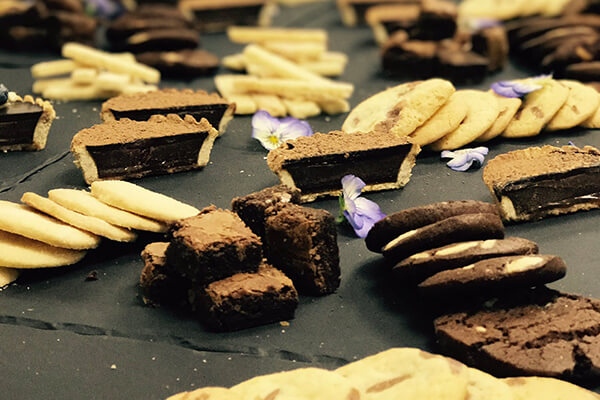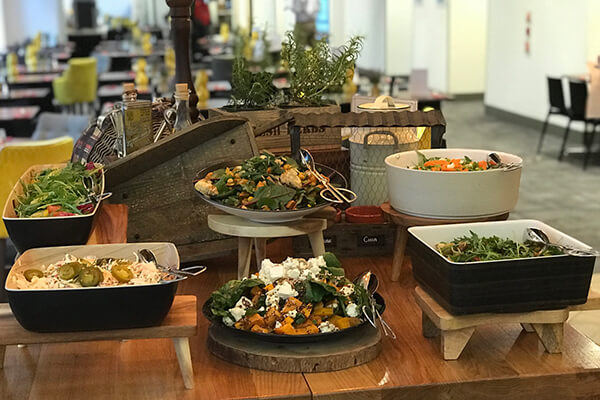 A selection of food which is available on our open courses - varies per venue
Supervisor Management Skills Training - Day One - Afternoon
How can Supervisors effectively manage disagreements and poor performance?
Poor performance issues are inevitable, because people don't always do what you need them to do.
Sometimes disagreements occur because people believe different things.
These situations can sometimes become emotional, which can interfere with the productivity of the team.
The supervisor must be the "voice of reason" within the team.
Supervisors must quickly resolve disagreements and restore the team's productivity.
We will show you how to manage difficult situations "according to the principles of reason", NOT negative emotion.
Use reason and logic to resolve conflict
Do not use threats, anger or emotional blackmail
Know when to stand firm and when to give ground
Resolve issues by proposing a practical, corrective plan
Gain commitment to the corrective plan
Distinguish reasons from excuses
Give immediate appreciation for any improvement
Practice skills with five real-life scenarios.
Supervisor skills training summary and personal development plan.
Course content contained interesting and good material. Liked the philosophical aspect. You can easily use some methods in your private, social life. Was the right amount of content. The trainer was well prepared and motivated. Enough visual display. Loved the interaction. Quite active workshop.
Customer Reviews
Supervisor Management Skills Training - Day Two - Morning
Time Management Programme for Supervisors
Time management is the art of organising activities into the correct order of importance.
Get the most valuable work done first
Be ready to respond to changing environments
How to stop people wasting your time
Eliminate your own bad habits
Stop being too easily distracted
Eliminate negative talk
Give the team a definite "track to run on"
Learn the truth about "multitasking"
You must prioritise work because you cannot do everything at once.
You should always be asking: What is the most VALUABLE use of our time right now?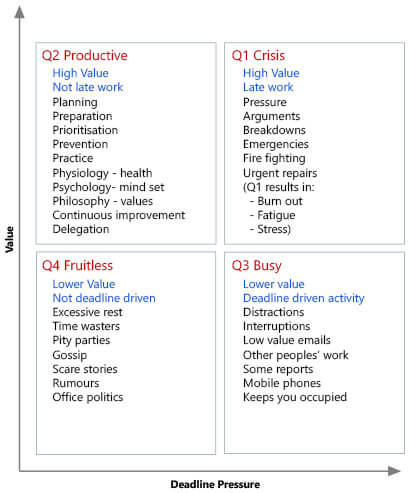 The time management grid suggests four types of activity:
Q1 Crisis zone
Q2 Productive zone – this is our target zone
Q3 Busy zone – this is our danger zone
Q4 Fruitless zone
Distinguish between "Busy work" and "Productive work".
The supervisory manager's time management goal
To maximise time spent planning, prioritising, preparing and avoiding preventable errors.
Time Wasters SOS
Supervisors should be aware of the three major causes of time wasting.
SELF: Your own bad habits
OTHERS: People who waste time
SYSTEMS: Inefficient work systems
How to improve your email management
We will look at how you can manage your messages - Emails can both help and hinder your progress.
Supervisors should delegate the right task to the right person
How to delegate
8 Part SMART
Why some supervisors are afraid to delegate
Prioritisation for Supervisors
Prioritisation is the skill of putting tasks into the most efficient order.
How to use our Prioritisation App – WhatsNext?
How supervisors can always make the right decision
Decision making is the ultimate skill, since if you always make the right decision, everything will go well. There are four decision types:
Which one / what kind?
Yes / no
Should we / or shouldn't we?
Problem / cause / solution mapping
Supervisors should manage interruptions by means of the 80/20 principle
80% or more of the value is contained in 20% or less of the content.
Your mission is to extract the minority of the content, which contains the majority of the value.
Time management tips for supervisors
A questionnaire designed to discover ways supervisors can improve time management in the team.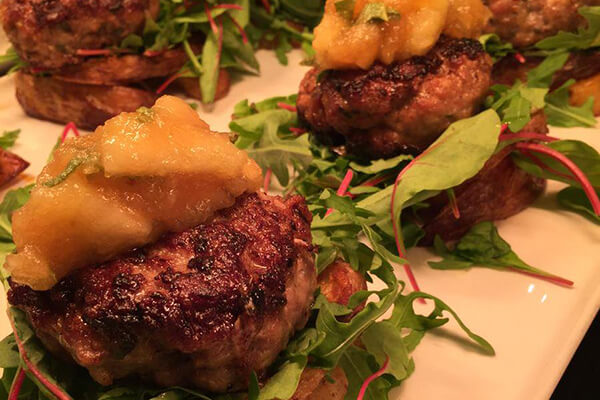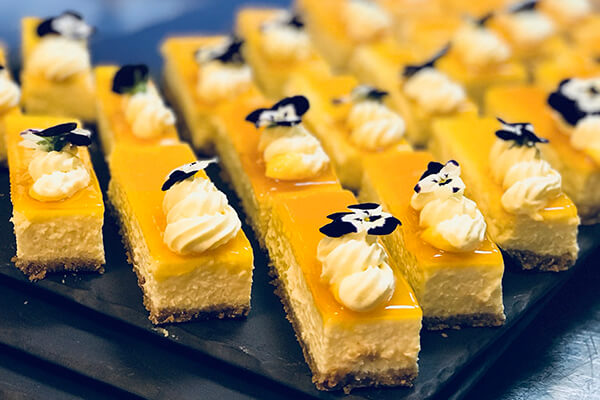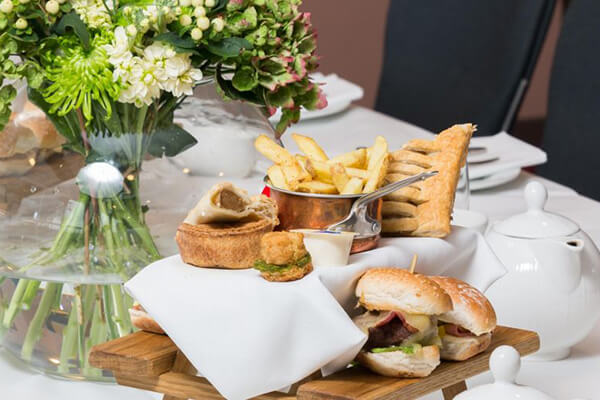 A selection of food which is available on our open courses - varies per venue
Supervisor Management Skills Training - Day Two - Afternoon
Supervisors must develop emotional intelligence skills
People are emotional, and their emotions affect how they perform. In supervising a team, you need to know how to manage emotions, both your own and those of others.
Emotional management enables you to direct the focus of your conversations, so that you can create the optimum emotional responses.
Emotional management means putting limits on the negative emotions, such as fear, anger, worry, anxiety and nostalgia.
Emotional management means creating more optimism, confidence, enthusiasm, motivation, energy and happiness.
How supervisors can use the self-fulfilling prophecy
The self-fulfilling prophecy is the idea that your thoughts affect your feelings, which affect your actions, and therefore your results.
Your inner thoughts affect your external results.
Negative thoughts tend to produce negative results.
Positive thoughts tend to produce positive results.
How supervisors can create and sustain a positive mental attitude
You need to control your use of words, because whatever you talk about, affects how you, and the others, feel.
We will explore how to use words to:
Motivate other people
Minimise worry and stress
Minimise anger and upset
Maximise the feelings of optimism, confidence, enthusiasm and team spirit
How supervisors can use the continuous improvement cycle
Successful teams use the five part formula: Purpose, plan, action, feedback, change.
Purpose = WHAT you want to achieve
Plan = HOW you are going to achieve it
Action = IMPLEMENTATION of the plan
Feedback = RESULTS of the recent actions
Change = PROGRESS based on the recent feedback results
The success formula relies on feedback. We will explore the meaning of constructive feedback.
How supervisors can use the success formula to create a positive working atmosphere
Supervisors should know how to translate the principles of the continuous improvement cycle, into the daily mind-set of the team.
Summary of Supervisory Management Skills Training
How will this supervisory training help you to get the best from yourself and others?
Your personal development action plan.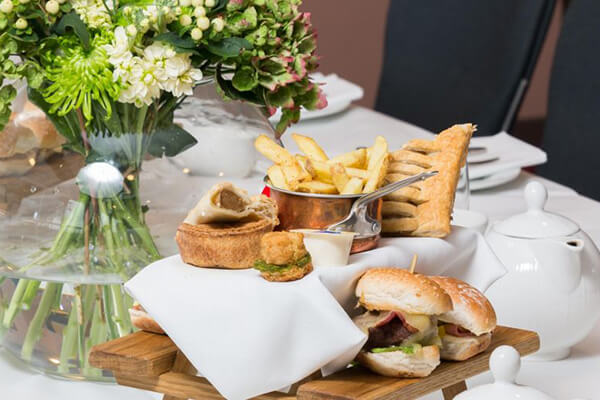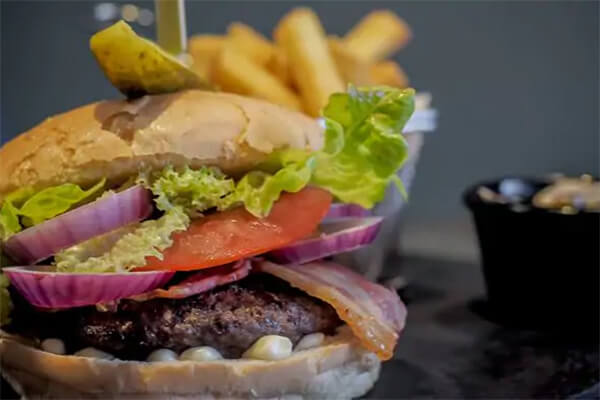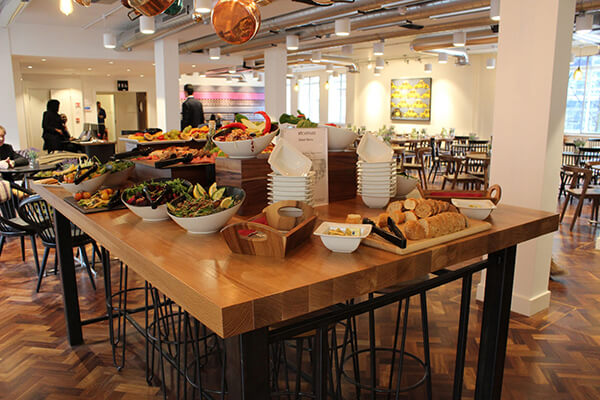 A selection of food which is available on our open courses - varies per venue
The course content was excellent content, very apt and eye opening. The information provided will prove exceptionally useful, as it identified several areas where I can improve. The trainer's presentation was very good and kept the sessions interesting and the group entertained.
Customer Reviews