Make an Enquiry
X
If you feel you would like to attend but cannot yet commit to a secured booking, you can express your interest here.
Email this page to your Manager
X
If you are reading this page with the intention of attending the course, then you may need to 'put forward a case' to a manager who makes the final decision.
So, you may find it beneficial to give your manager this webpage, which will give all the information needed to make the right decision.
To do this, please enter the manager's email address below and.. take me to your leader!



* Just so you know, we'll add your details to our records.
Stress Management Training Course Outline
A certain level of stress can be good for you, as stress stimulates a positive response which can lead to faster progress. But too much stress can be bad for you, because too much stress can lead to feelings of burn-out and mental meltdown. This course is about avoiding the negative effects of stress and learning how to harness its positive power.
Available as an In-House Course
I really enjoyed this course. The trainer was fantastic, very positive energy and extremely engaging and knowledgeable. The printed training book had good visuals and wording, it was easy to understand. The course covered all the relevant topics, nothing was unnecessary. I learned a lot over the two days and have already been able to put some of those skills into practice. I did come away feeling more confident.
Customer Reviews
Stress Management Training - Morning
Introductions:
Who are you? What do you do? And what do you want to learn on this course?
1. Raising awareness of the effects of stress.
Many people are not aware of how their emotional and physical reactions to stressful events can affect them.
Some people deny the whole issue, and in some (often male-dominated) sections of society, the issue of stress is "swept under the carpet" and not openly discussed.
This process of evading the issue of stress has been called, "The Curse of the Strong" and "The John Wayne Syndrome".
The issue of stress is "swept under the carpet" and not openly discussed.
Stress is not all bad.
Stress can have both negative effects and positive effects.
Well-managed stress can have Positive effects:
Well managed stress can "turn you on" and make you sharper, more alert. Therefore, if managed, stress can improve your performance.
Badly managed stress can have Negative effects:
Badly managed stress can cause physical and mental illness. Poorly managed stress can hinder performance and may negatively affect personal and professional relationships.
So, we need to discover more about how to positively manage stress.
2. What is stress?
Stress has various forms:
Mental Stress
This is the intellectual stress of trying to deal with too many tasks at the same time.
Emotional Stress
This is stress caused by negative emotions of fear, anxiety, worry, anger, upset and loss of confidence.
Physical stress
The body responds to stress by increased blood pressure, increased muscular tension, increased stress hormones, constriction of digestion and other physiological changes which, if prolonged, can lead to ill health.
Relationship stress
Stress can affect how you relate to other people. Personal and professional relationships with others may suffer as a result of being overstressed. Then the relationship breakdown itself becomes an additional stressor.
Work stress
Work is a fertile ground for all the above varieties of stress responses. So, we need to know how to handle stress response.
Stress Management Training - Afternoon
3. How to handle your own stress response
Fundamentally there are two ways to handle stress: Well or badly. Here are the correct ways to handle your own stress responses well.
Manage the content of your mind
Your mind responds to its own content. To manage your stress, you must learn to manage your own mind.
How to stop your imagination from destroying your peace of mind.
How to use your imagination in constructive ways.
Manage the content of your conversation
What you say affects yourself and other people. Ensure that the words you use make things better, not worse.
When you are in stressful situations, become more conscious of what you say, to yourself and others.
Ensure your stress response health-habits are constructive, not destructive
You cannot drink, smoke or eat your way out of trouble.
When you are stressed, ensure you supply your body with the right nutrition, sleep and exercise.
How to create and sustain good health habits that will increase your emotional resilience.
Think logically, not emotionally
You cannot fret and worry your way out of trouble.
You can only think your way out of trouble.
We will talk about how to engage your intellect to solve your problems.
Set goals, prioritise and organise your resources
You cannot do everything at once, so you need to figure-out the most logical way forward and make adaptive responses to stress situations.
Don't emotionally burn yourself out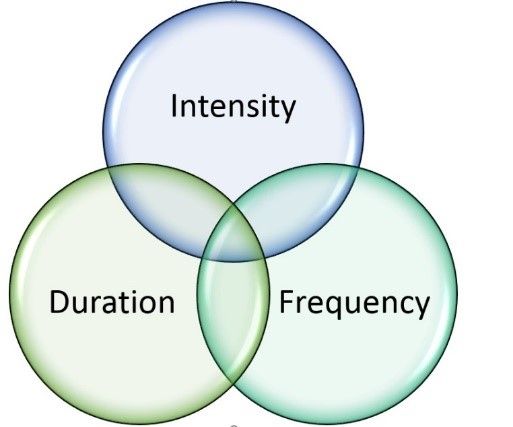 All stressors have three elements, Intensity, duration and frequency. Find the right balance between these three elements.
4. How to manage difficult people in stressful situations
Learn the six-step method of handling stressful conversations.
First, say nothing. Just listen without interruption to their complaint
Empathise with how they feel
Question-down to discover the FACTS, apart from their feelings and opinions
Create a proposed solution to the problem, based upon a logical evaluation of all the available FACTS
Negotiate and plan the way forward
Close the deal and initiate the plan
5. How to put these ideas into real-life situations
We will discuss and plan what to do whenever:
You have a problem situation you cannot avoid
You are using your imagination to destroy your peace of mind by creating endless "images of failure" in your mind-eye and reacting to them as if they were real
You feel overwhelmed with work
You are operating to tight deadlines
You are faced with a sudden change of circumstances, that throws your plans out the window
You find yourself in conflict with a strong, intelligent, but difficult person
Finally, to reiterate the point
Stress is not always a bad thing. It all depends how you manage it.
Final action planning and close
The course content was spot on. It covered everything I expected and what is required for my role. The most fascinating thing for me was the eight part SMART, the decision matrix, right box-wrong box and identifying success or failure of staff. The trainer's presentation was clear and precise. Explained very well and was on time.
Customer Reviews