People Management Skills Training Course
- Two Day
Learn practical tools that you can use in real-life situations.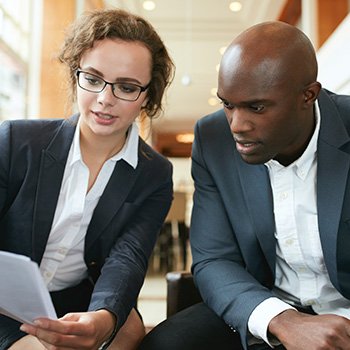 Learn the essential people management skills
Set specific goals for a better future
Master the skills of clear communication
Learn the best way to handle poor performance and other conflict situations
Maximise productivity with proper planning, delegation and time management skills
Transform any team negativity with a positive mental attitude
Get the best performance from every member of the team
Learn proven techniques from expert trainers
Learn in a friendly and relaxed atmosphere with people who are facing similar situations as you.
The course contained lots of interesting topics that were all relevant to my job role. All topics were explained in lots of detail, with great strategies to remember them. The trainer's presentation was great, with use of both personal case studies and from the group, ensured we were all engaged. The training media and training manual, made the two days engaging and interactive.
Customer Reviews
Make an Enquiry
X
If you feel you would like to attend but cannot yet commit to a secured booking, you can express your interest here.
Email this page to your Manager
X
If you are reading this page with the intention of attending the course, then you may need to 'put forward a case' to a manager who makes the final decision.
So, you may find it beneficial to give your manager this webpage, which will give all the information needed to make the right decision.
To do this, please enter the manager's email address below and.. take me to your leader!



* Just so you know, we'll add your details to our records.
People Management Skills Training
You want to get the best performance from other people.
But some people can be hard to manage.
How can you get them to act in agreement with your plans?
Learn these powerful people management skills, and you will be able to get them to cooperate with you and achieve your goals.
Available as an Open Course or In-House
Day One - People Management Skills Training - Course Overview
This is a brief overview of the content covered in Day One.
For a more in-depth course outline click:
Morning - Goals Setting and Clear Communication
The purpose of people management skills is to get the best performance from other people.
How can you get the best performance from others? Develop your OWN skills.
This course teaches you the six major people-management skills
Self-assessment questionnaire
Your reason for being here: What do you want from this training?
Before you can manage others, you must first manage yourself
Never demand respect: EARN trust and respect
Goal focus is the starting point of all achievement
How to set a specific goal
How to communicate goals to others
How to define your key terms
How to use numbers to specify your exact meaning
How to handle negative people who say "We've tried it all before, and it didn't work"
How to make negative people more constructive
How to be a positive influence
How to apply these people management skills
Afternoon - Handle Difficult People and Conflicts
Conflict is unavoidable and should be well managed
Badly managed conflict causes major problems
What are the rules to effectively handle difficult-people and conflict situations?
Don't allow the conversation to be governed by emotion
Instead, use REASON to resolve conflict
Never attack their character, comment only on their behaviour
Use only factual, objective language, not opinionated, derogatory language
Whenever possible: Prepare your message in advance
Less is more: Say less.
Propose a precise corrective action
Differentiate Reasons from Excuses, have a different strategy for each
Know when to offer a concession and when not to concede ground
What is good body language?
What is good use of voice tones
Learn by doing: Five exercise situations
Gratitude and praise
How to put your people management skills into practice
Day Two - People Management Skills Training - Course Overview
This is a brief overview of the content covered in Day Two.
For a more in-depth course outline click:
Morning - Time Planning, Preparation and Delegation
You are facing an unlimited demand on your time
You cannot do everything at the same time, therefore you must prioritise
Time management techniques will transform productivity
Prioritise tasks according to their Value-added and time deadline
Four types of action: Crisis, Productive, Busy and Fruitless
The differences between Busy-work and Productive work
Beware of Busy but NON-productive days
Who are the people who waste your time?
What are your own bad time-management habits?
Which work systems waste your time?
How to best manage interruptions
How to best manage distractions
How to best manage Emails
How to delegate
The Pareto principle
How to make maximum progress in minimum time
How to put time management skills into practice
Afternoon - Emotional Management for Yourself and Others
Emotions drive action and action drive results
People management means managing their emotions
Before you can manage their emotions, you must first manage your own
How to manage your own emotions
How to minimize the negative emotions of fear, anger and bitterness
How to maximise the positive emotions of confidence, enthusiasm, and optimism
How to reduce other people's fear, anger and upset
How to give others the positive emotions of confidence, enthusiasm and optimism
How to generate more energy
How to use positive feedback
How to use negative feedback
How to Reframe a negative experience to make it seem more positive
How to manage a continually changing environment
How to help people become more comfortable with change
How to get people to accept the challenge of continuous improvement
How to put your new people management skills into practice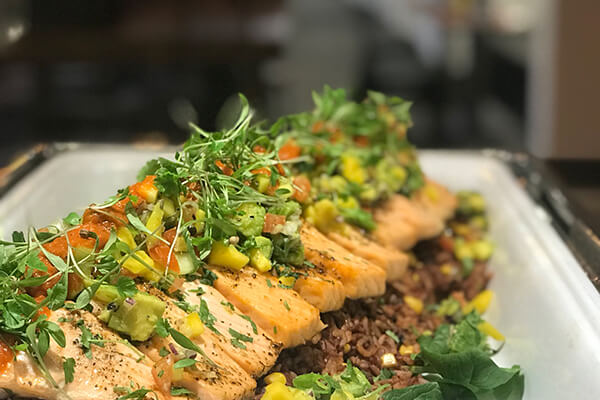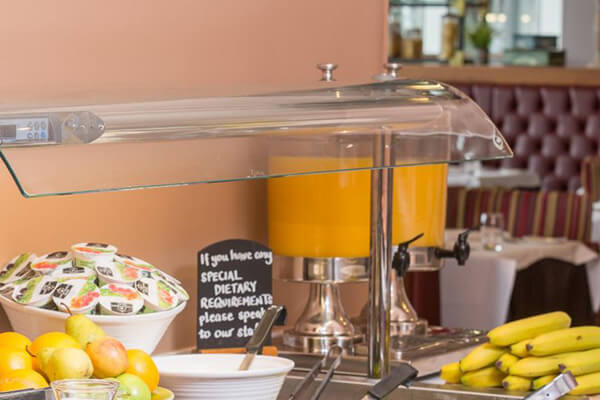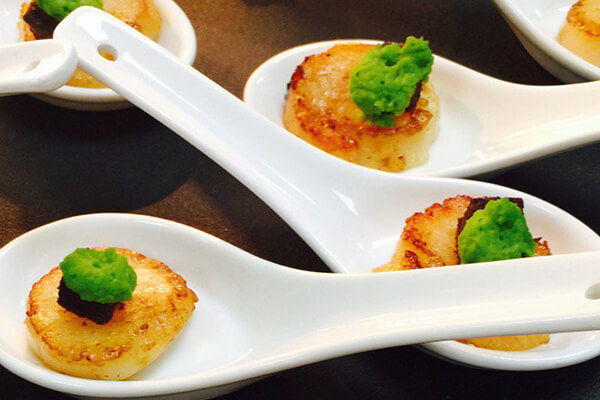 A selection of food which is available on our open courses - varies per venue
Book Now - Open Training Course Pricing and Availability
A selection of venue photos
The People Management Skills open training course costs only £875 +VAT per delegate.
For this price we provide:
Two full days of quality training
12 trainer-led hours, additional 2-3 via post-course portal independent learning
Tea, coffee and cakes
Lunch
Full colour course handbook
Written action plan
Certificate
Training articles and newsletters
Access to additional free training material after the course
Plus, optional 3 months free telephone coaching
To answer any on-going questions, you will can receive email and telephone support from your trainer after you have attended the course. Whilst you are implementing what you have learned we will be there to help you if you need us for advice, guidance and coaching.
Next Open Course Dates
More dates and locations are available -
The course content was very informative and professionally delivered. Would definitely recommend and would use again. Thank you. The trainer's presentation was excellent, clear and concise. Interesting and engaging.
Customer Reviews
In-House Training Course Pricing and Proposal
This course is also available from just £1,950 +VAT per day as a bespoke in-house group training course in the UK and worldwide.
It has been designed to provide a similar experience to our open courses, however we can tailor the content to fit your specific needs. In-House Group training costs from just £1,950 +VAT per day (international training price varies). Plus, hotel accommodation for trainer if necessary. (Premier Inn type: not the Hilton!)
This price includes:
Quality training delivered by an experienced trainer
Full days training
Full colour course handbook
Preparation work
Travel costs and time
Written action plan to take away
Access to our post course portal
Access to our on-line leadership and management decision matrix templates and tools
Plus three months FREE telephone coaching to answer any on-going questions
Contact Us Today
Please call us on +44 (0)20 3856 3037 to discuss your requirements for the in-house training course.
If you want to know more about any other Management Training Courses, or their suitability for you or a colleague, call us on +44 (0)20 3856 3037.
The course content was bright, interesting and overall very informative. A lot of creative and clever formulae that I can apply both at work and personal life. Chris has been a great trainer. Very optimistic and enthusiastic about the material which made the course enjoyable.
Customer Reviews
Course Outline
People Management Skills Training - Day One - Morning
Introductions
The starting point of the course is this:
We all have an ongoing challenge.
We need to know the answer to the following question:
How can we get the best performance from ourselves and others?
We can do that only if we develop our people management skills.
We are here today to focus on how to develop people management skills.
Let's do the people management skills questionnaire
What are your relative strengths and weaknesses.
Why are you here?
What do you want from this course?
We need to know how to...
Set and agree goals
People need to know what the goal is.
Without goals, there can be no plan, no organised action and no motivation.
Goals provide the basis for a plan, organised action and a high degree of motivation.
The first step to achieving a goal, is to set it.
How to set goals
An eight-step formula.
Goal setting workshop.
The proper use of humour.
How to use humour properly.
How to avoid the common problems caused by the misuse of humour.
The Smiling Assassin. The Social Bully. "Can't you take a joke?".
What you SHOULD laugh at.
And what you should NOT laugh at.
Positive mental attitude V negative.
What is the difference between optimism, criticism and pessimism?
How much of each type do you want in your team?
What is the right amount of optimism? Criticism? Is there a role for pessimism?
What are the effects of each?
How can you instil the correct amount of optimism?
Is there a legitimate role for criticism?
Is there a legitimate role for pessimism?
Affirmative directions
You need to get into the habit of giving only affirmative direction.
Negative directions, such as "DON'T PANIC!" puts into mind the very idea that you want the other person to put out of mind.
Negative directions cause confusion because saying "X is wrong" leaves completely unstated, what is right?
Exercise and practice turning negative directions into positive directions.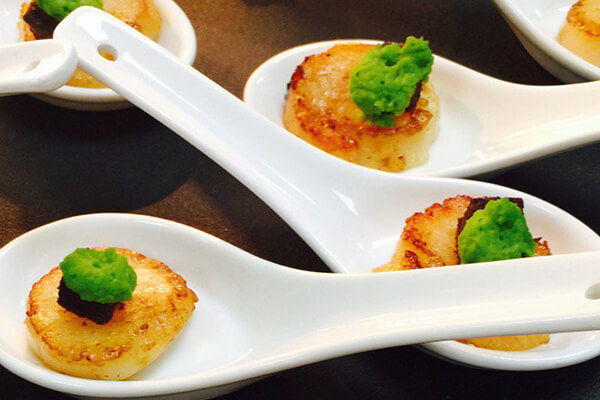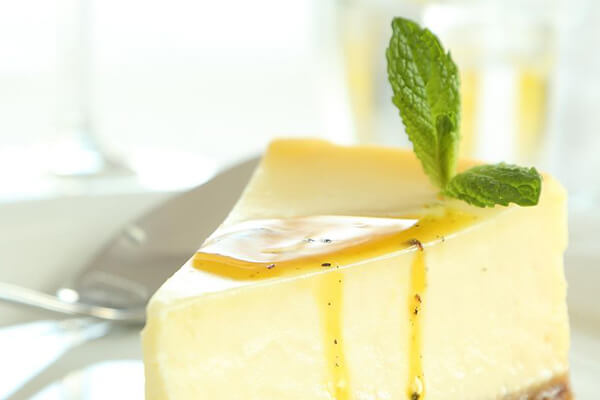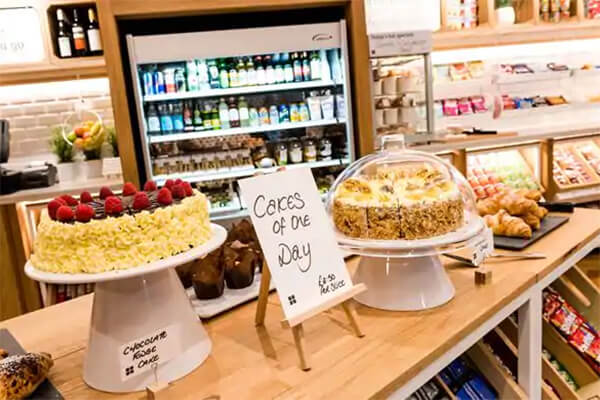 A selection of food which is available on our open courses - varies per venue
People Management Skills Training - Day One - Afternoon
Performance management
Not everyone behaves in the way you want. So, you sometimes need to give people constructive criticism on their performance. The key word is constructive.
How to give constructive criticism
We will give you all the notes you need on how to give constructive, (Not destructive criticism) so that your feedback will feel more like help and less like an attack on their character.
Five specific examples for you to work through and develop your skills by doing.
Ensure that the last thing they hear from you, as they leave, is what you DO want.
Praise and appreciation
People skills include remembering to properly praise, appreciate and thank others for their efforts. Many people feel unappreciated; because their mangers forget to say the "few kind words" that make all the difference to how people feel.
It is crucial to NOT neglect to give a few kind words of encouragement, thanks, appreciation and praise.
Day One Summary
Personal action plans.
What have you learned and how will you benefit from it?
Close.
The course content was all very helpful. The Conflict section in particular. Overall, a very enjoyable and productive course which will be useful at work. The trainer's presentation was very good, clear, concise.
Customer Reviews
People Management Skills Training - Day Two - Morning
Question: How usefully do people spend their time at work?
We make the distinction between doing Busy work and doing Productive work.
In your place of work, are there any "busy but non-productive" people?
We identify the problem of "Busy but non-productive activity", and we name the causes and write counter measures.
The three causes for being busy but non-productive are: S.O.S.
S.O.S. = Self. Others. Systems.
Self: Our own bad habits
Other people who take us off track
Inefficient systems.
We figure out what we should do about each of them.
Do high value work first - minimise the 'trivial many'
The importance of prioritising.
Many people don't prioritise their work properly. So, they tend to be reactive, rather than strategic. We will show you exactly HOW to prioritise people's work so they will benefit from doing the right things in the right order.
Personal development questionnaire.
We will do a personal development questionnaire where we will each discover two things that we need to work on, and two personal strengths to build-upon.
Delegate the right task to the right person.
We all need to gain the willing cooperation of other people, through the art of thoughtful delegation. We will show you how to delegate properly. (And we will discover the excuses people use to avoid delegating, such as, "Its quicker if I did everything myself").
How to handle interruptions and distractions.
One of the most important people skills is to be able to get the maximum value from any conversation, in the minimum time, without causing offense to the listener.
We will show you ways to get the best from every conversation.
How to manage emails more effectively
Top tips on how to manage both incoming and outgoing messages - We will discuss how you can get the best from emails.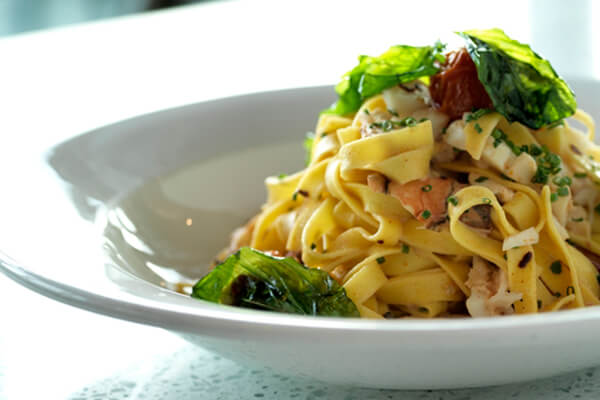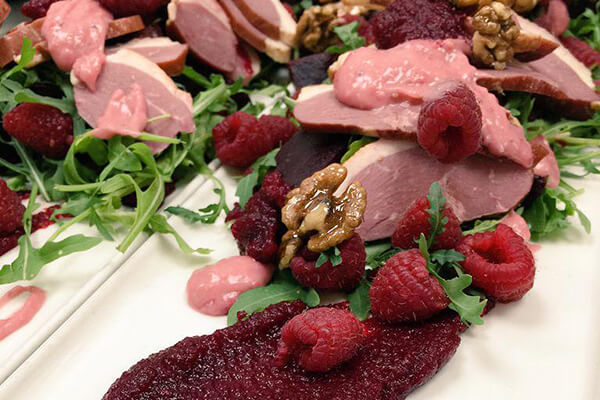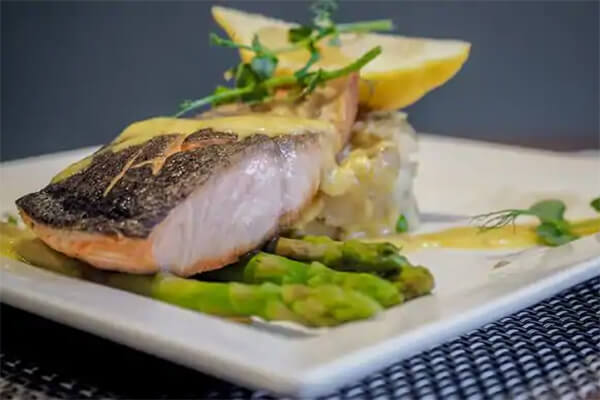 A selection of food which is available on our open courses - varies per venue
People Management Skills Training - Day Two - Afternoon
If you push them too hard, they will push back.
How mental attitudes affect external results.
We will show you how mental attitudes tend to reflect themselves in external results.
If you think you'll lose, you're lost. If you think you're outclassed, you are.
We will show how a strong mind-set acts as the starting point of all achievement.
Then we will go on to show you how to build the right mind-set by means of conversation control.
Conversation control
Whatever people talk about influences how they feel. You feel whatever you think about.
So, it is important to become fully conscious of the content of people's conversation and to ensure that their conversation has good effects on the mind and mood.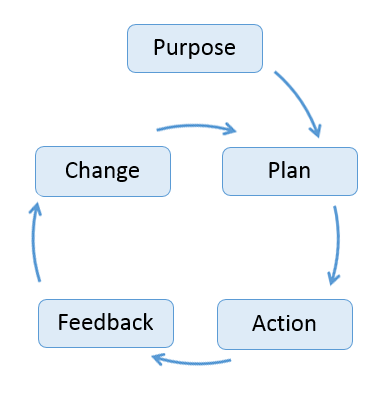 Putting the same point in a different way. We need to notice the content of the conversation and to steer it away from destructive content.
We will show you how to do that.
The people management success cycle.
All successful people management is based on reiterating the same basic steps over and over. The steps are: Purpose, plan, action, feedback, change.
The direct opposite of the success cycle is the failure formula: Unclear purpose, Poor planning, Procrastination, (slow to respond), Insensitivity or Blindness to feedback, and Stubbornness; the refusal to change.
We will show you how to keep people succeeding by keeping them OFF the failure formula and ON the success cycle.
Ask the "8 success cycle questions" and the answers they give will keep them on the success formula cycle.
We will show you how to use the 8-success cycle questions.
Final summary and action planning.
How will you benefit from the training you today?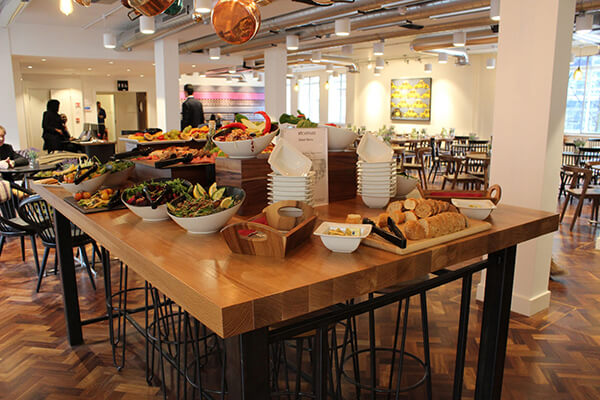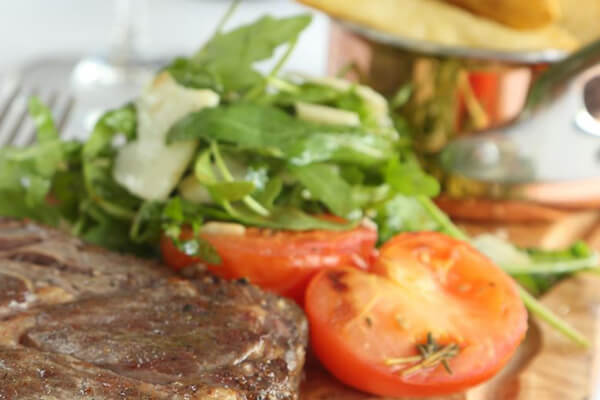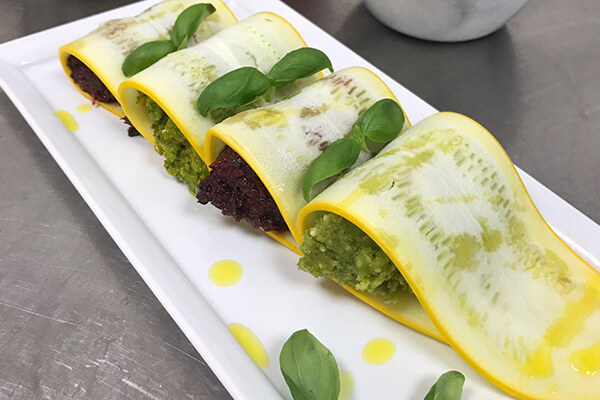 A selection of food which is available on our open courses - varies per venue
Useful, practical content that can be used in your day to day working life to get the best out of yourself and staff. The trainer was very knowledgeable, clear and informative.
Customer Reviews