Feedback - Giving Effective Feedback Training Availability, Pricing and Course Dates
If you have any questions, please phone us (020 3856 3037) or send us a message.
Live Online Virtual Training
Live Online Feedback - Giving Effective Feedback Virtual Training delivered via Zoom or Microsoft Teams
Easy to join - all you need is a laptop or tablet with a Webcam
Learn the same skills as a face-to-face session, but from the comfort of your own home (or office!)
Bespoke Training (In-House or Live Online)
£2,150
+VAT per training day
(International Price Varies)
In-House training has been designed to provide a similar experience to our open courses, however we can tailor the content to fit your specific needs.
Plus, hotel accommodation for trainer if needed (Premier Inn type: not the Hilton!)
We are able to train in your timezone.
All our training includes:
A full day of quality training, delivered by an experienced trainer
Total of 6 CPD training hours (9am - 4.30pm), plus an additional 2-3 via post-course online independent learning.
Full digital interactive course notes
Training certificate
Access to additional free training material after the course via our post-course portal
3 months free telephone coaching: Whilst you are implementing what you have learned, if you need to, you can contact us for support and guidance
What is feedback training? – Giving effective feedback course
Everyone needs feedback. Feedback is valuable information that tells people how well they are doing, with respect to their goals. Feedback comes in two kinds: positive and negative. Nearly everyone likes to hear positive feedback, but most people do not like to hear negative feedback. The problem is made worse by the fact that most managers' delivery of negative feedback is often clumsy and poorly worded, which makes their feedback sound like being told off, or insulted.
In order for feedback to fulfil its purpose of being perceived as valuable information, managers need to communicate it in a proper way.
This course teaches managers how to effectively communicate feedback.
Contact Us Today
If you want to know more about this course, or any other Management Training Courses, or their suitability for you or a colleague, call us on 020 3856 3037 or make an enquiry online.
Customer Reviews
The course content was extremely applicable to my job and life. It allows you to re-evaluate your thought processes. The trainer's presentation flowed and was systematic without being robotic and rigid. Was extremely clear, thorough and timely. ... [Read More] Ben Gledhill
ASDA
Great variety of topics and modules covered. Manuals very helpful and easy to follow. Trainer presentation was very good.
Danielle Dutton
Shaws (Huddersfield) Ltd
Feedback Training - Giving Effective Feedback Course Overview
Feedback is information that relates to the results of recent actions, relative to goals. We discuss how feedback is related to goal setting. We discuss who needs feedback? Who gives it? How do people emotionally respond to feedback?
Why is feedback important? What happens if you do not know how well you are doing, relative to your goals?
How does feedback relate to the continuous improvement cycle? Feedback is not an isolated concept; it is part of a larger model called the continuous improvement cycle: Goal, Plan, Action, FEEDBACK, Change.
How to deliver negative feedback (constructive criticism). The biggest problem is how to deliver negative feedback, in ways which will be perceived as valuable information, and not be regarded as failure, or an insult, or as being told off. We will thoroughly cover this issue since it is the hardest and most important aspect of feedback.
How, why, and when to give positive feedback (appreciation and praise). Most people like to hear positive feedback, but poor managers do not to give it, on the premise that people are paid for their work, and therefore should not need motivating by praise or appreciation. It is interesting to note that not everyone likes public praise. So, managers must be sensitive to the needs of individuals.
How to encourage people to go beyond their best. The most interesting form of feedback is positive feedback, which communicates, "You are doing really well, but you could do even better!". This type of feedback can go well or badly, depending on how it is worded. You must avoid this type of feedback sounding like, "No matter how well you perform, it will never be good enough".
We will show you how to avoid this issue and use feedback to inspire continuous improvement.
Goal setting. At the end of every feedback session, there should be a goal setting / planning session, which sets out the adaptive changes we need to make, in relation to the recent feedback results.
Feedback informs the next improvements (changes) in the goal, or plan or implementation of the plan. Then feedback fulfils its purpose of facilitating continuous improvement.
Learning Outcomes:
What is feedback and why is it important?
How feedback fits into the Continuous Improvement Cycle
How to give positive and negative feedback
Self-Image psychology: How to build people's confidence and motivation
How to offer constructive criticism (negative feedback)
How to set goals and gain their commitment to improve
Always finish on a positive - appreciate the good
Feedback Training - Giving Effective Feedback Course Details
Morning Session
What is feedback and why is it important?
Feedback is information that relates the results of your recent actions to your intended goals.
Feedback tells you what progress is being made or not made.
Feedback is essential to progress.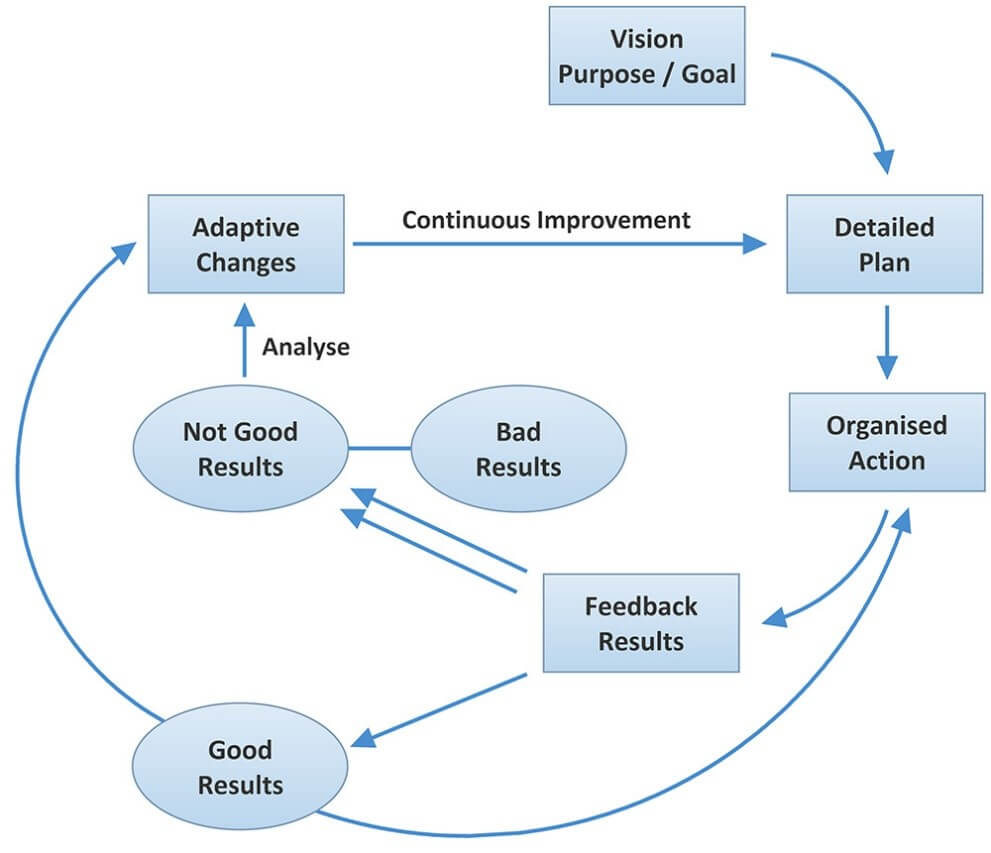 How feedback fits into the continuous improvement cycle
Feedback is part of a bigger thing called the continuous improvement cycle.
Continuous improvement cycle: goal, plan, action, feedback, change.
The goal is the target.
The plan is how you intend to achieve it.
The action in the performance of the plan.
The feedback is a measure of the performance, in relation to progress towards the goal.
The changes are the improvements that need to be made in order to ensure progress towards the goal.
How to deliver negative feedback and give constructive criticism
Negative feedback is a recognition of where the performance is either:
No progress; stagnation
Regress; going backwards
Learn about self-image psychology
The self-image is the way people think about themselves.
A person's behaviour is governed by their self-image.
Therefore, it is important to NEVER attack a person's self-image.
It is vital to preserve the person's self-image whilst giving negative feedback.
Afternoon Session
To whom should you give feedback?
Who needs your feedback and who does not?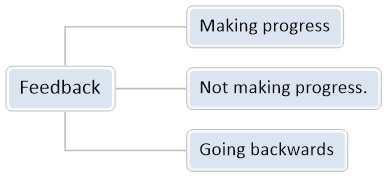 Under what circumstances should you give it?
When and where you should deliver your message.
Who should be present (or who should NOT be present)?
Should feedback be given in private or public?
The 10 rules for effective feedback
All the rules for effective feedback on a single page.
How to deliver negative feedback fairly and effectively.
Proper praise and appreciation
Social motivators.
Money is not the only reason people go to work.
They also need appreciation for a job well done.
The link between positive reinforcement and improved performance.
The 8 Part SMART method for setting goals
How feedback informs the next set of development goals.
How to gain their commitment to improve
Pleasure-pain theory of motivation. Discussion on the negative consequences of not making progress and the pleasurable consequences of making progress.
Talk about the negative consequences of not making progress
Talk about pleasurable consequences of making progress
Final practice and summary
Practice sessions. Active learning. Final actions plans.
Register for an Online Training Session
We offer online training webinars via Zoom and Microsoft Teams, please choose one of the sessions below to start your registration process:
1 full day training (9am - 4.30pm) - only £400+VAT per delegate
| Date | Platform | Cost | | Availability |
| --- | --- | --- | --- | --- |
Feedback Training - Giving Effective Feedback FAQs
How do I join a Corporate Coach Group course?
The first step to benefiting from this personal development training is to DECIDE to come!
The second step is to select the date, and the venue that are most convenient.
The third step is to follow this link to reserve your seat or phone us on 01452 856091.
Is this course offered in-house?
Yes. We will come to you if you want us to present to your team in-house.
We can tailor the course content to meet the specific needs of your team. Click here for details.
How to give effective feedback in the workplace?
The four most important things to know about effective feedback:
Feedback should be given soon after the event.
Feedback should be specific, not vague.
Negative feedback should suggest a specific corrective action.
Feedback should be constructive comment on behaviour, not a destructive comment on character.
How to give productive feedback
To be productive, feedback needs to be:
Honest and intended to help.
Specific, not vague.
Factual statements, not opinionated statements.
Not in front of an audience, but instead, one to one.
It should include both positive and negative components.
What is the course training method? Is it interactive?
Yes. We have designed the training style to be highly interactive. To keep everyone feeling involved, we vary the training style.
Sometimes you will be working alone, preparing your own opinions, (for example, when are thinking about your own performance), then later you will work with another delegate in pairs, (or groups of three).
Then later, we work together in groups.
There is always lots of interaction.
There is never any "Death by PowerPoint". So, you won't feel bored, you will feel motivated. All the way through the course, you will feel completely engaged and involved.
We are often told by delegates that the course seemed to fly by, which is always a great sign!
Delegates tell us the content is well designed, simple to understand and use.
The training is applied to real-life situations; it is beneficial and packed with useful knowledge. We are sure you will find this course interesting, well structured, practical and fun.
How to give negative feedback in a positive way?
Tips on how to give negative feedback in a positive way:
The feedback must be intended to empower, rather than disempower the receiver.
The feedback should be given in private, never in public.
It should be specifically worded, with concrete examples.
It should never be used to attack the character of the receiver.
It should always contain suggestions for how to improve upon the current situation.
It should always end on a positive note.
What kinds of people attend this Feedback - Giving Effective Feedback course?
People who attend this course come from organisations that are experiencing a lot of change.
The delegates who attend this course, are all coming because they want to know, How to get the best performance from themselves and others.
The delegates are all different types of personalities, but you will soon discover that although we are all different, we all share a desire to learn and apply new skills.
Related Articles from our Team Leadership Blog
How to Re-Build Effective Teams
7 September 2021
Working from home has meant many teams have become fragmented and less effective. In order to be successful, every organisation needs their teams to operate at peak performance. Here are some key points to ensure effective teamwork.
Continue Reading >