Six Leadership Qualities Required by Team Leaders
Six Leadership Qualities Required by Team Leaders
For your business to succeed, you need to develop the following attributes in your team leaders:
Ownership - total commitment to the organisational goals.
The three Cs: Communication, Collaboration, and Co-ordination.
The ability to give negative feedback in a positive way.
To give positive feedback (thanks, appreciation and praise).
To give effective appraisals.
To promote continuous improvement.
1. Ownership
The willingness to commit oneself to the highest personal performance standards, irrespective of circumstances and irrespective of who is present.
You may have noticed that some people change when you enter the room. There should be no need to change, since their performance should be always at the highest possible level under all circumstances, whether the manager is there or not.
You want your team to hold themselves to their highest levels of commitment and performance at all times. We call this state of mind, "OWNERSHIP". You need your team leaders to take ownership of their goals.
2. The three Cs: Communication, Collaboration and Co-ordination
Communication is the free and accurate transfer of information, ideas and emotions, between team members. Only if there is open and effective communication, can we achieve proper collaboration.
Collaboration: No single person knows enough to be entirely self-sufficient. We all need to gain access to the knowledge, skills, experience and creativity of other people. Our ultimate success depends upon gaining the willing collaboration of others. With collaboration, the team becomes more than the sum of its parts. When we collaborate, there can be better co-ordination.
Co-ordination is the act of harmonising all the parts of the system so that each element connects properly with every other element. Events should be synchronised and arranged to occur at the right time. Think of an orchestra playing a complex piece of music; the orchestra needs to co-ordinate its efforts, the orchestra members give their willing collaboration, and the conductor must communicate effectively to every member of the group.
3. The ability to give negative feedback in a positive way
Feedback comes in two main types, positive and negative feedback.
Anyone can give positive feedback because it is easy to give and receive praise.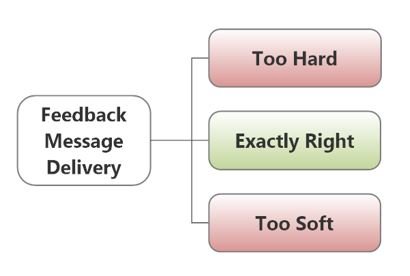 But it is NOT easy to give properly worded and well-structured negative feedback.
In relation to the delivery of negative feedback, some managers may come on too hard and sound very much like a sergeant major, which is a trait we do NOT want. There may be people in your group who may occasionally speak too harshly. A harsh manager's response might be to say, "He did it wrong. Sack him!". This method is too brutal since sacking people is a LAST resort. It is not a management technique.
On the other hand, some people are too soft, they are lacking in assertiveness. There may be some who evade problematic or complex conversations, and instead, they push the problem "up the chain of command" and they "get the boss to deal with it". This is what you do NOT want.
We want to find the "middle ground between two extremes". To deliver a properly worded message, in a positive way and thus achieve the goal of improved performance and productivity.
You want your staff to deal with the situation, for themselves, and to do it properly.
4. To give positive feedback (praise, appreciation and thanks)
We all know that it is important to praise other people as a part of our motivational management style. This means giving plenty of positive reinforcement, positive feedback and to use social motivators.
Appreciation for good work is essential, but is often forgotten. When people are not praised, it negatively affects their motivation. They feel unappreciated.
When people are praised, it positively affects their motivation. They feel more motivated and they work harder, longer and better.
Verbally appreciate good behaviour and praise people even when they work well but still fail.
Don't wait for the big win. Praise small wins.
5. Appraisals
How to structure appraisals and make them a daily activity that forms a natural part of the work experience. We appraise people by continually communicating positive and negative feedback. We appraise people with the right communication style and with a positive intention.
6. Continuous improvement
Continuous improvement is a system of thought, based on the idea that, no matter what the current situation is, improvement is always possible and therefore it should be attempted.
You should, therefore, implement the process of continuous improvement, on a daily basis. It is a never-ending quest to improve in three ways:
SELF: Improve ourselves as individuals; we improve our individual actions.
OTHERS: Improve the actions of others: group actions.
SYSTEM: Improve our operating systems.
Team Leader Training
Give your team leaders the skills they need to run their teams effectively, on this highly practical two-day Team Leader Training Course, which is regularly held in Birmingham, London, Reading, Manchester and Leeds.
Blogs by Email
Do you want to receive an email whenever we post a new blog? The blogs contain article 5-10 minutes long - ideal for reading during your coffee break!
Further Reading in Team Leadership
Looking for Team Leader Training?
Are you interested in a good management skills course? If so, you may find this Team Leader Training Course beneficial:
Open Training Course Pricing and Availability
Next Open Course Starts in 9 days, Online - Teams, places available