Make an Enquiry
X
If you feel you would like to attend but cannot yet commit to a secured booking, you can express your interest here.
Email this page to your Manager
X
If you are reading this page with the intention of attending the course, then you may need to 'put forward a case' to a manager who makes the final decision.
So, you may find it beneficial to give your manager this webpage, which will give all the information needed to make the right decision.
To do this, please enter the manager's email address below and.. take me to your leader!



* Just so you know, we'll add your details to our records.
Assertiveness Skills Training Course Outline
On occasions you need to be assertive to get your point across. Being assertive can come across as being bossy or aggressive if not done correctly. Therefore, it is important to learn this valuable communication skill. Assertiveness training will assist in areas such as negotiation, meetings and handling difficult people and awkward situations.
Available as an In-House Course
The training course content was informative and covered the aspects that I was hoping for. The trainer's presentation was good, well explained and good interaction.
Customer Reviews
Assertiveness Skills Training - Morning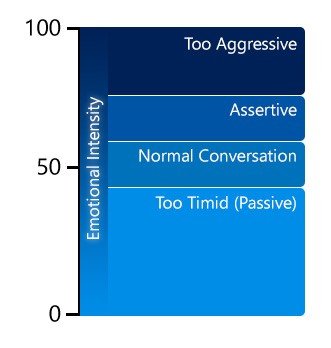 How can you communicate in an assertive way?
Assertiveness is an emotion. And all emotions are a product of your thinking.
In any situation how you feel about it will determine how you react, how you feel will change what you say and how you say it.
If you feel weak and non-assertive, then you will act accordingly and gain poor results.
If you feel confident and assertive, then you will act accordingly and gain good results.
Your thoughts become a self-fulfilling prophecy.
How to manage your thoughts, and therefore how your manage your emotions; so as to feel strong in the face of a difficult person.
What not to focus your mind on:
Do not imagine yourself losing. Do not imagine failure. If you imagine these things, you will feel weak, beaten and defeated even before you start.
Do not keep thinking about what has already gone wrong. No need to keep replaying the tapes of past encounters.
Don't worry too much about what the other person may be thinking about you. Don't try to constantly mind read other people's reactions to you. Too much self-consciousness will hamper your self confidence and will cause you to be too cautious.
How can I improve my assertiveness skills?
Four ways to approach conflict situations:
Rationally assertive: the proper method
Emotional and angry: the wrong method.
Emotional and upset: another wrong method.
Avoidance: another wrong method.
Learn the difference between "identity statements" and "behavioural statements".
Learn the difference between "objective" and "subjective" language and how it applies to assertive communication.
Assertiveness Skills Training - Afternoon
To be assertive you should use "behavioural statements" and "objective language".
To be assertive you should not use, identity statements and subjective language.
Top assertive techniques and how to use them
The use of the "wrong box / right box" technique.
The difference between "reasons" and "excuses" and what policy you should have to each one
If the other person gives you reasons, then you should negotiate.
If the other person gives you excuses, then you should not negotiate.
The difference between the "future why" and the "historic why" question.
Don't get bogged down talking for too long about the past.
Do take the conversation into the future. Talk about what you want to happen next.
Learn the magic phrase, "Instead of that, in future, would you please.... (Plus your affirmative request)."
The Magic Phrase:
"Instead of that, in future, would you please..."
The use of body language in assertive communication
Posture: How you should use your body posture
Hand gestures: How you should use your hands and arm gestures
Eye contact: How much eye contact you should use
The use of voice tones to help you behave assertively
Deeper tones: give you more authority.
Louder tones: give you more confidence.
Slower pace: give you more gravitas.
Notes on the proper use of praise and appreciation.
Praise is powerful: The proper use of praise to reinforce the change.
The absence of praise and appreciation is often the cause of bad feelings.
To get the best from others, you must praise and appreciate them for the behaviours you want to see repeated.
Practice assertiveness behaviour scenarios.
We will run four practice scenarios and you will have the opportunity to practice using the methods.
Final summary and action planning.
Course content is on point. A useful handbook with practical implementation. The course follow-up is a bonus. Would perhaps like time to focus on own work specific examples more. The trainer took a measured, engaging approach. Pace was just right and he did not make you feel negatively about performance at work, or being right or wrong. Perfect use of humour and measured examples.
Customer Reviews