Why Do Things Happen?
Why Do Things Happen?
Things don't "just happen". Every event has multiple causes, which can be classified into four different types: Material, formal, efficient and final
1. Material cause
The material cause is the nature of the substances from which the objects taking part in the event are made. For example, the material cause of a house fire would include the materials which were present in the rooms. If the materials were made of steel, then the result would be different than if the materials were made of polystyrene.
Aristotle called the materials involved in an event: the Material cause.
2. Formal cause - Design
The formal cause of an event is the design or the natural structure (or form) of the things taking part in the event. If the form is inconsistent with the function, then a problem occurs.
For example: If a room is designed without sufficient ventilation, and if it were heated with a gas-burning fire, then the threat of carbon monoxide poisoning may become evident.
Aristotle called the design-error cause, the Formal cause.
3. Efficient cause - Trigger event
The efficient cause is the trigger that is the most immediate and evident cause of an event.
For example, in the sinking of the Titanic, the ship crashing into the iceberg was the trigger event - the efficient cause. If there had been no iceberg, things would have been different.
Efficient causes are often obvious and even a superficial study reveals them.
"Elementary, Watson: This man died because he fell off a ten-storey building and hit the concrete pavement".
4. Final cause - Intention
The final cause is human intention or error. For example, if the man in the above example was pushed off the building by someone else, then the culprit's wicked intention was the final cause. In the Titanic example, the Captain's ambitious desire to win the Blue-Ribbon prize for the fastest transatlantic crossing was a contributory cause to the disaster.
Human intention is the final cause.
Next time you have a problem, map out the causes using this diagram. Then write out the possible solutions, two for each cause.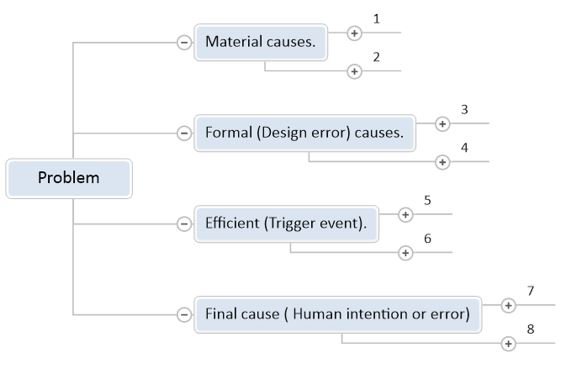 Problem Solving Training
We offer a bespoke, in-house Problem Solving training course which is designed to teach delegates both analytical and creative problem solving methods.
Blogs by Email
Do you want to receive an email whenever we post a new blog? The blogs contain article 5-10 minutes long - ideal for reading during your coffee break!
Further Reading in General Development
Looking for Leadership and Management Training?
If you're looking to develop your General Development Skills, you may find this Leadership and Management Training Course beneficial:
Open Training Course Pricing and Availability
Next Open Course Starts in 9 days, Online - Teams, places available