What is the Power Interest Matrix?
What is the Power Interest Matrix?
Definition: The Power Interest Matrix is a method of categorising the various stakeholders in a project, in order to improve communications, manage expectations and thus improve team performance.
The Power Interest Matrix is the brainchild of Colin Eden and Fran Ackermann and was first presented in their book, 'The Practice of Making Strategy'.
The model is based upon rating each stakeholder or member of a proposed project team against two primary criteria: Power and Interest.
Power refers to the individual stakeholder's degree of influence and decision-making authority. High-power stakeholders are those who can change the project or even stop it altogether.
Interest refers to the level of personal investment in the project's successful outcome. If the project has a significant and direct impact on a person or group, then they are classified as high-interest stakeholders.
The Power Interest Matrix
By using the two primary qualities of Power and Interest as the axis of a grid, we create four categories of stakeholder. We give each category a name and each is managed in a manner consistent with its status.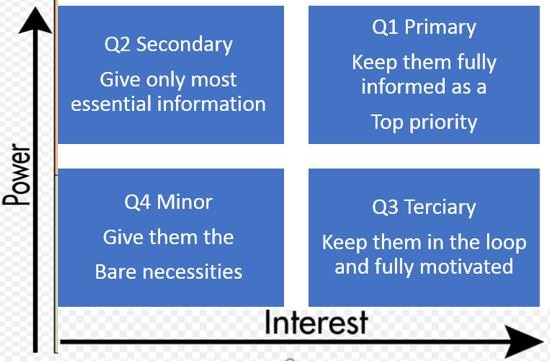 Q1: High power and high interest : Primary
Q2: High power and low interest : Secondary
Q3: Low power and high interest : Tertiary
Q4: Low power and low interest : Minor
How to manage Q1 Primary Stakeholders.
Primary stakeholders have, by definition, high interest and high power. Consequently, at all times, they must be kept fully informed and happy. All relevant and important information must be communicated to them and factors relating to important decisions must be accurately and quickly presented. A high degree of time, energy and respect should be accorded to this group, since they have veto power over decisions.
How to manage Q2 Secondary Stakeholders.
Secondary stakeholders, when compared to the Q1 Primary stakeholders, are not as concerned about the day by day minutiae of the project.
Consequently, they should be informed only about major progress and problems, but they do not need, nor want, a running commentary.
Secondary stakeholders are not as interested, but this is NOT a reason to neglect communicating essential information.
If for any reason, powerful people discover they have been "cut out of the loop" in important matters, then they take it badly and they make their political power felt.
So, we keep communication channels open to Q2 stakeholders, but the volume and frequency of information is kept to moderate levels.
Q3 Low power and high interest Tertiary Stakeholders.
Tertiary stakeholders have no power to make important decisions, but they do engage in a high volume of lower value activity, which when combined, have measurable effects on the project's final outcome.
In addition, Tertiary stakeholders are interested and are therefore, motivated.
It is important to keep their motivation high by including them in communications, sufficient to make them feel "in the loop".
Failure to keep Tertiary stakeholders sufficiently well informed will cause them to feel denigrated, and they lose interest and motivation. Consequently, we must give Tertiary stakeholders sufficient time and effort to keep them highly motivated, interested and committed to the success of the project.
Q4 Low power and low interest Minor Stakeholders.
Minor stakeholders do not need, nor want, much information relating to the project, except the amount necessary for them to understand what is going on, and what is likely to happen next.
This information is NOT nothing. So, do not dismiss Minor stakeholders as being of NO importance.
We give them the information necessary so that they understand the bare necessities of the project.
We often delegate this communication task to others to perform, but we ensure that the communication does take place and that it is clear, precise and timely.
How to use the Power Interest Matrix.
Project leader-managers should list all their individual stakeholders, and/or the various classes of stakeholders, (eg prospective customers) and then they allocate to each, the correct stakeholder category.
When every stakeholder has been allocated their place on the model, then each receives the quality and quantity of time and effort which is consistent with its status.
The benefits of using the Power-Interest Matrix.
The matrix allows project managers to avoid the mistake of failing to keep the right people informed, or by wasting time by giving too much information to high value stakeholders who are not interested.
In addition, the matrix helps Q3 Tertiary stakeholders to remain fully motivated and committed to the success of the project, and to inform Q4 Minor stakeholders of what is going on and what to expect.
Blogs by Email
Do you want to receive an email whenever we post a new blog? The blogs contain article 5-10 minutes long - ideal for reading during your coffee break!
Further Reading in Leadership and Management
Looking for Leadership and Management Training?
If you're looking to develop your Leadership and Management Skills, you may find this Leadership and Management Training Course beneficial:
Open Training Course Pricing and Availability
Next Open Course Starts in 12 days, Manchester City, places available