Time Management Essential Skills
Time Management Essential Skills
Time management training is essential because you don't have enough time to do everything for everyone; you only have time to do some of it.
Time management is about learning to do the most important things first, delegate the minor things, and ignore the trivial things.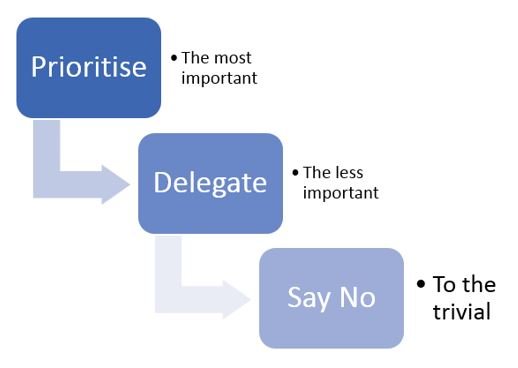 Time management training, therefore, boils down to three essential skills.
Prioritising - deciding which items on your list are the most important.
Delegation - entrusting tasks to other people; the job still gets done, but someone else does it.
Saying 'No' - avoiding jobs that do NOT lead to the achievement of your goals.
Prioritising
You need to prioritise your tasks and put them into order. There are two things to consider when prioritising:
The value of the task. Is the task high value or not? High-value tasks should be done before low-value tasks.
The urgency of the task. Is the task near its deadline or is there plenty of time? Urgent tasks need to be done before non-urgent tasks.
Prioritisation is one the most important skills you can learn.
There is a fantastic app available for your mobile device, that will help you to prioritise your tasks correctly: Prioritisation app.
Delegating
Delegating is when you entrust a task to another person. When you delegate a task, you need to ensure the following:
They have a definite description of the task.
They need the skills and information to do it.
They need the resources necessary to do it.
They need the time to do it.
If you want help to properly delegate tasks, then we have a terrific web-based tool which will help you to set goals and delegate tasks to others: Delegation tool.
Saying No
If you are doing only the priority tasks, then that means you need to say NO to those people who would take you off track.
Certain people want to fill your day with trivial, irrelevant, or distracting conversations. This represents a problem. The countermeasure to this problem is to:
Say No to the trivial,
Say No to the irrelevant,
Say NO to the distractions.
Here is a formula of words you can use on these occasions.
"I know you have a lot you want to tell me. But right now, I need to focus more on this, because it is important I finish it today. So, would you please; leave me to focus on this?"
Summary
Time management training boils down to three essential skills:
Blogs by Email
Do you want to receive an email whenever we post a new blog? The blogs contain article 5-10 minutes long - ideal for reading during your coffee break!
Further Reading in Time Management