The 15 Best Time Management Ideas
How Can You be a Better Time Manager? The 15 Best Time Management Ideas
Time management is the art of doing "the most valuable thing", at any given moment.
Think about it for a second: If you are always doing "the most valuable thing", at any given moment, then you will always be at your most effective and most efficient. And then your life will be a truly wonderful experience.
How can you be a better time manager?
If you want to be a better time manager, then you need to know the best time management ideas. Here they all are. Enjoy...
1. Judge your time management priorities logically, not emotionally: Mind over mood.
2. Procrastination is the act of putting-off the things that you logically know you should do, because you are not in the mood.
3. There are two major questions to ask of any task: How valuable is it? What is the deadline?
4. Those two major questions create four task types.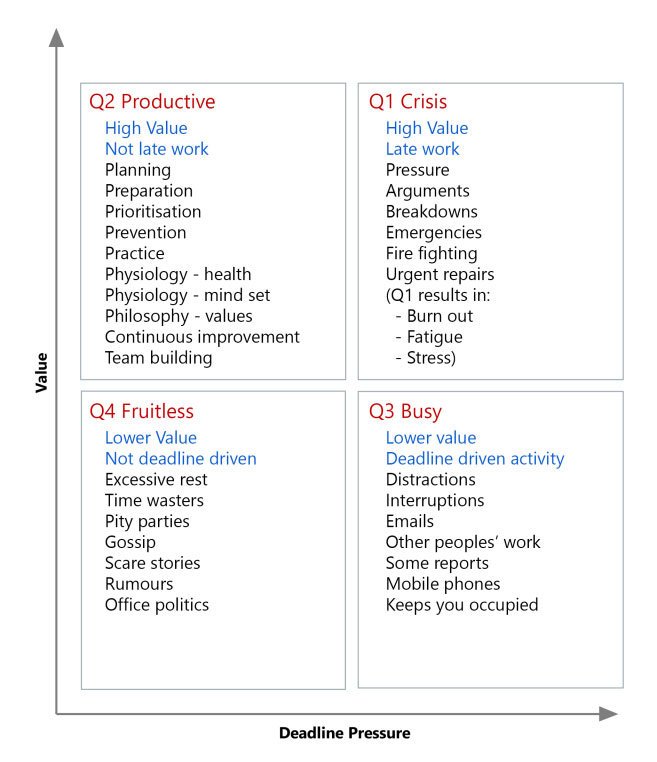 Q1 crisis: high value, late work.
Q2 productive: high value, not late work.
Q3 busy: lower value, urgent work.
Q4 Fruitless: lower value, not urgent work.
5. It is vital to do your tasks in the order given.
6. The most common mistake is to confuse Q3 busy work, with Q2 productive work.
Many people are so busy in Q3 that they don't have time for more productive Q2 planning. The lack of planning plants the seeds for the next batch of future Q1 crises.
7. You need to control Q3-work and concentrate more on Q2-productive work.
Q2 productive work contains all the "P-list activities".
8. P-list activities are all Q2 tasks and include: Planning, prioritising, prevention of avoidable errors, preparation and proper delegation.
If you do more Q2 and less Q3, you will reduce the number of Q1 crises and you will become more Q2 productive.
9. Your enemy is the "busy but non-productive day". There are three major causes of busy but non-productive days.
Other people who put you into Q3 busy and Q4 fruitless.
Your own bad habits that throw you into Q3 busy and Q4 fruitless.
Inefficient work systems that waste your time.
Today, you need to take more control over the behaviour of those people who steal your time, over your own bad habits and you need to improve your worst system.
10. You use of time is based on your power to make good decisions. If you want to maximise your efficiency then you need to make the best decision possible at every decision point.
A decision is the act of choosing the best option from more than one option. There are five decision types.
Prioritisation by value.
Prioritisation by logical order.
Yes or no? Should I, or should I not?
Which one / what kind?
Problem- 3 causes - 6 solutions

11. Each decision has its own decision matrix method and if the decision is important, it should be done in writing; and the decision matrix should be kept.
12. Some tasks can and should be delegated according to the SMART formula:
Specific, measured, achievable, realistic, timed.
13. Interruptions and distractions should be dealt with according to the 80-20 Pareto principle.
14. 80-20 Pareto principle states that 80% or more of the value of any interruption is contained in 20% or less of its content. This means that you need to master the art of getting the maximum value from any interruption, in the minimum amount of time, without causing any offence to the listener.
15. You are a limited resource, facing an unlimited demand; therefore, you need to constantly ask yourself, "What is the most valuable use of my time, right now?" Then do ONLY that.
Blogs by Email
Do you want to receive an email whenever we post a new blog? The blogs contain article 5-10 minutes long - ideal for reading during your coffee break!
Further Reading in Time Management