Ten Laws of Change Management
Ten Laws of Change Management
Whenever you read the news or watch TV you are faced with the fact that the world is always in a state of change.
There are always changes on the way:
Political changes
Economic changes
Social changes
These changes may affect you and your organisation and the effects of these changes will be either positive or negative.
Whether the effects are positive or negative will be mostly down to how well your organisation manages the change:
Effective change management is about profiting from change.
In-effective change management is about suffering the consequences.
Only if your organisation manages the process of change well, will you look forward with great expectations.
If the people in your organisation can't cope with the idea of change, or are too fearful to change, or resist the need for change, then your future might fall upon hard times.
Change Management Training can make the process of change work for you, giving you powerful methods and guidance in how to lead your team.
Here are ten points to ponder relating to change management training:
1. The only unchanging fact is, that everything changes.
2. It is important to focus your forces onto those things you CAN change, and NOT to spend too much time thinking about things you cannot change.
3. You cannot change the past: Don't spend too much time thinking about the past.
4. Goal setting is the means by which you can control the direction of change.
5. Clarity of purpose is the first pillar of success.
6. Perfect Planning is a second pillar of success.
7. The third pillar of success is Action Orientation.
8. Carefully monitor the reactions (the feedback results), your recent actions are creating.
9. Make the necessary adaptive CHANGES to your current plan, based upon the positive and negative feedback results your recent actions have created.
10. Continue to adapt and CHANGE the plan until you have achieved the purpose that you have been tasked to achieve.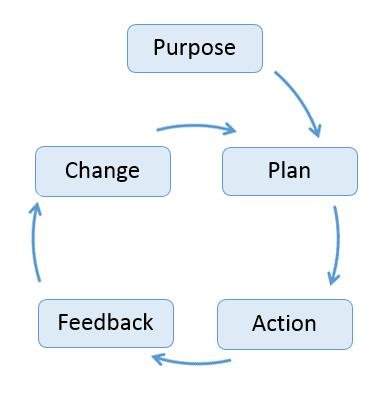 Change Management Questionnaire

How well are you equipped to deal with the pressure of change? Try our free Change Management questionnaire to see how you are likely to handle change.
Blogs by Email
Do you want to receive an email whenever we post a new blog? The blogs contain article 5-10 minutes long - ideal for reading during your coffee break!
Further Reading in Change Management