Managing Negative Attitudes to Change
Managing Negative Attitudes To Change
The continuous improvement cycle consists of five major concepts, this includes the concept of change, ie Purpose (goal), plan, action, feedback, CHANGE.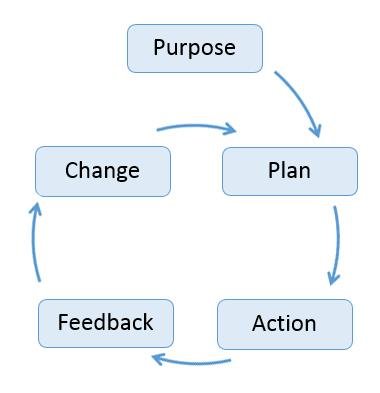 In order for things to improve, you need to make changes. BUT many people hate change, because it forces them to change their existing habit patterns.
People want things to change and get better BUT, simultaneously, want things to stay the same. Many people have a negative attitude to change.
You may need to manage that negative attitude in other people at work.
In order to do that, you need to engage in a process of conversation control.
Conversation control means listening to the content of their conversation and categorising the content into one of five different types. Then consciously influencing the conversations away from certain types and directing towards other types.
There are five types of conversation:
Conversations about the present moment: what is happening right now. Factual.
Conversations about how the future could be better than the past. Optimistic.
Conversations about how the future will be bad. Worry and fear.
Conversations about how the past was bad. Anger and upset.
Conversations about how the past was better than today. Nostalgic.
Conversations 1 and 2 create positive emotions.
Conversation types 3, 4, and 5 create negative emotions.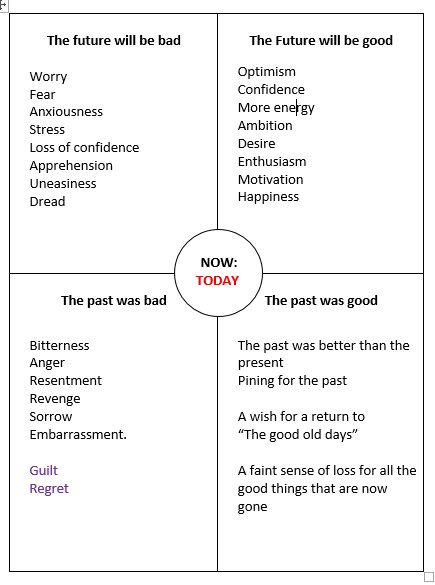 Negative emotion conversations.
Conversations about how the future will be bad or worse.
These types of conversation induce people to feel fearful, anxious, worried, depressed, hopeless and lacking in confidence. This is a bad list of emotions.
Conversations about how the past was better than today.
Conversations of this type cause people to feel discontented with today, nostalgic for a long-lost past, and a desire to return to "the good old days, before the changes".
Conversations about how the recent past has been bad.
These types of conversation cause the group to feel angry, upset, annoyed, bitter, resentful and planning a revenge.
Positive Conversational Techniques.
Conversations relating to today and how the future will be better than the past, are the only two positive conversational techniques.
These conversations tend to inspire positive emotions of: ambition, desire, motivation, goal focus, enthusiasm, hope, happiness. Therefore, these are the conversations you need to accentuate.
Conversations about what is happening right now tend to be positive. These conversations are based on observation, measurement, sensory awareness and perceptions. They have not had time to be labelled as either good or bad. The present moment just "is".
Managing Change
Your role as a manager in managing change, is at follows:
To engage in a process of "conversation control".
To notice the content of the conversation.
To notice when it is future bad, fearful, or past bad, angry upset. Or past was better conversations; nostalgic, discontented, or future good conversations: optimistic.
Encourage the conversation towards "now and the future will be good".
Put limits on the amount of time spent on negative conversations.
Take control of their conversations and direct them away from excessive talk about the bad past, the bad future and good old days.
Please take a look at our Change Management training course if you would like to learn more about perfecting your conversation control skills for the benefit of your organisation.
Blogs by Email
Do you want to receive an email whenever we post a new blog? The blogs contain article 5-10 minutes long - ideal for reading during your coffee break!
Further Reading in Change Management
Looking for Change Management Training?
If you're looking to develop your Change Management Skills, you may find this Change Management Training Course beneficial:
Open Training Course Pricing and Availability
In-House Course Available Call us on 020 3856 3037 to discuss your requirements or